Airheads Debuts Fried Chicken Sandwich Featuring a Rainbow-Colored Candy Bun
Taking sweet and savory to a whole new level.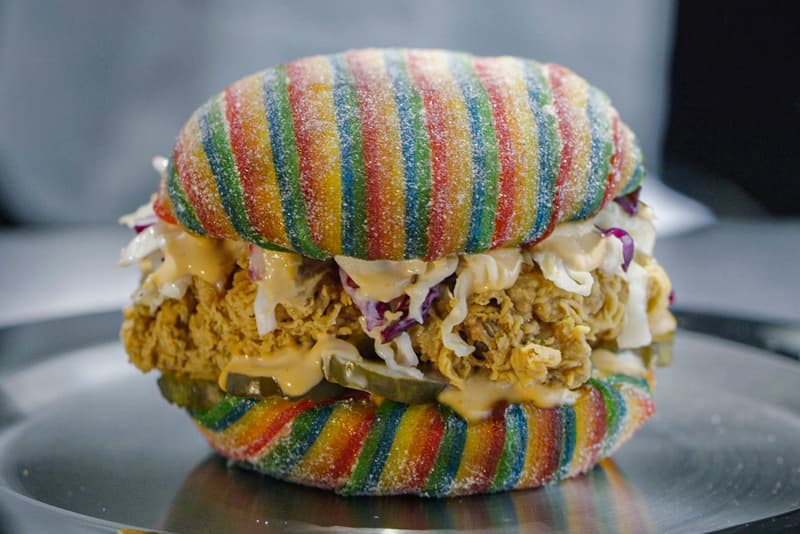 Airheads, the beloved candy brand known for its fruity bites, bars, and stringy belts, is making its way into the culinary scene.
On Tuesday, Airheads debuted a first-of-its-kind fried chicken sandwich in honor of National Fried Chicken Day. The sandwich packed fried chicken into a bun that's made out of 100 percent Airheads Xtremes candy and was available to taste test at legendary Chicago restaurant Frances' Deli & Brunchery.
View this post on Instagram
On the candy brand trying their hand at making chicken sandwiches, Craig Cuchra, vice president of marketing for Perfetti Van Melle North America, maker of Airheads, likened the venture to space exploration.
"Before the moon landing, there was no moon landing. It was the first time anybody ever landed on it." said Cuchra in a press release. "So there's some precedent of people not ever doing something before and then suddenly doing the thing they never did."
No word if Frances' Deli & Brunchery will keep the "candy sandy" on its menu long-term, as it was only available at the eatery for the lunch hour, dine-in only.
In other food and beverage news, Krispy Kreme is offering ice cream-inspired donuts and milkshakes.