What the Tech? Brooks' Nitrogen-Injected DNA Loft V3 Foam
Take a deep dive into the revolutionary foam that's used on the brand's new Aurora-BL running shoe.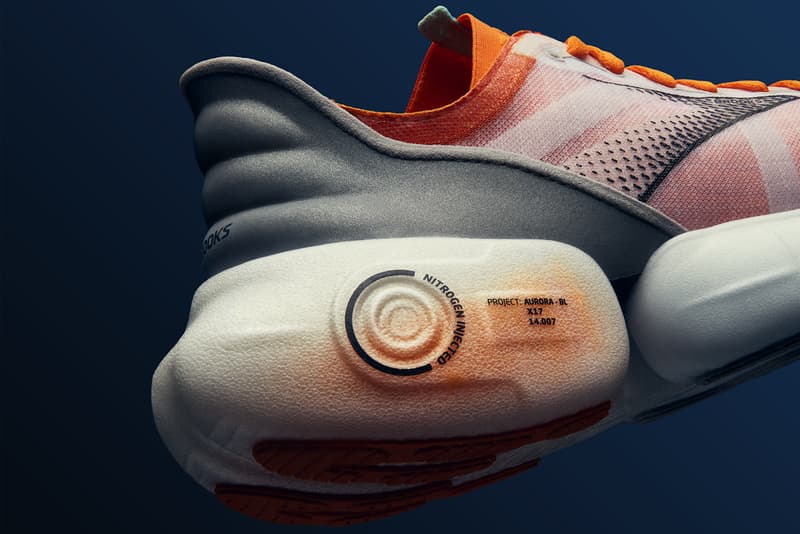 No matter if you're a weekend warrior or a marathon master your ears have likely been bombarded by the technical jargon that always accompanies running sneakers. You know that your favorite brand's newest technology promises key performance features like an "enhanced ride" or "increased stability." It may even promise to reduce the risk of injury.
But do you know what any of the terms used in this alphabet soup of adjectives actually means — or what the tech that makes them possible actually does? Unless you're a designer, engineer or product manager, probably not. That doesn't make the terms or the tech any less fascinating though, especially if they're regarding something as mind-bending as Brooks' nitrogen-injected DNA Loft V3 foam, a terrifically advanced cushioning system used on the brand's new Aurora BL sneaker.
For the sake of cutting through the noise and getting straight to the facts, HYPEBEAST tapped Brooks Blue Line Senior Manager Nikhil Jain to explain the ins and outs of DNA Loft V3 for the latest installment of our biweekly What the Tech? series. Read on to find out about the highly-advanced manufacturing process dubbed "supercritical fluid foaming" that enables nitrogen to be injected into a foam midsole, how Brooks always aims to put the runner first with its advanced concepts and more.
The History
HYPEBEAST: Can you provide us with a brief overview of what the Brooks Blue Line team does?
Nikhil Jain: We call ourselves an innovation accelerator engine. Blue Line is part of Brooks' greater innovation engine, but we expedite products like full shoe concepts and gear for elite athletes to the market — while also pushing the limits of what can be done from an innovation perspective. We'll pull from existing work streams within the company, then catapult it forward based on athlete insight and biomechanics. I work with designers like Ross Damman and developers like Bryan Bhark to make it happen.
When did Brooks start experimenting with nitrogen-injected midsoles?
DNA Flash was our first nitrogen-injected midsole technology, and we've been working with nitrogen injection for about three and a half years. Essentially what nitrogen injection does is takes the base characteristics of a foam and amplifies them. We introduced it in shoes like the Hyperion Tempo, which were designed for runners who want to go really fast. However, we also figured that we could work that tech into shoes for the relaxed, easy everyday running experience. Now, with our new DNA Loft V3 nitrogen-injected foam, we're able to provide something that's softer, lighter and more responsive, which is essentially the Holy Trinity for any runner.
"The runner is the one who determines how the running shoe experience evolves."
How would you say Brooks' cushioning technology has evolved over the past decade?
The runner is the one who determines how the running shoe experience evolves, and I'd say that over the past decade runners have wanted less and less shoe. They also want something that's soft but not too squishy — if a running shoe is too soft, it's actually a negative. Lastly, an aesthetic that's advanced in both a visual sense and a tactile sense. Those are the three things that have largely been driving our innovation at Brooks.
It sounds like product testing and runner feedback is a large part of Brooks' design process.
Totally. We have hundreds of runners test each sample iteration of our shoes over several hundred miles. Like I mentioned, we want a shoe that's light, soft and compelling visually. We try to produce that while keeping our test runners in mind, and I feel that the brand has been very purposeful in that sense.
The What, Why and How
What exactly is DNA Loft V3 foam?
At its core level, DNA Loft V3 is a nitrogen-infused cushioning foam. It's softer, lighter and more responsive than previous foam compounds we've used. It's also split into two parts — the heel and the forefoot — because the midsole is decoupled. The thought process behind the foam and how it fits into the design was making sure that as the runner's foot lands they have this softly-cushioned but springy landing and then a really smooth transition to toe-off.
The decoupled midsole is where our biomechanical point of view comes into play. The combo of that and the DNA Loft V3 foam gives the Aurora the ability to facilitate the natural movement of the wearer's foot instead of determining the movement of the wearer's foot. The properties of DNA Loft V3 really help with a natural stride as well: you get a soft sinking feeling, but one that immediately snaps back and propels you forward. In my personal running experience, the Aurora is as close to running nirvana as I've ever came — I'm so relaxed running with it I almost feel like I could take a nap [laughs].
"Nitrogen infusion essentially magnifies foam's qualities to provide increased levels of softness and responsiveness."
How do you go about injecting nitrogen into a shoe's midsole? We'd discussed it briefly before, but can you also break down how that amplifies and changes the foam's cushioning properties?
It's called a supercritical fluid foaming process. Essentially what that is is taking your base proprietary foam, apply a lot of heat and pressure and include liquid nitrogen. With enough heat and pressure, the liquid nitrogen starts converting from liquid to a gaseous stage — and somewhere in the middle of that transformation is the supercritical state. When that state is hit, the material is injected directly into the foam and held there for a certain amount of time. After that, the heat and pressure is lowered and the nitrogen infusion essentially magnifies the foam's qualities to provide increased levels of softness and responsiveness.
And this process is different from other nitrogen-based cushioning systems because it's fused directly into the midsole's foam, not placed in a stand-alone unit within the foam midsole like a Nike Air unit would be? Does that enable the midsole to be more responsive and flexible?
You got it. If you look at the microscopic nature of foam when it's equipped with some sort of stand-alone nitrogen unit, its molecular structure is slightly irregular. However, when the nitrogen is infused directly in the foam there are a lot more nitrogen bubbles that create a very consistent feel.
The Future
What frontieres do you see for running shoes in the next few years?
There's so much innovation taking place across the industry that it's hard to have the greatest crystal ball, but what I would say is that the Blue Line team is really looking at the heel and the forefoot — what runners need biomechanically and from an experiential perspective at different stages in the running cycle. The Aurora has created a great opportunity for us to look at differences in the heel versus the forefoot, and to think about going beyond current forms in what a shoe that does that could look like. Runners are always looking for newness and freshness, which is exactly why the Blue Line team exists.
"[Brooks has] a 'run-sight' lab that's constantly speaking to runners of all skill levels, hearing their expressed needs and even more importantly finding their latent needs as well."
How does Brooks aim to stay ahead of the curve — listening to runners and trying to project what they might desire in the future?
Exactly. I couldn't have said it better. It's really and truly listening to runners. We have a "run-sight" lab that's constantly speaking to runners of all skill levels, hearing their expressed needs and even more importantly finding their latent needs as well. Based on both of those needs, we can extrapolate a bit and think about what types of runners want what types of experiences, benefits and attributes three to five years from now. You learn from the runners, and those learnings proliferate through our shoes and teams. It's an awesome journey to be on.