Tony's Chocolonely Unveils Four New Sweet Solution Milk Chocolate Flavors
Aiming to raise awareness about illegal child labor in the cocoa industry.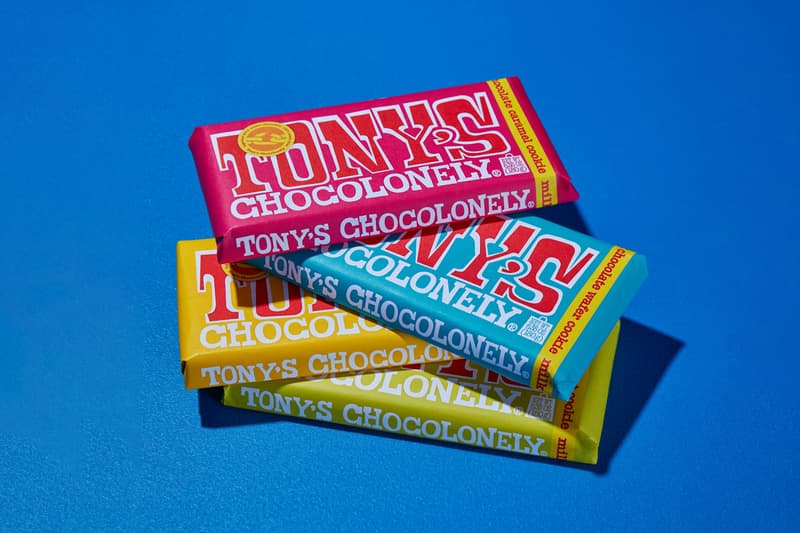 Tony's Chocolonely — a Netherlands-based chocolate manufacturer founded by three journalist from the Dutch TV show Keuringdienst van Waarde — has announced the return of its fan-favorite Sweet Solution chocolate bars, which aim to raise awareness about the prevalent illegal child labor in the cocoa industry.
After learning that several of the world's leading chocolate manufacturers purchase cocoa from plantations that use illegal child labor, the company's founders established long-term relationships with cocoa farmers in Ghana and the Ivory Coast at a higher wage with the intention of influencing other brands to do the same under its "Five Sourcing Principles."
After a successful, preliminary Sweet Solution launch, the highly acclaimed chocolate bar has received a permanent residency on Tony's Chocolonely's product list with four new flavors: milk chocolate with wafer and cookie pieces, milk chocolate cookie caramel, milk chocolate with hazelnut and cookie and milk chocolate honey almond nougat.
"When we saw how well our fans responded to these bars and their message, we knew we had to incorporate them into our classic rainbow," explained Thecla Schaeffer, Chief Marketing Officer at Tony's Chocolonely, in a statement. "So, until our Five Sourcing Principles become the norm in the industry, our Sweet Solution bars are here to stay."
Tony's Chocolonely is now the largest chocolate brand in the Netherlands and is available in multiple markets including the U.S., England, Germany, Belgium and Scandinavia.
The four chocolate bars will arrive in colorful Tony's Chocolonely packaging and will be sold at a price of $5.99 USD at Whole Foods store locations across the U.S. beginning this month.
In another corner of the food industry, McDonald's Japan and Pikachu have partnered to introduce a new "Sweets Trio Fruits-Chu" summer dessert menu.