Logan Paul Reportedly Wore a $1 Million USD 'Pokémon' Card to His Fight With Floyd Mayweather
"It's a BGS 10 Charizard, first edition Charizard. It's one of three in the world. It is my prized possession."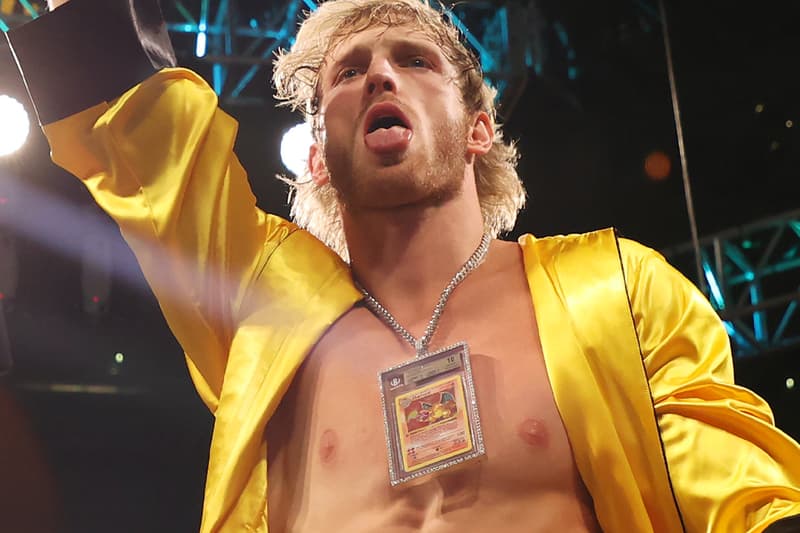 Though the fight between Logan Paul and Floyd Mayweather was seemingly a disappointment after weeks of build-up, Logan Paul's Pokémon card seems to have stolen the show.
While most fighters show up to fights adorned in gold and diamonds, the YouTuber entered the ring wearing a Charizard card around his neck at last night's boxing match. From afar, it appeared to be a regular card, but after close examination, the card was in fact the first edition, gem mint 10-graded Charizard. The card was confirmed by Beckett to be a Pristine 1999 Base 1st Edition Charizard Holo R trading card. Pokémon TCG fans out there will be interested to know that this card is not only rare but is one of only three total copies in the world. Beckett concurs that the card's estimated $1 million USD value is not farfetched considering its exclusiveness.
When asked about the card after the press conference, Paul commented on the estimated value, "It's a BGS 10 Charizard, first edition Charizard. It's one of three in the world. It is my prized possession. Ever since I got this graded at a ten, the momentum in my life has been crazy. It's my good luck charm. I mean now, shit, this is a million-dollar card, baby. This is the card I walked out [with] to the Floyd Mayweather fight. This is a million-dollar card."
Here's a better look at the Pristine 1999 Base 1st Edition Charizard Holo R that @LoganPaul wore to the ring last night. For the record, this is a Pop 3 on the BGS Pop Report. #thehobby #collect #tradingcards #Pokemon pic.twitter.com/g2kCzUWHuV

— Beckett Media (@beckettmedia) June 7, 2021
It's happening ??@LoganPaul on his way to the ring for the main event! #MayweatherPaul pic.twitter.com/EP7LG4yod7

— SHOWTIME Boxing (@ShowtimeBoxing) June 7, 2021
In case you missed it, Floyd Mayweather has officially launched his own OnlyFans account.