Cube Art Fair To Host First-of-Its-Kind NFT Trade Show in NYC
On a massive 15,000 square foot billboard in Times Square.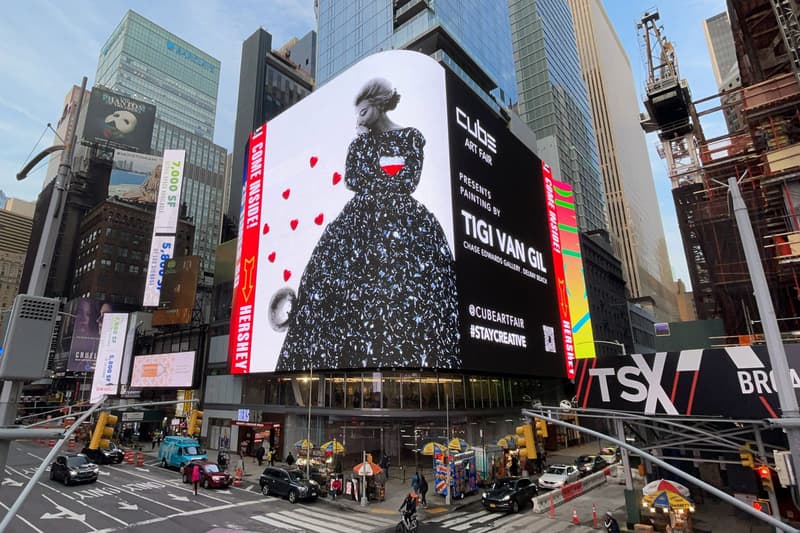 Cube Art Fair, the art domain's largest public trade show, is breaking new ground with a first-of-its-kind NFT art fair in New York City.
In response to the pandemic, Cube has modified its typical in-person format to appeal to a larger audience by utilizing billboards across New York City, Miami and Brussels to project its featured artworks to the masses. Following its successful exhibition during Frieze Art Week last month, where the art fair hosted 100 pieces across more than 100 billboards in NYC, Cube is gearing up to showcase its NFT-only trade show on a massive 15,000 square foot billboard in Times Square.
"We create an immersive viewing experience and an opportunity for the public to discover NFT artworks beyond their screens while also providing artists a platform to gain access to a wider market," says Gregoire Vogelsang, founder of Cube Art Fair and owner of the eponymous Vogelsang Gallery, in a release. "We are committed to continually remain creative in partnership with our artists. We are using the technology to empower artists and allow them to take control of their art and careers."
The art fair, set to take place from June 25 to June 27, will feature works from artists including Tigi Van Gil, Daniela Mollenhoff, Carolyn Joe, Kenneth Willardt, Griet Van Malderen, Kelly Fischer, Jonas Leriche and Rubem Robierb. Each NFT artwork will be displayed alongside a QR code, which will take viewers to a website where artists will sell their work.
Elsewhere in the art world, WOAW Gallery has partnered with Avant Arte on a joint exhibition, titled "Works on Paper."