Carl Nassib Makes NFL History As First Openly Gay Active Player
Also announcing a $100,000 USD donation to the Trevor Project.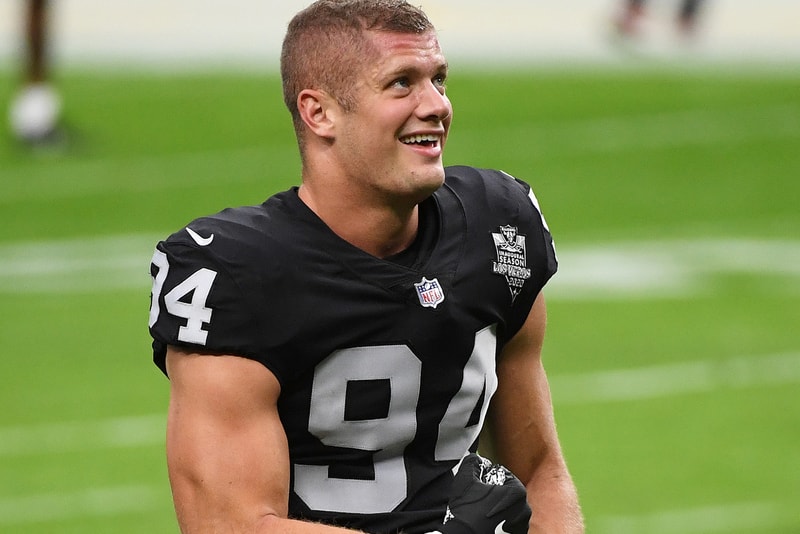 Carl Nassib of the Las Vegas Raiders has just taken to Instagram to come out as gay. This will be the first time in the NFL's 100-year history where there is an active openly LGBTQ player.
Commenting that he has been dreading the moment for 15 years, the 28-year-old football player finally announced that he was comfortable enough to get it off his chest. He followed up with, "I really have the best life, I've got the best family, friends, and job a guy could ask for."
Nassib also clarified that he is a private person and that his decision to come out during Pride Month was not an act for attention. He ended his video by confirming that he would be donating $100,000 USD to the Trevor Project, an American nonprofit organization dedicated to suicide prevention in the youth LGBTQ community. His team as well as the NFL commissioner Roger Goodell have also taken to social media to show support in Nassib's courage. "Representation matters. We share his hope that someday soon statements like his will no longer be newsworthy as we march toward full equality for the LGBTQ+ community. We wish Carl the best of luck this coming season," said Goodell.
Las Vegas Raiders head coach, Jon Gruden also commented with, "I learned a long time ago what makes a man different is what makes him great."
.@Raiders DE Carl Nassib announced today that he's gay. He also shared he's donating $100,000 to the @TrevorProject, a suicide prevention organization for LGBTQ youth.

The NFL family is proud of you, Carl. ❤️ pic.twitter.com/HXbcBuLg2X

— NFL (@NFL) June 21, 2021
From @nflcommish pic.twitter.com/xYRCYsPXZz

— Brian McCarthy (@NFLprguy) June 21, 2021
Proud of you, Carl 🖤 pic.twitter.com/R9aJxYFefW

— Las Vegas Raiders (@Raiders) June 21, 2021
In other sports news, Tokyo Olympics to allow up to 10,000 local fans into venues.