Cj Hendry Destroys Basquiat and Warhol Artwork in NFT Stunt
The artist auctions off a recording her spray-painting over the copyrighted work.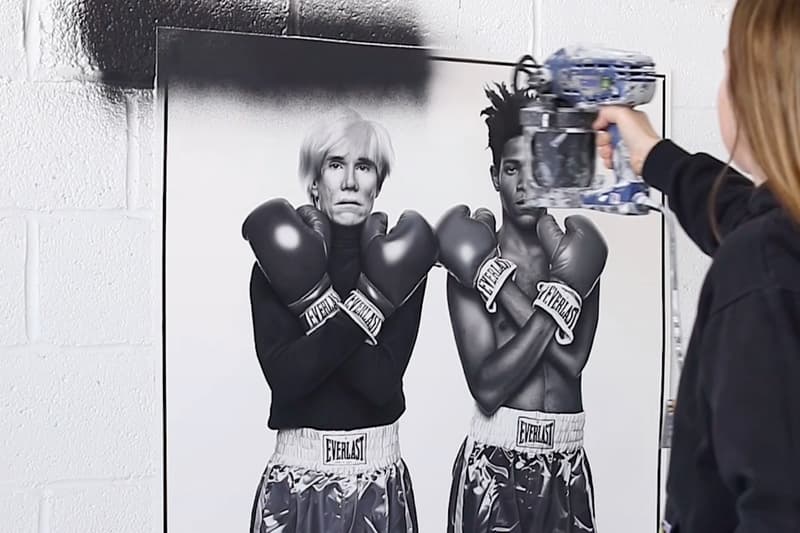 In 2019, New York-based visual artist Cj Hendry created a realistic illustration based on an iconic photograph portraying Andy Warhol and Jean-Michel Basquiat brandishing boxing gloves. The work was inspired by one of a selection of images taken by legendary photographer Michael Halsband back in July 10, 1985 during a shoot with the pop art luminaries.
Hendry received a cease and desist letter from Halsband to "destroy the artwork," with the photographer citing "copyright infringement," as per the artist. Hendry complied in a very unpredictable fashion. Instead of just getting rid of her piece, the artist recorded herself spray-painting over the drawing and minted it as a one of one NFT on SuperRare which is currently up for auction.
"It's extraordinary that a piece can take hundreds of hours to make and seconds to eliminate it from existence," she said in a description.
Aptly titled COPYRIGHT INFRINGEMENT, the recording currently has a high bid of 2.75 ETH (approximately $6,685 USD). Check out a still from the clip above and then head to SuperRare's website to bid on the work with the auction ending this April 16.
Elsewhere in art, Sotheby's minted over $16 million USD in the auction house's first NFT auction.