Twitter Bans Army of Fake Accounts Pretending to be Happy Amazon Ambassadors
These accounts are popping up as Amazon warehouse workers in Alabama are pushing to unionize.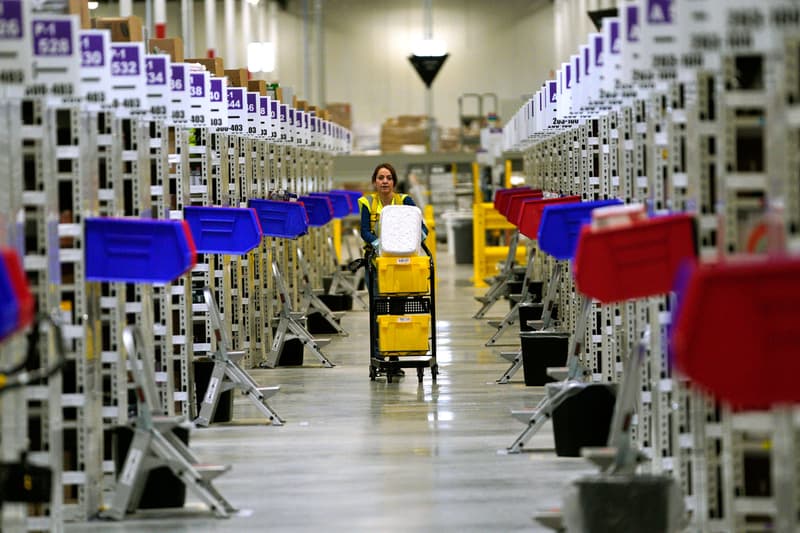 Twitter has suspended a collection of fake accounts pretending to be happy Amazon warehouse employees.
The social media platform confirmed to the The Washington Post on Tuesday that at least four suspicious accounts were suspended for "violating the Twitter Rules on impersonation."
Did Amazon fire its tweeters? pic.twitter.com/AZLpRPFg6g

— Paris Marx ☭ (@parismarx) March 30, 2021
Accounts purporting to be "Amazon FC Ambassadors" began popping up in 2019, using Twitter to aggressively target criticism of the e-commerce giant and its many fulfillment centers. Around the same time, Amazon warehouse workers began protesting against company surveillance methods and reports of inhumane working conditions. There were also reports that warehouse workers had to skip bathroom breaks or pee in bottles.
According to The Post, new accounts resembling the Amazon FC Ambassadors from 2019 resurfaced on Twitter this month — this time also speaking out against union efforts by Amazon warehouse workers in Bessemer, Alabama. Vote counting on the landmark union drive began on Tuesday.
Vice posted several screenshots of the new Amazon FC accounts, noting that some of the avatars resembled AI-generated human faces.
The sudden surge of *TOTALLY REAL AND NOT FAKE* Amazon employee?™️ accounts created in March 2021, right after @amazonnews got owned for posting cringe, is giving me new life. The posting wars have reached a new level. *sarcasm pic.twitter.com/qFN0WgpGhJ

— Garrison Davis (@hungrybowtie) March 29, 2021
A spokesperson for Amazon told HYPEBEAST that it had no idea who was behind the accounts and has asked Twitter to investigate. "Many of these are not Amazon FC Ambassadors — it appears they are fake accounts that violate Twitter's terms. We've asked Twitter to investigate and take appropriate action."
According to The Intercept, Amazon began compiling its army of ambassadors in 2018 under a program titled "Veritas," where it helped train select employees on how to respond to online criticism of the company. Amazon has not responded to HYPEBEAST for comment on the alleged program.
The company has recently come under fire for installing surveillance cameras inside delivery trucks and for asking employees to consent to having their biometric data collected.