AMBUSH and Moët & Chandon Have Created a Minimal Take on the Champagne Bottle
For creative director Yoon Ahn, the project was about "stripping Moët down to its essence."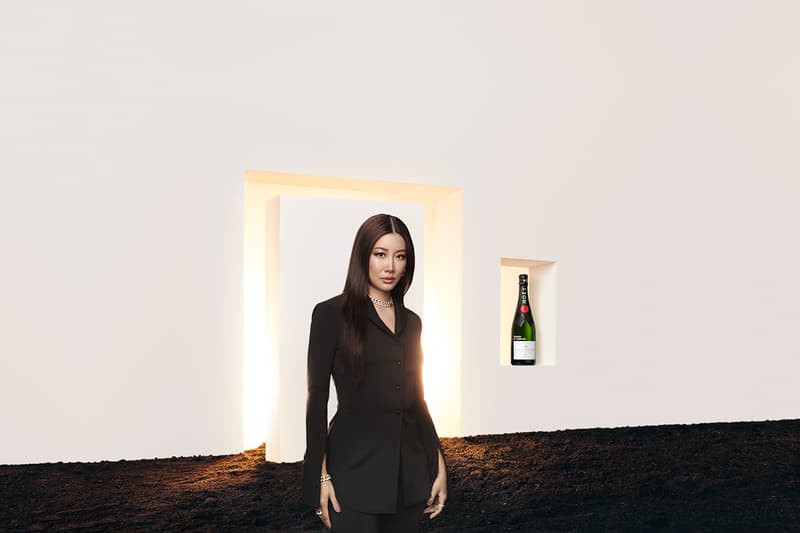 Yoon Ahn's label AMBUSH has a rich history of collaborations: the streetwear imprint has previously worked on projects with brands that range from Beats to Dior Men. But its latest partnership hopes to offer something wholly new: a collaboration with the LVMH-owned Moët & Chandon, to produce a collector's-item champagne bottle.
The project, which is the first ever global collaboration for the French champagne house, sees Ahn re-designing the bottles of Moët Impérial and Nectar Impérial Rosé.
Speaking about the collaboration with HYPEBEAST, Ahn acknowledged that working with a brand with such a heritage was, initially, a daunting experience. "It's challenging," she says, "but in a good way. We all know what Moët is! So I was very familiar with the product. But I wasn't as familiar with their history, and how deep it went. I've come to really appreciate that champagne-making is an art. It was kind of an education for me."
Ahn's reimaging of Moët's bottles has a distinctly minimal approach: the necks of both bottles are produced in black, set against a new embossed label in white. Additionally, a portion of profits from the sale of the Moët & Chandon x AMBUSH bottles will be donated to the World Land Trust, an international conservation charity that protects threatened natural habitats.
"We are thrilled with this partnership with Yoon," says Moët's Cellar Master, Benoît Gouez. "It brings a disruptive freshness to the centuries-old heritage of Moët & Chandon, and aligns with our own commitment to preserving nature to ensure a bright future for the next generation."
For her part, Ahn wears the mantle of a 'disruptor' with pride. "I like to ask a lot of 'Why Not' questions," she says. "I want to ask things that might not have been asked previously. But I don't set out to break the rules: I'm just being me."
The Moët & Chandon x AMBUSH capsule collection is available from selected department stores, hotels, bars and wine stores now. For more information, check out the Moët & Chandon site.