Amazon Music Launches "The Showroom," a Series of Limited-Edition Merch Collections with Flo Milli, Lucky Daye and Fousheé
Three capsules that tap into the artistry and style of each musician.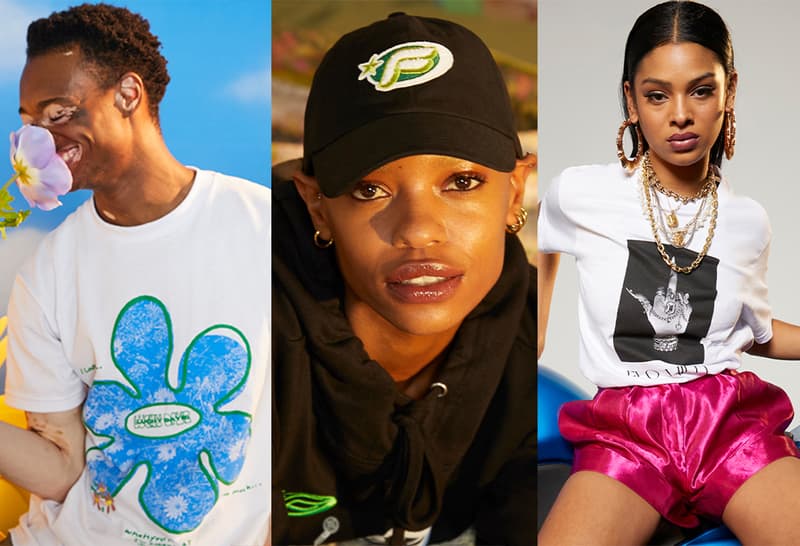 Amazon Music is bringing together the next generation of artists and designers with "The Showroom," a trio of merch drops from three of the industry's most exciting names. Collections from Flo Milli, Lucky Daye and Fousheé serve a mission of strengthening the connection between artists and fans by offering pieces that represent the spirit of the stars' music and personalities.
Each artist collaborated with a dedicated designer to translate their distinct sounds and style into apparel that shows off who they are as artists. The result is a series of three merch collections that are as unique as the musician who inspired them. "When we set out to create The Showroom, we wanted to pair artists and designers that had a likeminded approach, knowing this collaboration would lead to unique collections," says Senior Creative Program Manager at Amazon Music, Kennedy Carter. "We hope when fans see the powerful aesthetic of Flo Milli come through, the Y2K-inspired designs for Fousheé and the joyful undertones of Lucky's collections, they'll see how each piece of merch reflects the vibe of their favorite artists."
HYPEBEAST spoke with the artists and designers behind the project about creating the collections, which are available exclusively on the Amazon Music Artist Merch Shop and the Amazon Music app.
As a rapper and musician, Flo Milli has cut through the noise with her unapologetic and fearless lyrics, which designer Katie McIntyre used as a jumping off point for the collection in collaboration with Amazon Music. "Flo, as an artist, has definitely made an impact on me personally, and that translated through the vision I developed for her," she says. "I really wanted this collection to feel like her music and her energy: ultra femme, decadent and edgy. Flo has an expressive style and a sense of classical opulence that was important to communicate." For her part, Flo Milli took this as an opportunity to send a message to her fans. "I want my merch to say to fans that you can always overcome obstacles that come your way," she says. "And I want them to always know that you can always be uniquely you and be in comfort while working or doing anything that you love."
This comes through in motifs like bold florals, larger-than-life butterflies and art nouveau elements, which were inspired by Flo Milli's song, "Roaring 20s." The quintessentially Flo Milli graphics are applied to T-shirts, hoodies, sweatpants and shorts that are at once streetwear-centric and feminine, forward-facing and challenging viewpoints. "I have seen a large gap in the streetwear industry around women's voices," says McIntyre. "A lot of the messaging in these pieces incorporates Flo's lyrics, which often describe limitless wealth, sexual prowess and empowerment." Take, for example, a recurring middle finger graphic that is whimsical rather than crass, and was inspired by Flo Milli's phrase, "I want money, so fuck you, pay me" from the song "May I." The same lyrics are also used on the clothing. "She's demanding she be paid what she deserves in stark contrast to traditional expectations of women's submissiveness," says McIntyre. "This lyric is a fearless declaration. I really don't mind if it makes the Donalds of the world uncomfortable. That's kind of the point."
When rising designer Jordan Blair Aldridge set out to collaborate with Lucky Daye on his exclusive Amazon Music collection, his goal for the capsule was to create merch that exudes the same spirit as both the artist and his music. "When I started to have conversations with Lucky about the collection, I knew I wanted to create something that represented his radiating energy," he says. "I pictured creating pieces that make people feel good and that express their individuality."
Such positive vibes were achieved with a joyful color palette and nostalgic graphics and design details, seen on a range that includes a bowling shirt, T-shirt, jacket and bottoms. Just like Daye's R&B sound, the collection has a an inviting, retro soul reimagined for the present day. "I had this idea of, what if you were collaborating with your loving grandma? So, naturally, this collection was made with a lot of love," says Blair. Similar to Daye and his music, the assortment serves as an emblem of good times to come, no matter the circumstances. "We all need some luck sometimes, and I hope that  this collection can spread that mindset to anyone that needs it."
For designer Cameron Galley, recognizing the harmonious dichotomies of Fousheé's creative output informed the collection with Amazon Music, titled Time Machine. "In her music and personal style, Fousheé often blends contrasting elements that, when she puts together, work seamlessly," he says. "Likewise, I wanted to capture a mix of her contemporary vibe with the nostalgia for the past we both shared, and bring it together into a cohesive design collection." From Fousheé's point of view, the project's meaning was as much of a time capsule than a time machine. "Merch and the creation process of it is so important. You're creating an item that can potentially outlive you," she says. "So, I think the more time that you put into it, the more that you'll get out of it. Every thread, the fabric, the quality of the piece — everything is important." Together, the designer and artist established a visual language references Y2K elements, like a flip phone and charm bracelet, blended with a Fousheé F-star logo to achieve a retro-meets-contemporary aesthetic.
The mix of early 2000s and modern-day influences is featured on a selection that includes hoodies, a T-shirt, sweatpants, baseball pants and patches. "The Time Capsule elements in this collection were my way of rendering easily recognizable retro objects in a more modern and cyber representation," explains Galley. "Together the designs are a blend of vintage motifs and contemporary style to capture Fousheé's spirit."
The Flo Milli, Lucky Daye and Foushee x Amazon Music collections are available now, exclusively on the Amazon Music Artist Merch Shop and the Amazon Music app.