From Rumor To Restock, Here's How SoleSavy Works at Every Stage of a Release
Filling in the blanks from leak to drop and beyond.
1 of 2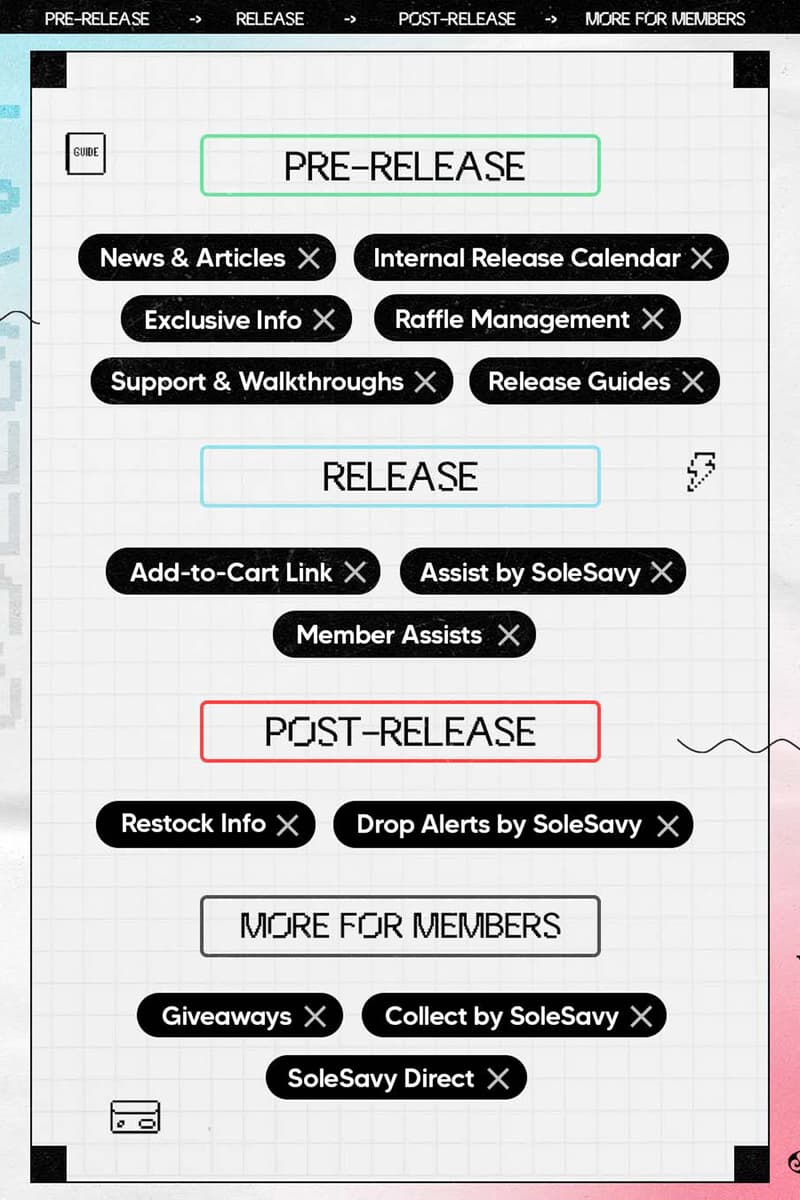 2 of 2
SoleSavy, the sneaker startup and community-based platform, is making certain that sneaker enthusiasts can get the sneakers they want, and avoid paying resell. Since 2018, SoleSavy has been building the tools and resources from every stage of a sneaker release—from tracking release information, to copping on release day, with restocks, or between members in their community. Monitoring retail releases down to the details, SoleSavy works at each stage of a shoe drop to make sneakers more fun and more accessible for the community it has built.
Prior to any release, SoleSavy works internally to catch rumors and leaks, going beyond just breaking down photos and providing confirmed release dates to educate its community on the context, details and stories behind each sneaker. The platform also provides exclusive info — for example, early access links — as well as full-on release guides, which serve as a one-stop-shop for drop day info, including stock numbers, retailers and links. Offering hands-on 1:1 support, SoleSavy prepares its members for each key release, answering questions, and providing best practices for success.
SoleSavy even helps you keep stay on top of all sneaker raffles too, giving you the most chances, and tracking which ones you've entered via the SoleSavy app. When it comes time to cop, SoleSavy's latest Assist tool allows members to shave precious seconds off their checkout processes by auto-filling personal information on Chrome, as well as Member assists, where any of the thousands of active members can help another user out.
And just when you think the release day has come and gone, SoleSavy will help you stay on top of restocks and shock drops. With recent shipping delays, Sneakers restock more than you think—and you won't find the majority of restock links on sneaker Twitter either, because they'll typically sell out faster than someone can copy and paste to Twitter. The Drop Alerts feature within the SoleSavy app helps you track all of this on the go, too. Personalize your alerts, and you'll get instant alerts for the shoes you want, taking you straight to check out. And to ensure that everyone eats, SoleSavy is going beyond the retail release. SoleSavy has sold over $2M of hard-to-get sneakers directly to members, and has hosted over $500,000 USD in sneakers giveaways already.
What's next? Bringing the experience full circle, Collect by SoleSavy is a new marketplace for members looking to buy, sell and/or trade that's completely devoid from the hefty fees of other aftermarket platforms. Because of the community-based approach, users are also more aware of who they're buying from, bringing a more intimate connection to collecting.
SoleSavy is cultivating a new experience for sneaker enthusiasts, solving their biggest challenges thanks to a unique combination of community and technology. More importantly, it's bringing the fun and ease back to collecting, unlocking the tools and resources that make sneakers more accessible.
Head to SoleSavy's website to join the community and be surrounded by like-minded collectors through each step of the copping process.