Pepsi Debuts Its Turkeytron Thanksgiving Centerpiece for Football Families Nationwide
Offering the ultimate football watching experience.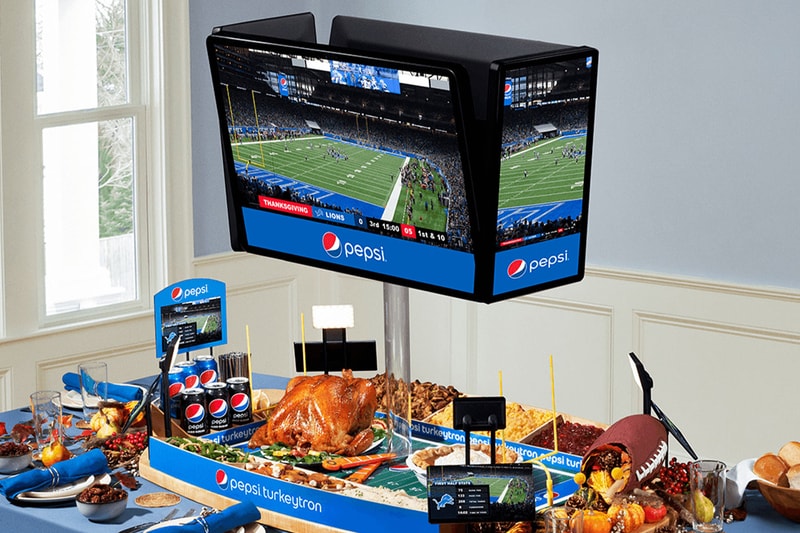 With Thanksgiving just around the corner, Pepsi is combining the best of both feating and football this holiday for their fans.
Pepsi is giving fans a chance to ditch their turkey carving traditions and substituting the dinner table with its one-of-a-kind Pepsi Turkeytron. The F&B giant is calling it the "perfect Thanksgiving centerpiece that includes everything unapologetic football fans will need for their gameday football watching, right at their dinner table."
Thanksgiving Day football has long been a known tradition amongst diehard football families. Any regular-season game that falls on Thanksgiving is expected to be the most viewed throughout the season as it has been for the past three consecutive years. With the Turkeytron, families will not have to worry about turning off the TV before eating at the dinner table.
The Pepsi Turkeytron is an all-in-one ultimate football watching experience and features five individual screens so that every side of the table has the game covered. Below the TVs, which are set up like a jumbotron in the arena, Pepsi has included a drinks stand for all your Pepsi needs as well as an area for sides and the quintessential big bird centerpiece. For a chance to win this experience, Pepsi asks fans to retweet the Tweet with the hashtags #PepsiTurkeytron #Sweepstakes and follow @Pepsi, explaining why they think their family deserves this non-traditional celebration.
Take a look below.
Behold The Pepsi Turkeytron. A dream to football lovers. The perfect Thanksgiving centerpiece.

QRT with the reason your family deserves this groundbreaking centerpiece using #PepsiTurkeytron #Sweepstakes and follow @Pepsi for a chance to win it!

Rules: https://t.co/Krjk7sUW0M pic.twitter.com/mcU8MW21fU

— Pepsi (@pepsi) November 19, 2021
In case you missed it, MSCHF has used flavors from banned foods for "illegal chips."