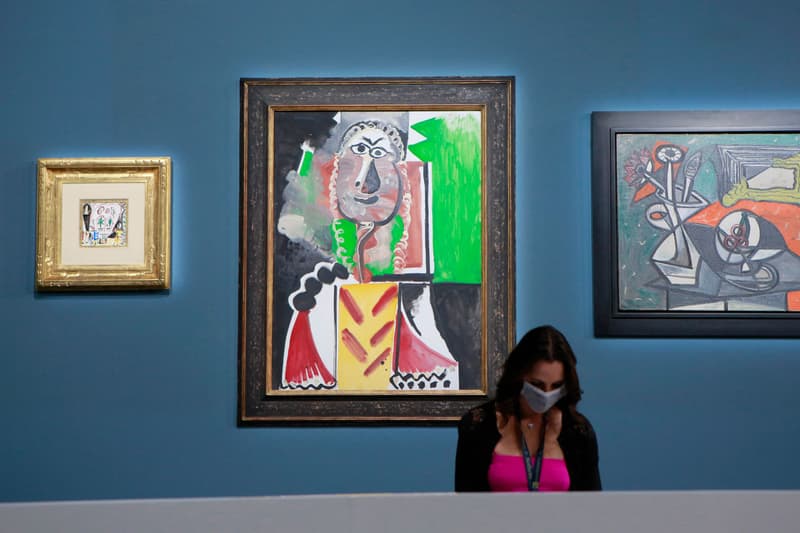 Picasso's Paintings Sell for More Than $100 Million USD at Sotheby's Auction
At the Bellagio Hotel and Casino in Las Vegas, where the works have been displayed for years.
---
Eleven Picasso paintings have been auctioned off for a total of more than $110 million USD as part of a Sotheby's auction in Las Vegas.
The auction took place on Saturday at the Bellagio Hotel and Casino, which previously housed each of the paintings in its Michelin-starred French and Spanish restaurant "Picasso," which is inspired by the renowned artist's life and portfolio. The eatery will continue to showcase 12 additional Picasso pieces.
The highest sale was made from the 1938 painting Fenne au Béret Rouge-Orange (or "Woman in a reddish-orange hat), which showcases the artist's muse and lover Marie-Thérèse Walter, for $40.5 million USD, roughly $10 million USD higher than the pre-sale estimate. Elsewhere, large portraits Homme et Enfant and Buste d'Homme were sold for $24.4 million USD and $9.5 million USD, respectively. Smaller ceramic works, including Le Dejeuner sur l'herbe, which fetched $2.1 million USD, sold for three to four times their respective pre-sale estimates.
Sotheby's did not disclose the names of the buyers.
The auction, which coincided with Picasso's 140th birthday, was the "largest and most significant" fine art sale to ever take place in Las Vegas, according to MGM. The sale also marked Sotheby's first evening marquee auction to occur outside of New York.
Elsewhere, Andy Blank has unveiled a limited-edition range of NBA logo prints.