Meet the New Guard in Men's Jewelry
As retailers report major growth, here are the designers you need to know now.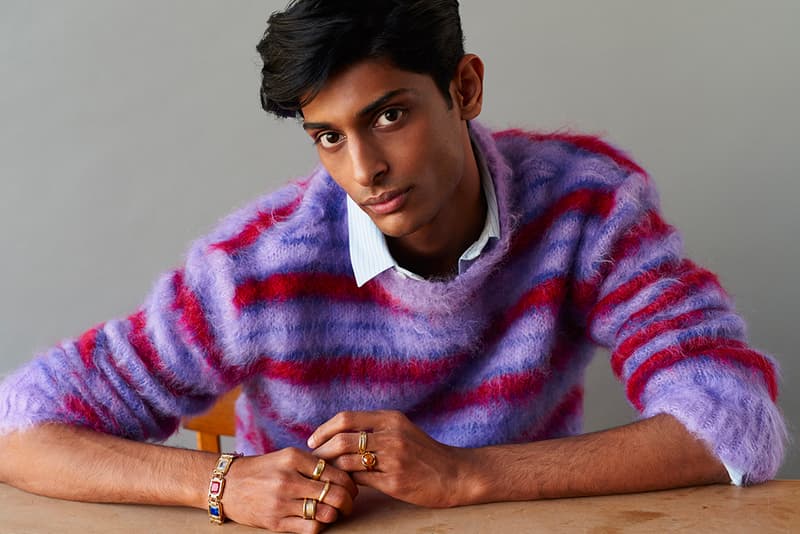 The last ten months have been dominated by comfort and convenience. Stuck at home, with our social interactions limited to Zoom, we have turned more and more to loungewear for our day-to-day wardrobe. Amidst this, though, more surprising categories saw strong growth. While elasticated waistbands and softer fabrics are unlikely to go anywhere soon, consumers are also increasingly invested in jewelry.
The rise of men's jewelry can be seen as a contrast to the predictable embrace of loungewear, but it also allows wearers to easily transform their day-to-day outfits. "Dressing with a high/low attitude has never felt more relevant, and a piece of fine jewelry instantly elevates a more casual look," explains Damien Paul, head of menswear at Matchesfashion, which has increased its men's jewelry category by more than 50% for Spring/Summer 2021.
And while more and more men are investing in jewelry, they are buying an increasingly diverse range of pieces. "Whether a piece of jewelry is timeless and discrete or makes a bold statement, men with different tastes and styles are experimenting with jewelry confident they will wear it far beyond a season or two," continues Paul. "Whilst some of our customers like to wear one or two signature pieces, many others change their jewelry often, matching different pieces with different outfits or layering several pieces together at once."
"People want to wear designs that they can trace back to real people. There's a greater resonance for personal connection in these times."
Additionally, men are increasingly turning their backs on the better-known labels, instead embracing up-and-comers, independent brands, and more unique designs. "I would say men are shifting towards more unusual, beautifully crafted pieces from talented jewelry designers rather than focusing on established big brand names," adds Paul. "Brand story and uniqueness are key and whether the piece is handmade with precious stones or made using recycled beads and yarns, more men want their jewelry to feel individual."
Malmö and London-based retailer Trés Bien has played its role in championing emerging jewelers through the launch of its recent jewelry selection featuring sterling silver pieces from three rising stars. "People want to wear designs that they can trace back to real people," says Alexander Francis, Trés Bien's buyer and brand manager. "I think we are seeing a greater resonance for personal connection especially in these times. Also, with all things made by hand, no two pieces are identical which adds an extra layer of intrigue."
Both Paul and Francis think this growth is just the beginning for men's jewelry, pointing to a range of directions the category could go in. "There really is no limit to what is next," says Paul. "Whether you're a true bohemian or a social media statement-maker, I think we'll see more stones and gems. I expect to see continued growth of the necklace category — whether that be a simple chain or something more significant — and of course more and more men are focusing on bracelets to accompany a killer timepiece."
Francis thinks — and hopes — that there could be a change in store. "Currently, we see a lot of people stacking chains and rings," he adds, "but I think a "less but better" approach will permeate jewelry and hopefully the fashion industry more widely. I'd like to see people investing in fewer but higher-quality pieces that can be worn thoroughly and maybe even passed down through generations. I think there is something special about wearing just one classic chain or signet ring everyday."
Whether you're keen to grow your jewelry collection or you just want to stick to the classics, here are three emerging jewelry designers you need to know.
Bleue Burnham
One jewelry designer making a name for themselves is Bleue Burnham, an East London-based jeweler who recently took part in Trés Bien's curated spotlight. Burnham, who is self taught, describes his work as "a conversation between fine jewelry and the beauty of the natural world, human culture, the plant kingdom and wildlife."
The relationship between jewelry and the natural world is referenced through Burnham's designs, which mix classic silver and gold bases with colorful lab-grown precious stones. This influence, however, is reinforced by his sustainable ethos. In a previous career, Burnham was Oliver Spencer's Head of Sustainability, which gives his emerging jewelry label an added dimension.
Most of Burnham's jewelry is constructed from recycled silver and gold, while his website declares a commitment to reducing the brand's footprint through materials, shipping and packaging as well as supporting carbon reduction schemes when possible. Speaking about this focus, Burnham says, "Environmental sustainability should really be called human sustainability. It's our future. Businesses, individuals and governments all have a part to play in this. As a business we have a responsibility to do what we can to improve humankind's position. This is why understanding and improving our impact on the environment is important to us."
"There is so much space for more creative exploration and I feel like these emerging designers are doing that."
Burnham is just one name in a growing number of emerging jewelry designers, something he thinks the industry has been calling out for. "The jewelry world has remained pretty stagnant and only had a few channels of creative thought: gothic, chunky and skull-like pieces, literal designs or minimal clean shapes," he says. "If you compare jewelry with the clothing industry it seems old fashioned, the clothing industry has evolved so much more creatively. There is so much space for more creative exploration and I feel like these emerging designers are doing that."
Similarly to his contemporaries and major retailers, Burnham has seen men's jewelry grow in popularity over the last year. Pointing to consistent growth and strong relationships with stockists, Burnham adds, "I definitely think men are enjoying jewelry more. I don't know if this is linked to lockdown or just part of the growth and evolution of men's style."
SWEETLIMEJUICE
Also based in London, SWEETLIMEJUICE is described by co-founder Simpson Ma as a "luxury fashion jewelry brand that creates experimental craftwork." The brand explains its unusual name as a rejection of the jewelry world they are trying to disrupt, adding that "a cup of sweetened fresh lime juice is what we need to tickle our taste buds and satisfy our dry throats."
Founded in 2018 by Ma and fellow London College of Fashion graduate Jovy Hon, the brand mixes traditional techniques with progressive ideas, most commonly seen through the combination of denim-wrapped stones in 925 sterling-crafted jewelry. "We focus on the reinterpretation of traditional handcrafting techniques to create contemporary designs," adds Ma. "Each collection usually starts with an open-ended question, a reflection of the answer searching process and an echo of answers can be found in the pieces."
"Customers nowadays have a stronger desire for jewelry that can truly represent their personality."
As an emerging jewelry label, SWEETLIMEJUICE is part of a growing wave of rising names. "It's both exciting and challenging," says Ma. "Customers nowadays have a stronger desire for jewelry that can truly represent their personality and a higher level of acceptance on jewelry made with unusual materials or that has an unusual way to wear it. This allows a bigger room for us to bring our creativity. However, it is also becoming easier and easier to start a jewelry brand. There are countless jewelry brands with different price points you can find online, so it's harder than ever to find ways to differentiate ourselves. We've spent a lot of time finding our niche."
The last year has also impacted SWEETLIMEJUICE both in terms of production — Ma points to both difficulties sourcing deadstock bleached denim and the benefit of having more time to concentrate on designs — and in terms of the label's client base. "Most of our clients are still passionate about jewelry, even though they are stuck at home," Ma continues. "Although people can't be bothered to change what they wear every day, they wouldn't mind changing the matching jewelry because with just a different piece of jewelry the vibe of an outfit can change completely. I guess putting on necklaces and rings gives an instant "feel good" effect. You can't help to flex your rings when typing on the keyboard or holding your phone."
Georgia Kemball
Jewelry designer Georgia Kemball describes her work as both "inspired by magic and mysticism" and having "a kind of raw, feral aesthetic." Both approaches are noticeable in her designs — stocked at retailers including MatchesFashion, LN-CC and Machine A — which feature characters such as goblins and cupid hand-carved in wax before being set in sterling silver and gold.
Another inspiration for Kemball is the connection between jewelry and its wearer, something that became apparent while watching Martin Scorsese's recent documentary with Fran Lebowitz. "She talks about these Alexander Calder cufflinks she has, and how they're made from a coiled up piece of wire and how much she loves them," Kemball says. "I've thought about them a lot, and how people's relationship with jewelry is so personal and intimate."
Similarly to Burnham and the SWEETLIMEJUICE team, Kemball finds that the growing group of emerging jewelry designs is something important to be part of. "I find making jewelry quite a solitary experience," she adds, "so it's nice to be part of a wider community and to feel part of something bigger." When speaking about the lockdown trend of buying jewelry from these up-and-coming names, Kemball thinks her work has grown through gift-giving. "I get the sense that people are looking for more meaningful gifts for each other," she says. "That feels nice to be involved in."