Max Holloway Sets Record for 445 Significant Strikes Landed at UFC Fight Island 7
The "Blessed Express" is back.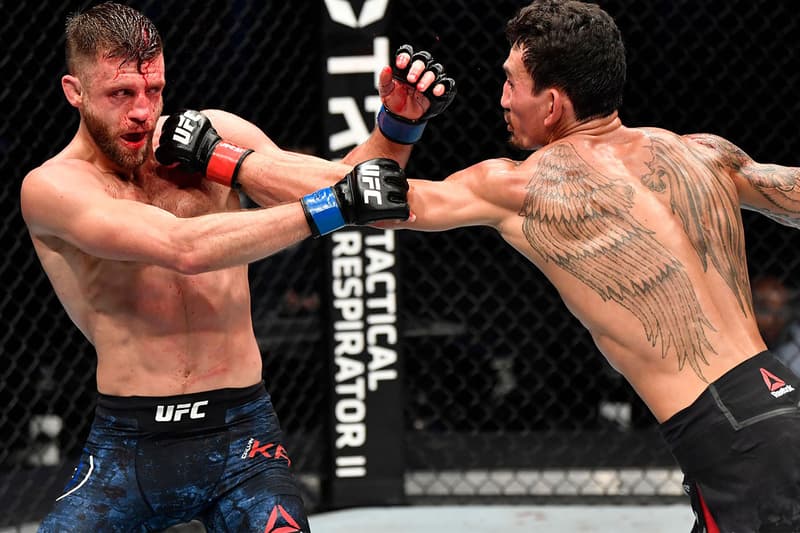 Max Holloway has just proved that at 29 years of age, he's not even close to his prime. Coming off two losses against current UFC Featherweight Champion Alexander Volkanovski, the second which went to split decision, many feared that Holloway's damage sustained was catching up to him. This night proved all doubters wrong.
A fire was lit when Kattar mentioned that Holloway's boxing ability was nowhere close to his, this led to Holloway starting the match with a series of relentless 3-4 piece combinations. As the fight went on, Holloway continued to smother Kattar with lightning-quick jabs along with spinning back kicks, and high knees and elbows when in the clinch. While Kattar did have some powerful counters of his own, it wasn't enough to outpace Max's UFC record-breaking 445 significant strikes.
Kattar showed immense heart and durability as he weathered the storm. Many commented that the third round would have been too much to endure for most fighters but the East Coaster never dropped down and continued to hang on for the full five rounds. Holloway went on to comment that Hawaiian boxing "is just different" in his post fighter interview.
Holloway won the bout via unanimous-decision with one judge scoring it 50-42 — the last time the UFC saw a 50-42 scorecard was in 2006.
— Conor McGregor (@TheNotoriousMMA) January 17, 2021
Daaaaamn!! #UFCFightIsland7

— Alex Volkanovski (@alexvolkanovski) January 16, 2021
The work rate of these guys sets the bar. @ufc @maxholloway @CalvinKattar

— Dominick Cruz (@DominickCruz) January 16, 2021
It's some good fights today ???

— Nathan Diaz (@NateDiaz209) January 16, 2021
Holloway snapped??

— Anthony Pettis (@Showtimepettis) January 16, 2021
Truly inspired. Beautiful performance.

— Sean O'Malley (@SugaSeanMMA) January 16, 2021
For more MMA news, Khabib Nurmagomedov is not walking away from MMA just yet.