How NPR's Tiny Desk Concert Became the Unexpected Launchpad for Musicians of Color
The show's producer Bobby Carter details the shift and talks curating the popular show.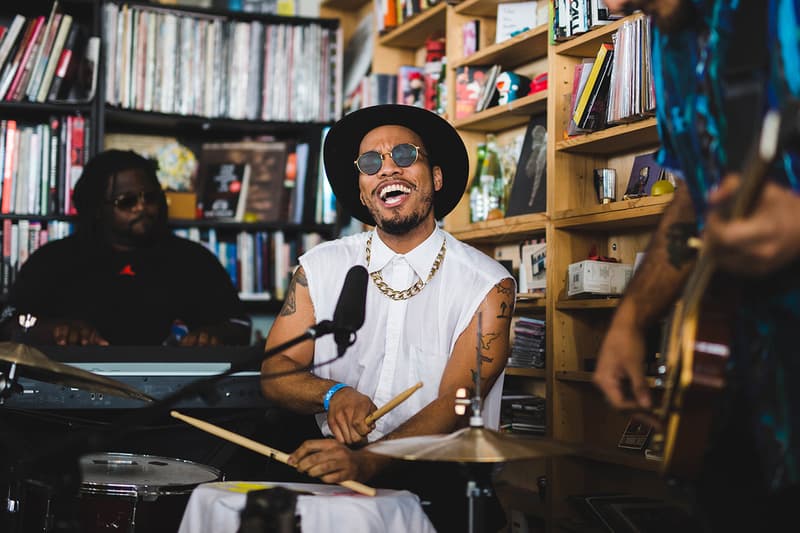 Think back on your favorite Tiny Desk Concert. In its more than decade-long history, the NPR Music program has hosted plenty of acts to choose from, but perhaps names like Anderson .Paak, T-Pain and Jorja Smith make the list. This isn't a shot in the dark by the way — those are three of the top five performances based on YouTube views in the platform's storied repertoire. And like many others that have landed in the upper echelon of artists over the years, people of color now often make up the names behind the desk.
In fact, T-Pain's performance (logging 18.7 million views and counting on YouTube) marks a "turning point" at the Tiny Desk, as explained by the show's producer Bobby Carter. It sparked a stream of other Black musicians and artists of color to follow him, many of whom continue to book spots at the micro-stage to this day, with an eclectic range of names like Tyler, the Creator, Erykah Badu, Ari Lennox and Lizzo having checked off the feat. Even the spicy lyricism from Megan Thee Stallion wasn't off-limits for the desk, as the risqué rapper took her turn during NPR's first-ever Tiny Desk Fest last fall.
And based on the data, it's in line that artists would embrace the platform as much as it's grown to embrace them. According to a 2017 Forbes article, Tiny Desk actually provided a greater boost for musicians than late-night TV shows. What's more, NPR Music has even subtly branched into the entertainment sector with one of its latest initiatives, recently hosting an original Insecure week. Coinciding with Black Music Month this June, the themed week featured a live interview with the show's creator and star Issa Rae, alongside three special Tiny Desk performances from artists in the soundtrack.
Now, NPR continues to deliver hits to the masses through Tiny Desk (Home), the latest iteration of the project in response to ongoing social-distancing measures around the world. "With us pivoting, it's imperative that we keep that energy high because now that sense of connection is felt digitally," shared NPR Music publicist Anaïs Laurent. "It's exciting to see how musicians continue to push boundaries and be creative during this moment in history; playing with color schemes, visual effects, giving us a peek into their creative space."
"We have a joke at NPR where there's an NPR approved artist or the safe thing to do — we are totally off that," declared Carter. "We are trying to be disruptive, we are trying to bring people to the desk that people wouldn't expect us to do."
HYPEBEAST caught up with Carter further to learn more about the Tiny Desk process, curation of the concerts and the significance of artists of color on the show.
HYPEBEAST: What has been the overall impact of having more people of color perform on Tiny Desk over the years?
Bobby Carter: Tiny Desk started in 2008 so when you think about that and look through our content, there was a tipping point around 2013, 2014, when we started to open things up. When we had T-Pain that was really our tipping point. It was our first viral moment in the history of the series. The creator of the show, Bob Boilen, along with Stephen Thompson from '08 to 2012, 2013 — it was more of a passion project for them two. They brought more of the artists they loved, like rock, folk and then with Felix [Contreras] a little bit of Latin.
But I've been in the company 20 years and when they started I was in a whole different department of NPR. But I've always had a passion for music and eventually made my way over to the music department. It wasn't until a woman by the name of Frannie Kelley brought in T-Pain, we could clearly see that "oh, there is an audience that wants to see hip-hop and R&B at the desk." And a lot of people didn't even know that he could do that, that T-Pain could actually sing with no autotune, so it was a couple of things happening. It was R&B coming into play and it was giving something people hadn't seen.
So from there it started to roll out, it was a trust thing. The creator wasn't necessarily a fan of hip-hop but when he saw what T-Pain could do, things started to roll out — [we brought in] Anthony Hamilton, Noname, Thundercat, did stuff like that — and that's when we saw that's what our audience on YouTube wanted. There was a huge increase of viewers once we brought Black music into the platform.
Have there been difficulties with bringing on certain artists?
We have different members on the team, I don't know if you want to call them experts. We have a small group of people passionate about music, and the number one rule about pitching Tiny Desk is you have to be passionate and know what they can bring to my platform to make it special. This is still very much a passion project where if you see my name attached to a specific Tiny Desk concert, you know I love this artist and want to bring something special.
The challenge now isn't necessarily proving that hip-hop and R&B works, cause the numbers don't lie. Before quarantine we were so backed up and had so much going on, we had to get picky about who we brought. [The problem now is] it was getting out of control. We were shooting three or four a week.
So how do you curate the acts, with so many artists being interested in the show?
At this point in 2020, these are good problems to have. On one end, we have big artists who are trying to push a project. And then there is this other handful of artists, that we absolutely love, that aren't necessarily huge but we want to put people on in a sense. That's still part of what we do, for me personally, I find the most joy in discovery acts. So those are the challenges. You have big labels over here, they want that Tiny Desk sauce at this point cause the sh*t does numbers. But we also have to figure out, how can we feature everything from the rising people?
How have the protests surrounding issues of race impacted the process at all?
We were pretty lucky, right now we are already in a space where people of color have a platform. Before this happened we can look back on our archive and say, "We at the Tiny Desk value these perspectives, we value these voices." At least since 2014, we've offered Tiny Desk as a platform for people of color to express themselves openly. I'm proud of that because it's authentic. A couple of weeks ago on Juneteenth we wanted to do something but we didn't want to brand anything as Juneteenth. We wanted to remain authentic. So we pulled from our archive and it was a natural transition. Authenticity is key.
How is the overall process translating now to the Tiny Desk (Home) concerts?
The goal is to maintain the intimacy that we capture at Tiny Desk. That's still the magic. Whether it's from home or behind the desk, that's what we still aim to do. At this point, the artists record everything and send it to us and we'll sweeten it up and make adjustments. So they take that recording, we do have guidelines and ask them to do certain things but we don't want anything overproduced. We want it to be organic and stripped down. Now that we've done it for a few months, artists are starting to be more creative with what they do. Artists understand that touring is a wrap for now. Roddy Rich just recorded something that's really fire, really cool.
Have you had a favorite or favorites from over the years?
Always, Anderson .Paak is gonna be the one that I'm most proud of because he wasn't the Anderson .Paak that we all know now. He was still on the come up, his name was buzzing, Malibu was out and he was getting a lot of attention. He's just one of those ones, to get him to try to do that it's a challenge 'cause he's usually running around so to ask him to sit down was a lot.
You recently hosted Insecure week at the Tiny Desk. Are there other future projects with TV shows or other entertainment?
That opened the floodgates, we had a few people reaching out but we have to be careful because that was special for a lot of reasons. One being we published a week of Tiny Desk concerts all featuring Black women who were on the soundtrack. Then also we stepped out and did one of our first IG Lives where Sidney Madden interviewed Issa Rae and Kier Lehman, the music supervisor for the show. So that worked for many reasons, and we have to see for the future.
What other initiatives are you working on for the future?
Tiny Desk (Home) is our primary focus for the time being. We are assessing the climate here, trying to figure out the safest way to resume recordings. Also, we're in the middle — for bands who are interested — of judging Tiny Desk contests where we invite bands from around the country to audition and send us a video submission of them playing a Tiny Desk-type set so the winner gets to play at a Tiny Desk. There's over 6,000 entries and every Thursday for a few more weeks, myself and Bob Boilen go live on YouTube and judge some of our favorite submissions. And then for me, I'm always just trying to discover something new. I'm reaching out to artists and trying to get new people in the door.