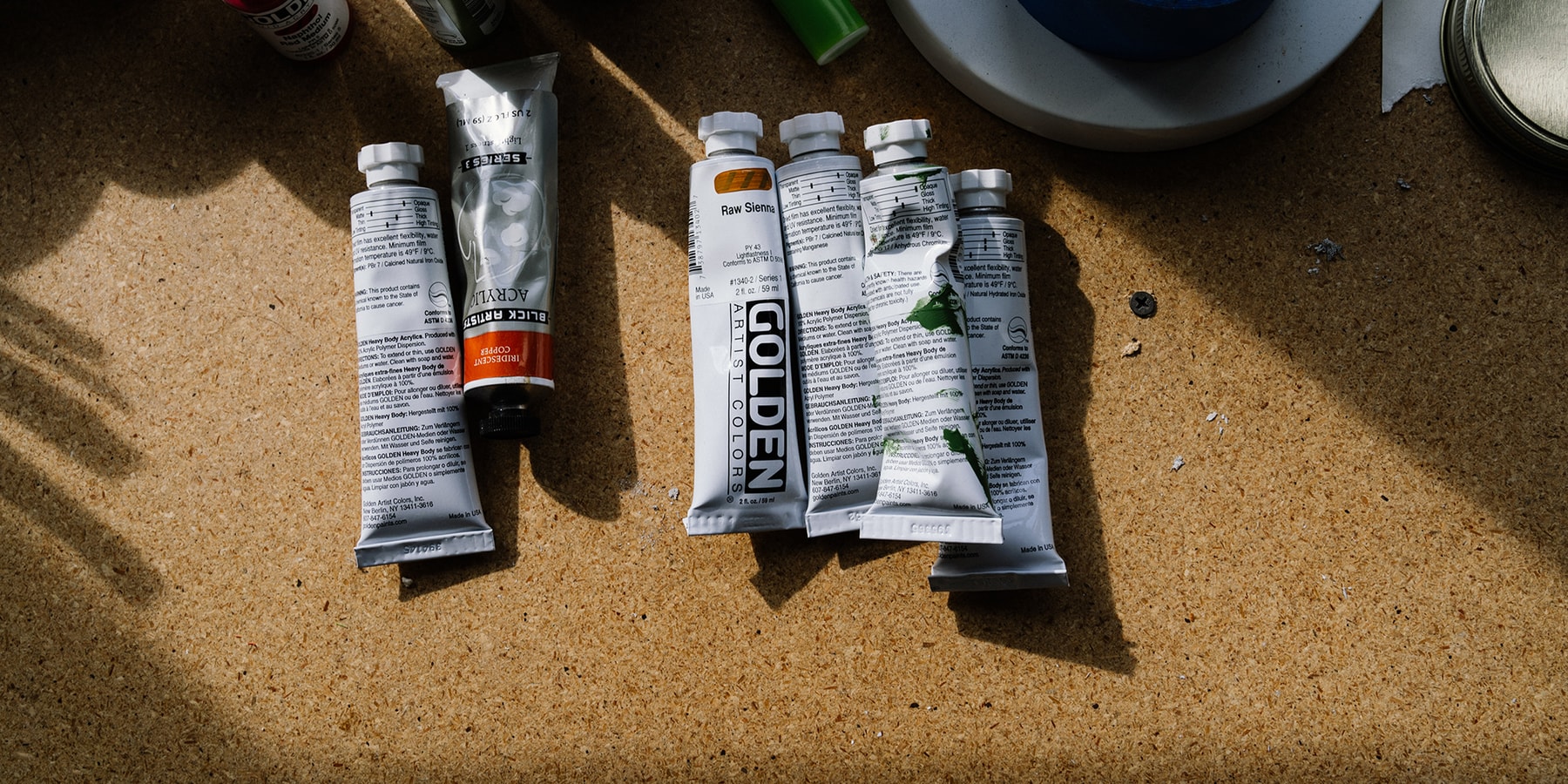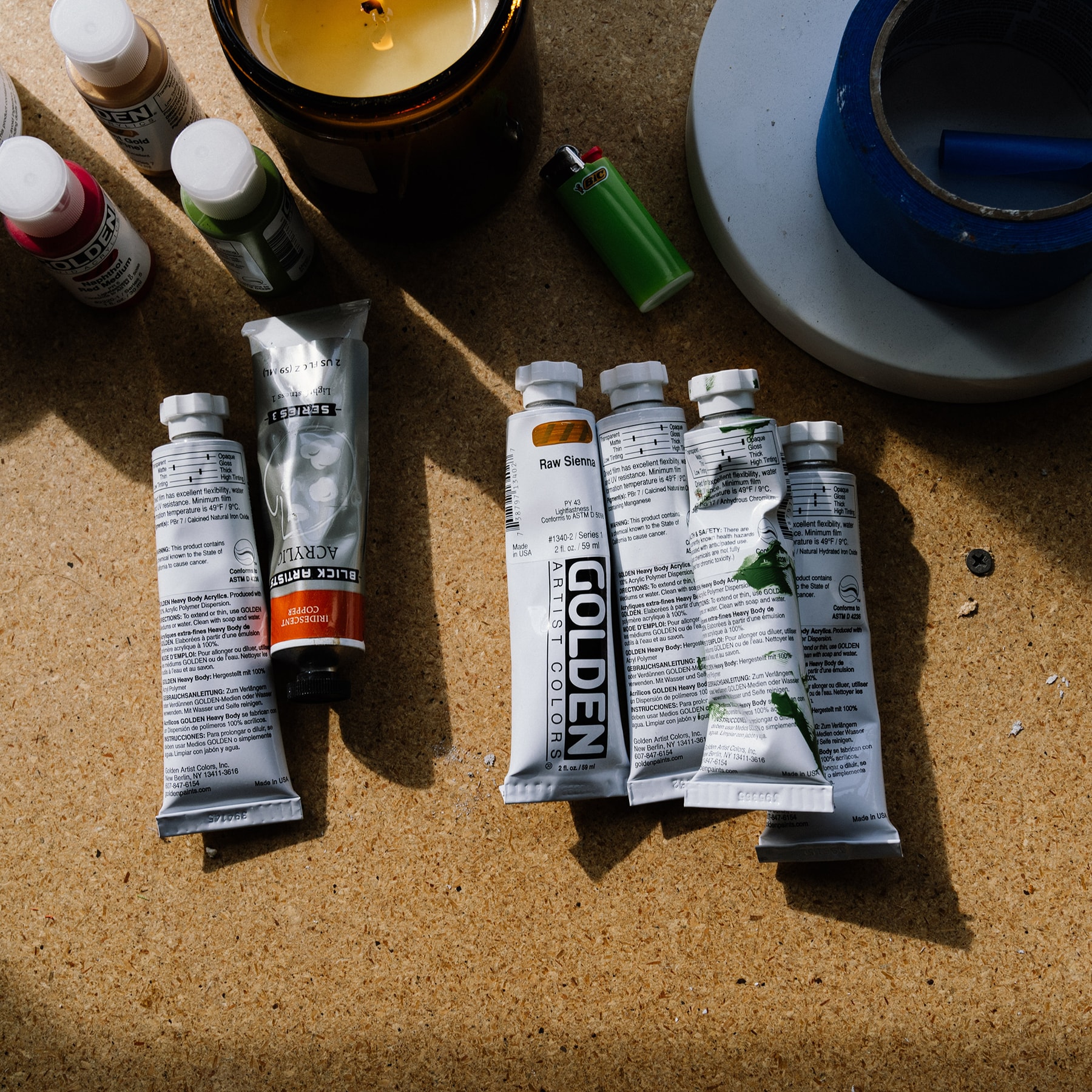 Bianca Nemelc Is Painting the Fantastical World She Wants to Live In
The artist centers Brown female bodies in her work, with themes of sisterhood and feminism.
Do you like Bianca Nemelc's work? Great. Do you know why you like it? Even better. The communications graduate-turned-Bronx-based artist wants — like most (if not every) artist — for her work to sell. But like any dedicated mother over her precious babies, she's vetting anyone's intent before anything goes out the door.
Nemelc has a heightened sense of protection over her pieces these days in light of the recent racial justice uprising after the killings of George Floyd, Breonna Taylor, Ahmaud Arbery and countless others. As conversation and action around the subject has increased around the world throughout 2020, Nemelc has had her own internal reflections as a "Brown" artist who proudly explains that her work is created in order to reflect other Brown and Black individuals — so it's not just professional, it's personal.
"I want to know now, 'Why do you want my artwork?'" said Nemelc. "What is it about it that draws you to it?" she questioned. As the eldest of six, the protective instinct comes natural for the New York-bred creative, who experiments with themes such as sisterhood and feminism in her whimsical paintings.
Some of her earlier works, like together, she explains, are peppered with bowls as a key symbol of support. "Whether it's a bowl of food, or a bowl of knowledge, or a bowl of this connection, bowls were this empty space for potential." But at the centerpiece, Nemelc's canvases are always plastered with shapely, round (and headless) bodies in a myriad of Brown shades, serving as a reflection of the many "layers and complexities that there are in Brown skin."
HYPEBEAST chatted with Nemelc to further discuss her artwork, how her background informs her process and adjusting to a growing fan base.
HYPEBEAST: How did this style with the shapes that you paint come about? Are they meant to be women?
Bianca Nemelc: They are supposed to be women. It's very abstract. I think — and it's so funny to say it — but I think this whole style came from me not knowing what to do. So a lot of where this style is born out of is being super naive and also kind of being like, "Okay, sh*t I am just going to throw something on the canvas and see what works, what sticks." And it developed from there, I was like, "This is beautiful. I'm going to see how I can create these women and create this world."
What my work really is, is taking up space and being in the world so I'm just creating these women to exist outside of me. In the beginning, I think it was more me figuring out how I moved in the world and just putting that out there, so a lot of the environments are very reflective of real life — the kitchen, the living room, places that existed. And so they've kind of grown from that and are now creating their own world.
So in a way, would you say your work is a reflection of you?
I think my earlier work was. I feel like now, they kind of exist outside of me which is a lot of world-building. It's a lot of just me figuring out what stories they're trying to tell within themselves. I like to give them their own sense of agency and consciousness. So like this series that I'm creating now is them really being an agent of change in their own environment and not being disconnected. They're very much existing in their environment but they're also changing their environment and affecting their environment and they aren't passive viewers of what's happening in their world. So what if my breasts could grow a garden is more or less what I can do within myself to create this fruition within my own environment.
1 of 4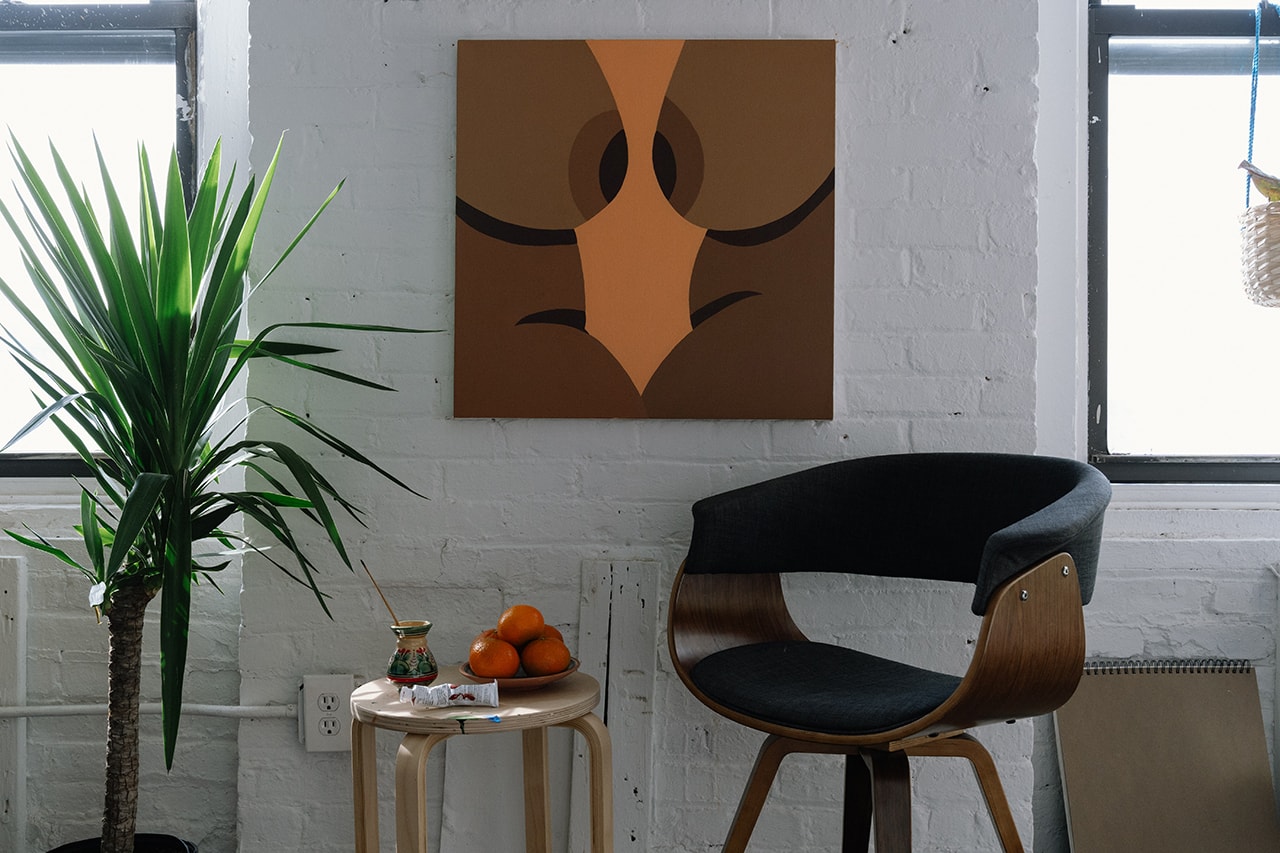 2 of 4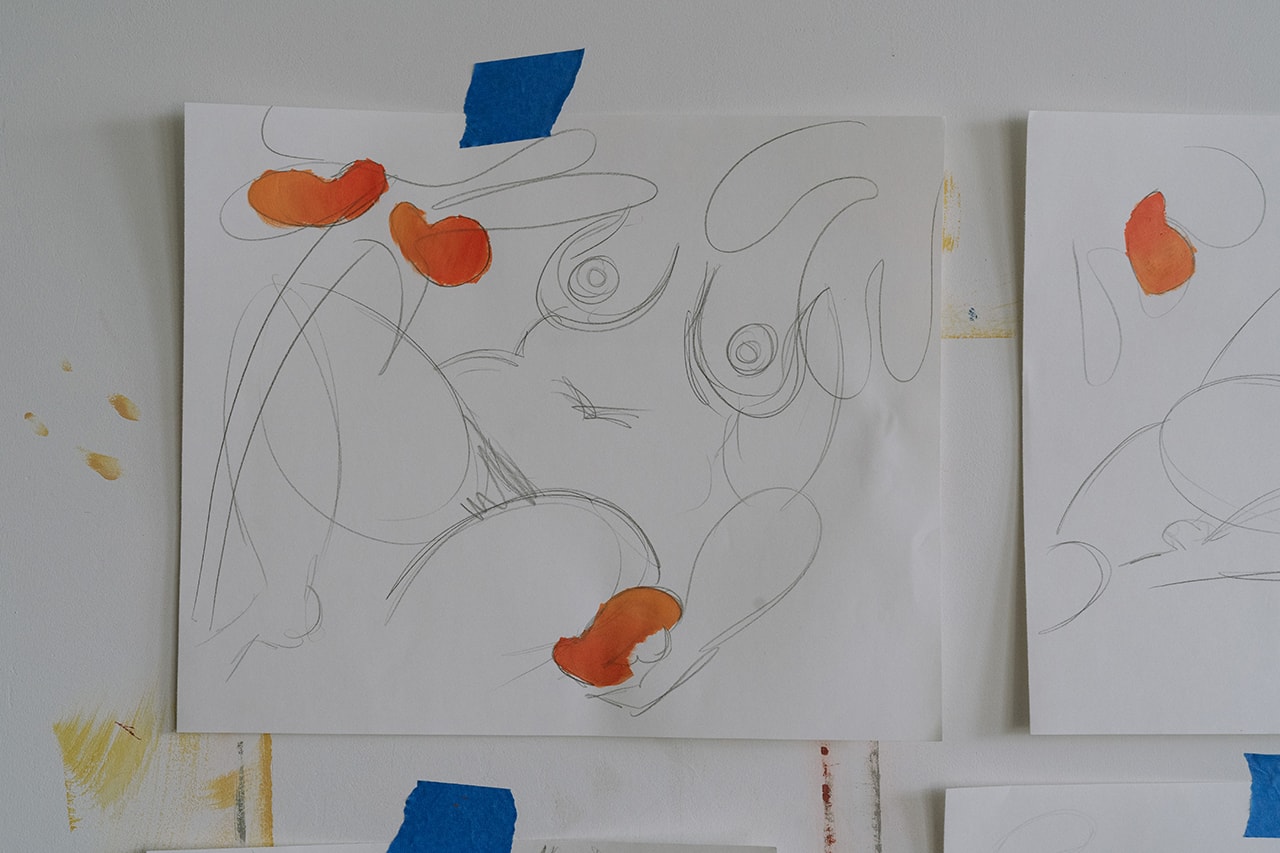 3 of 4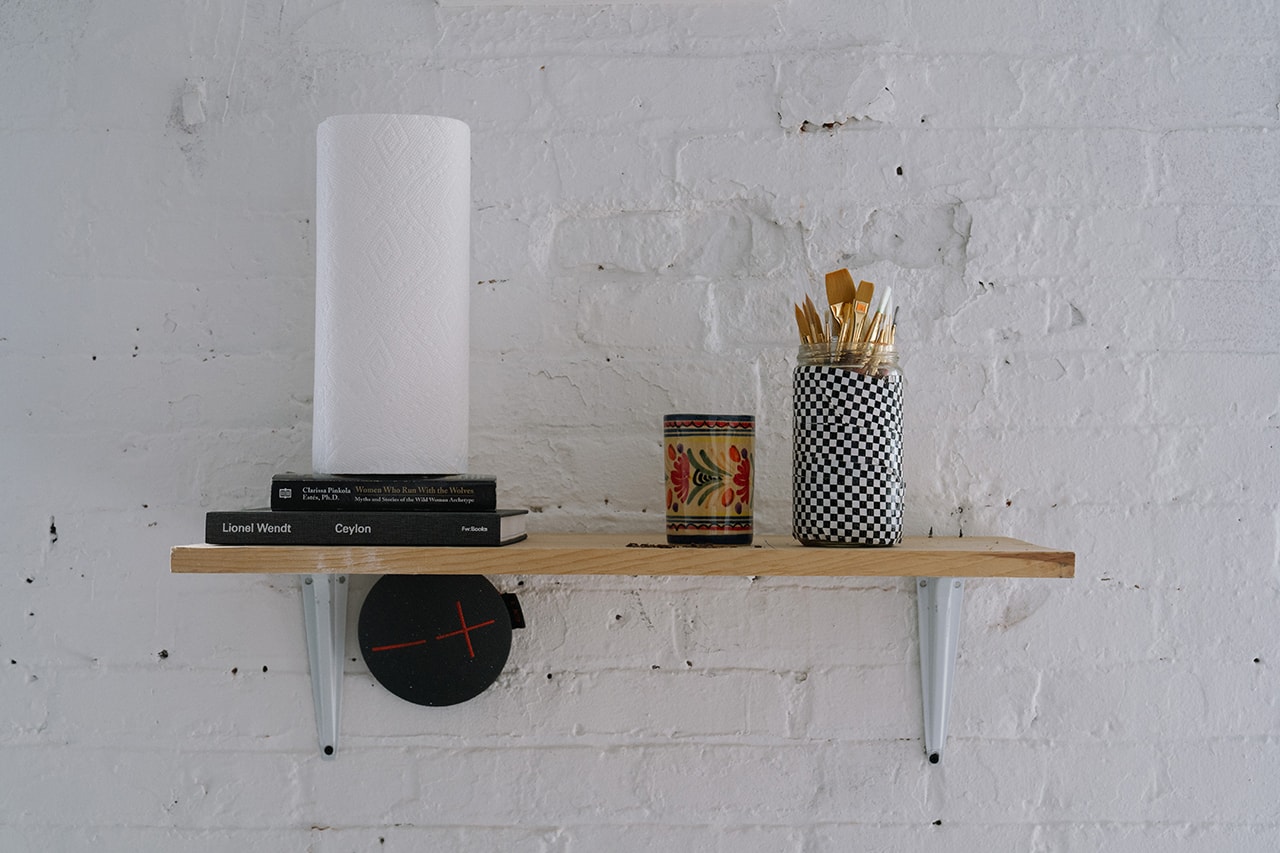 4 of 4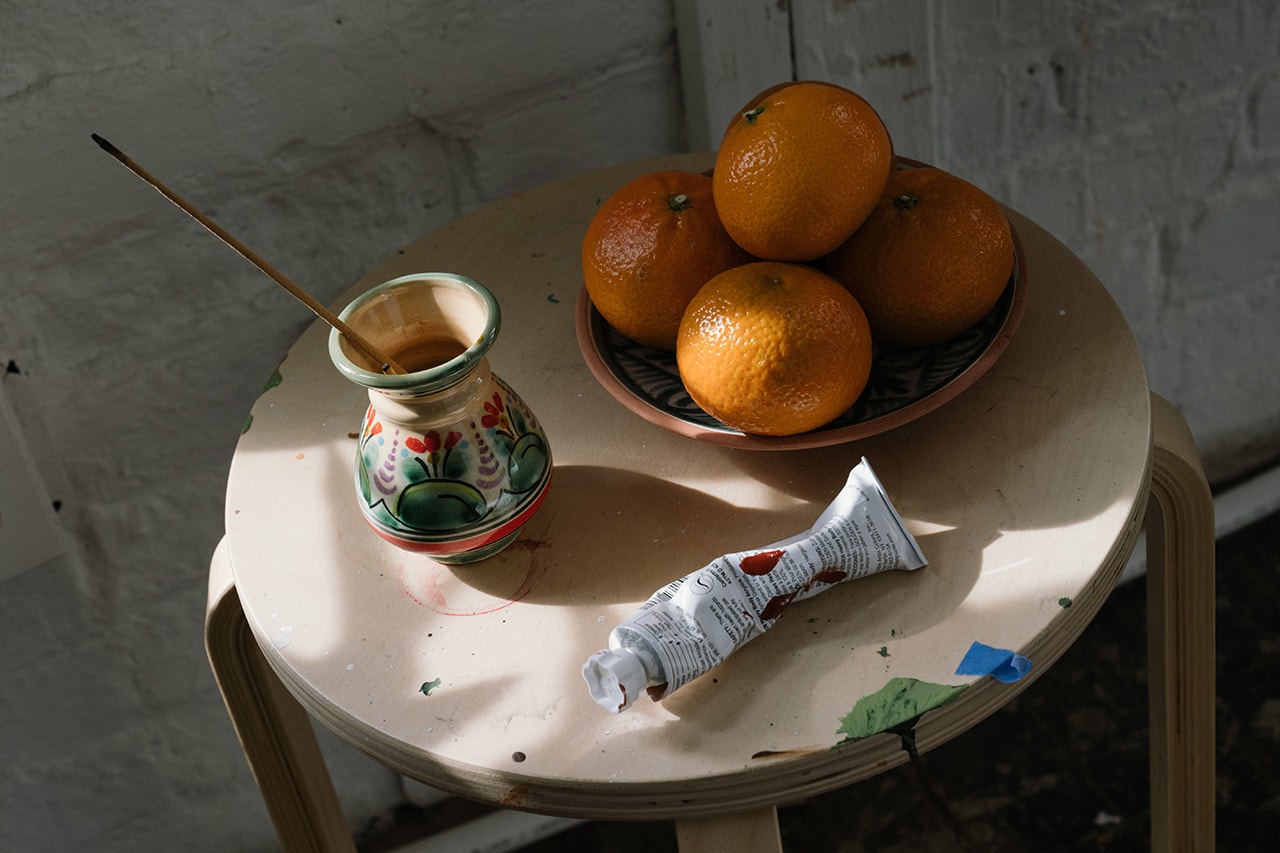 With the shapes you paint, you also layer in feminist messages based on your themes. Did you always approach your art thinking you would advocate for body positivity?
No, not at all. I think it started with me getting to know myself. Like even when I sketch something, it's usually I'm naked in the mirror and I'm sketching myself and it's me coming into my own. So that's kind of how it started, it's me putting myself out there in the most vulnerable way possible but also finding my own style.
"This is a really awesome moment for Black and Brown artists and indigenous artists of colors to take ownership in all ways."
And it's scary as sh*t cause I didn't go to school for this — which is also not a big f*cking deal cause a million people don't go — but you know there's still that feeling of "you didn't study this." So I'm putting myself out there on this canvas and then once I've kinda found my groove I'm like, "Okay, she's turning into this person that has these things to say that's amazing. She can exist outside of me now."
You have a communications background. What draws you to pursue art in this form? Do you still write?
I do. Everything that I paint stems from either a story in my head or a poem or a sentence, which is where that question comes from. So even if it was sketching, because I used to do a lot of charcoal, all of that still stems from this question that I'm asking myself or the sentence that I'm writing or it could even be something that I read that creates this visual.
I think I enjoy the creative process of having something in my brain and saying, "Okay, how am I going to visually put it out there and make it beautiful and make people see what I'm saying in my head."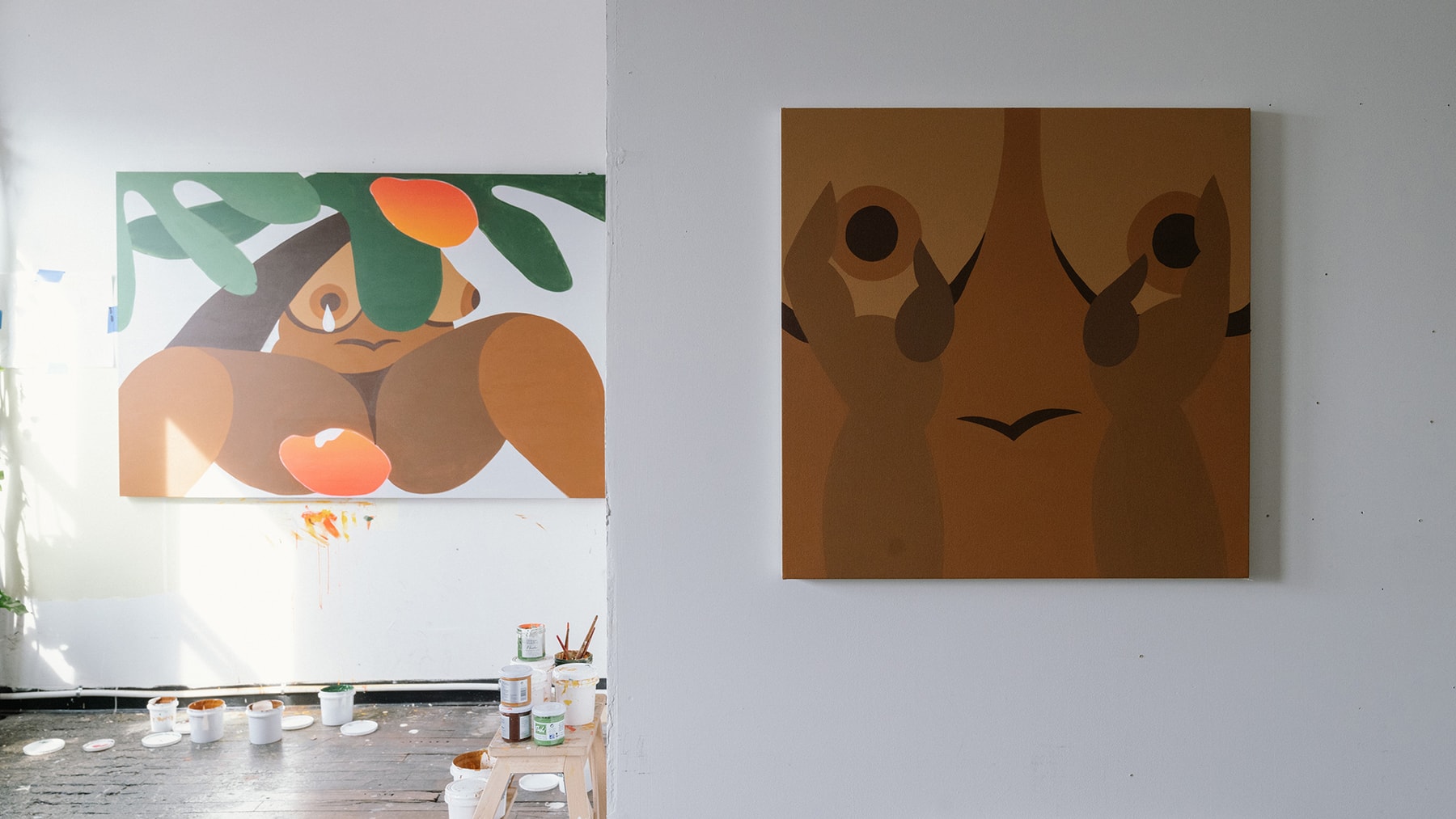 Do you ever combine those things, showing words and visual art at the same time?
It's funny that this has been something I've been thinking about recently. I don't know if I'm there yet. There are still certain parts of me I like to keep private and I feel like writing is definitely one of those things. But I put it into my work, so maybe one day I'll make a story.
Why don't you put, or show, heads on the bodies?
I don't put heads because I feel like her identity doesn't matter in the stories that I'm telling. I feel like it doesn't necessarily take anything away [to have a head] but it's not important. I think what's important is that she's existing and she's here and she's very unapologetic. And she's aware that you're in her space. I don't put heads because I just feel like it leaves room for you to see yourself in here.
How has your cultural background informed your art?
I am Dominican and Indonesian so a lot of the Browns and shapes that I put on, it's just kind of paying homage to all the different shades of Brown that exist within one identity. And I'm always experimenting with finding new shades, putting two and two together and figuring out how they work. But it's really just me acknowledging all the different types of identity and layers and complexities that there are in Brown skin and putting that visually in a way on the canvas that is beautiful.
How have the recent racial justice movement and the ongoing protests impacted your process and work?
Just in general 2020 has been wild, it started off with the pandemic so very early into 2020 I stopped going to my studio. I've been working in my living room. It's both a gift and curse cause I get to wake up every morning and look at my work and digest it in many ways. And I feel like for me as an artist, I was already going through this crisis of not being an essential worker. It's like, "What am I doing I'm just here in my house. I should have put my life into other things and become a doctor."
"You want to know what my work means? I want to know what my work means to you."
And then the video comes out with Ahmaud Arbery and then everything from there turned into this firestorm and I can honestly say with the protests, with George Floyd with Breonna Taylor, with all of these things that are happening, it kind of gave me this moment to step back and look at my artwork in a light that makes me want to champion what I'm doing even more.
Very often I'm told, "Your artwork is so important, it's about making space, and creating space and we need to see more of that." And I think with this happening, it kind of gave me this moment to [realize that] this is really important. Being this person of color painting Brown and Black bodies — not for anybody else — but for Black and Brown people needing to see what healing could look like in this idealistic world where you can float in the water and there is not a care in the world. This whole time made me understand the torch that I'm trying to carry and what it means to champion that vulnerability and create those safe spaces for people collectively.
1 of 4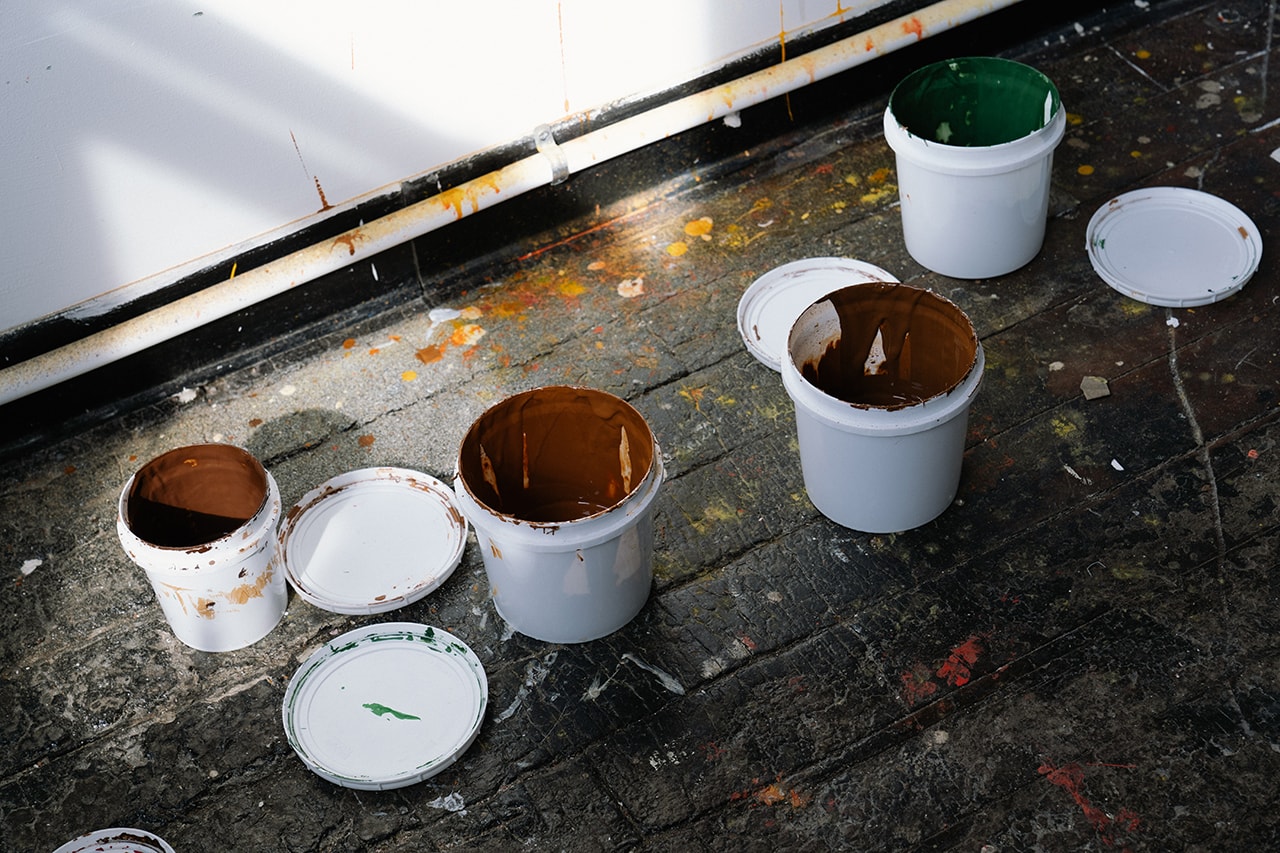 2 of 4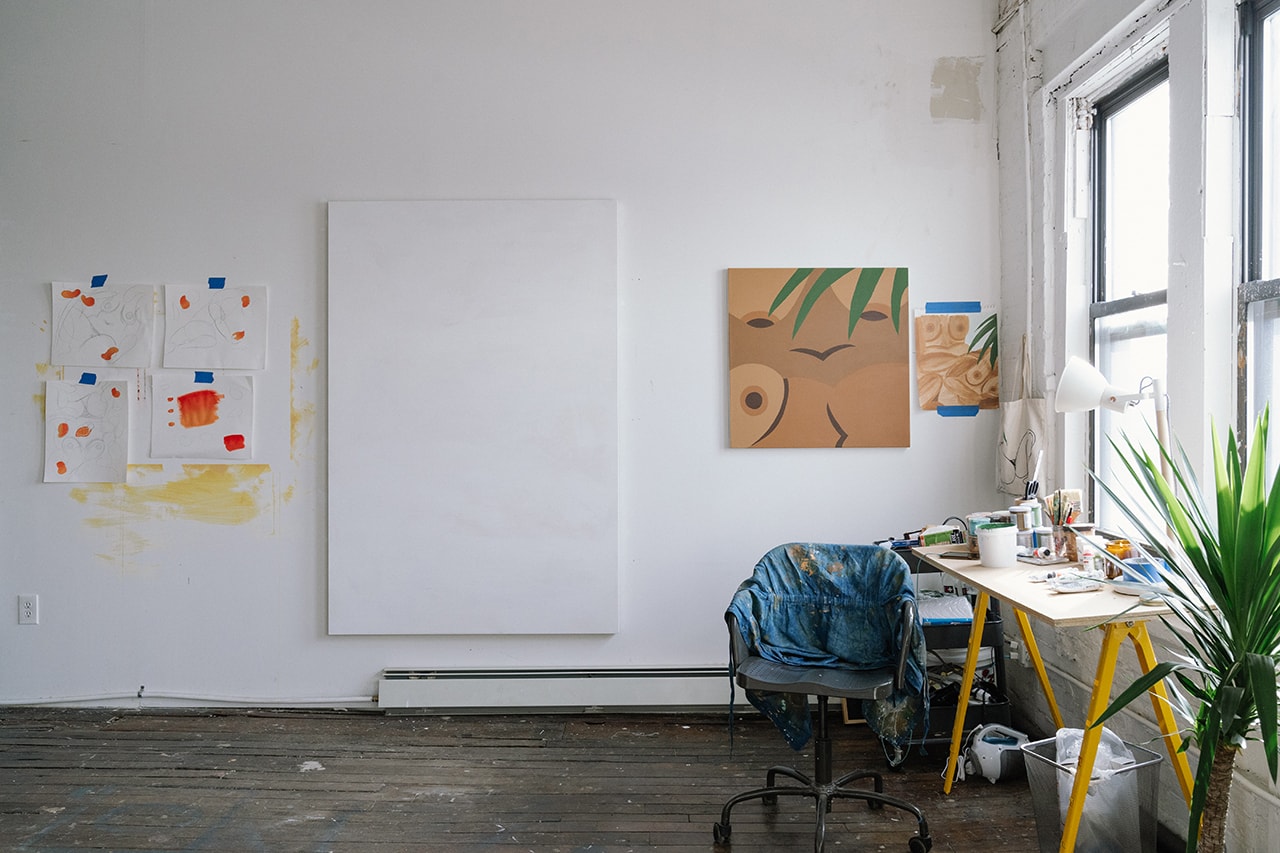 3 of 4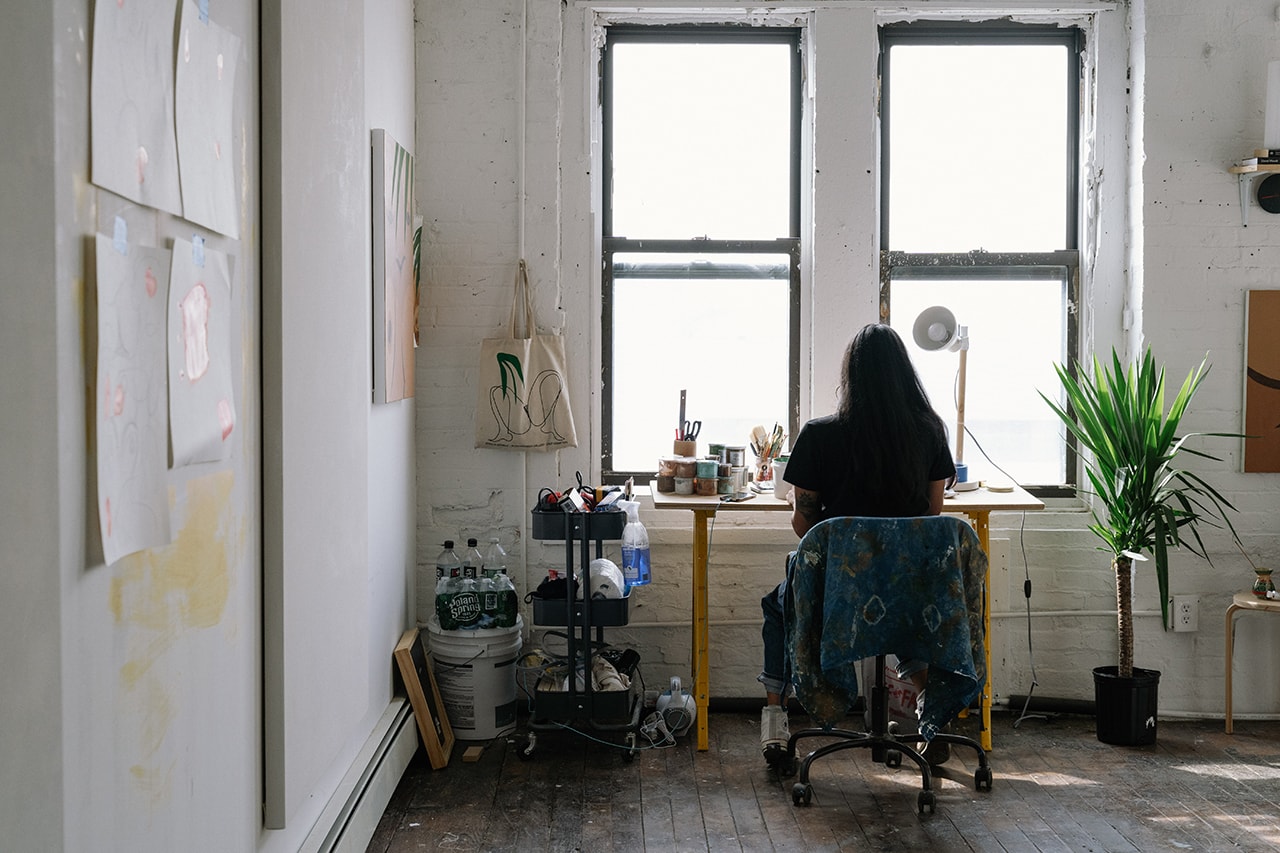 4 of 4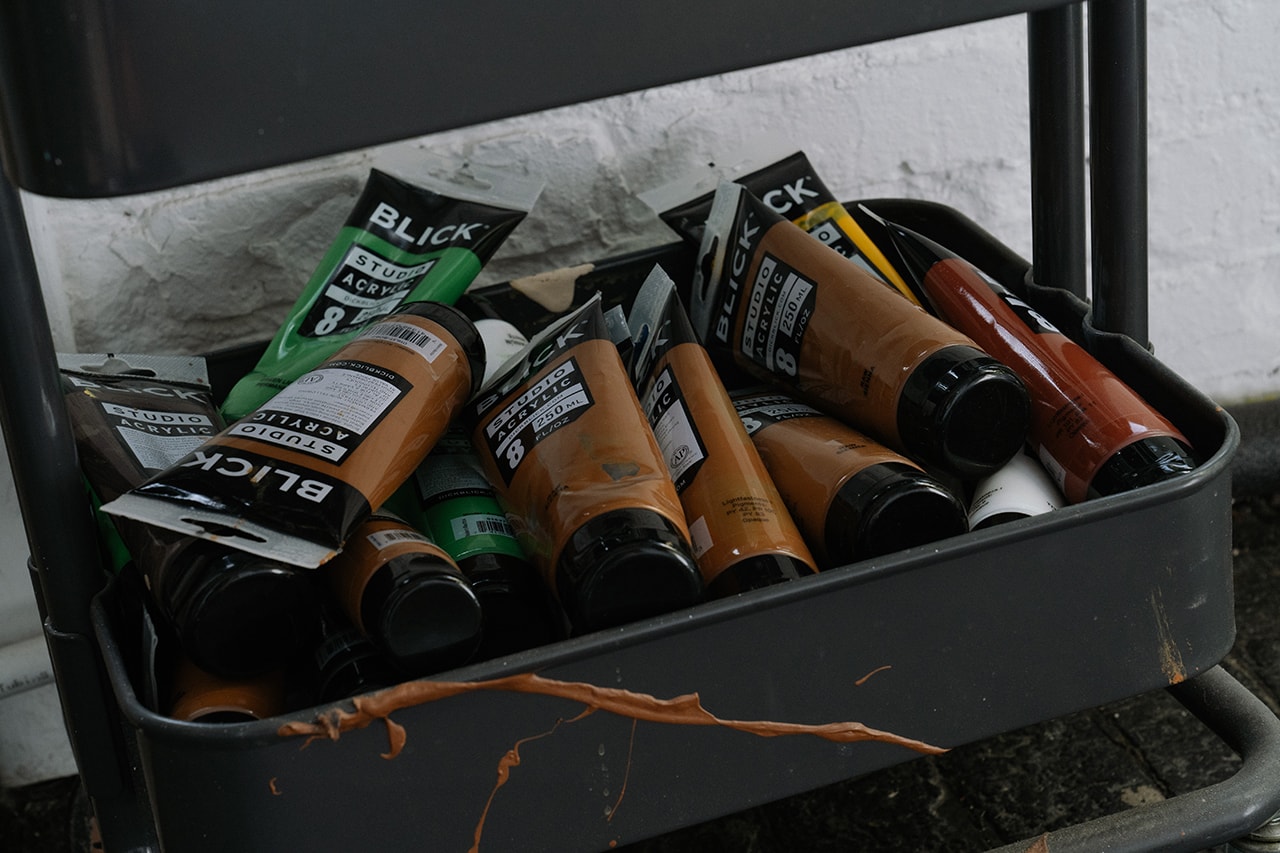 Have you noticed any changes in your audience?
I definitely have gotten — and I think I can speak for most artists of color — that there has been an increase in interest in the artwork, which while I am so flattered for, it has also made me feel more empowered to know who wants my work and why they want my work. Are you just interested because it's this new wave that's happening because it's very relevant?
I think it's easy to get lost in this grind of needing people to buy your work, needing to be seen, needing to make money, and now that's coming. And I have to [take my time] to see who is it going to, what house, what walls. Is this furthering the conversation? If anything I feel this is a really awesome moment for Black and Brown artists and indigenous artists of colors to take ownership in all ways.
There's just a lot of interest in general and I think it's great that I'm even starting to have those conversations. You want to know what my work means? I want to know what my work means to you. If you're going to have this work in your house you're going to have to be willing to carry this torch for me.