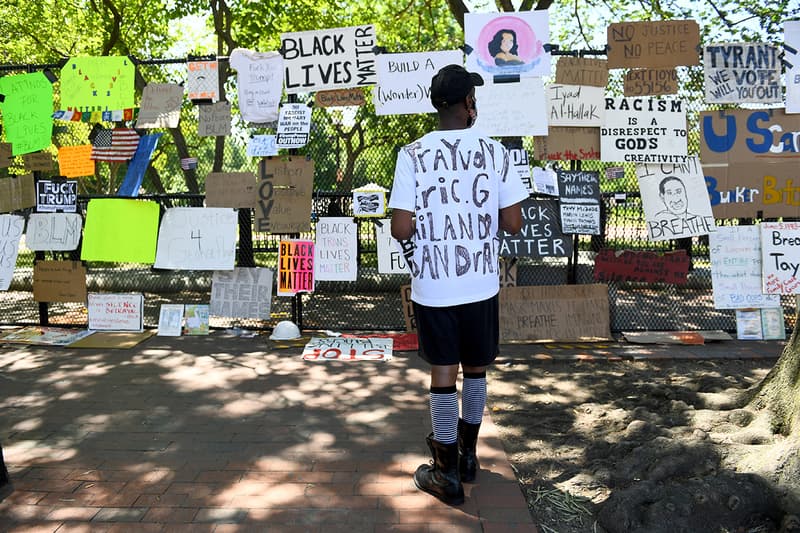 The Smithsonian Institution Has Begun Collecting #BlackLivesMatter Protest Signs
"History is happening right before us."
---
As the #BlackLivesMatter protests continue around the globe, curators from the Smithsonian Institution have begun collecting signs, artworks, and ephemera from the various protest sites around the White House perimeter in Washington D.C.
The New York Times reports that curators from the National Museum of African American History and Culture, the Anacostia Community Museum, and the National Museum of American History are among those surveying the recently-erected fences surrounding the White House, and are collecting pieces that are likely to become future historical artifacts.
Aaron Bryant, a curator at the National Museum of African American History and Culture, told the Times, "It is critical that we collect so this moment does not get lost…we talk to people so we don't forget their stories. History is happening right before us."
The curators have noted the names of the artists and photographers behind the works for posterity. So far, portions of the fence itself have not been collected.
The Smithsonian is known its embracive approach to contemporary culture: last year, it began adding podcasts to its collections, and it also displayed one of Tyler Mitchell's portraits of Beyoncé, taken for the cover of Vogue magazine.
In other news relating to the protests, YouTube has announced that it will pledge £100 million USD for Black creators.