Zachary Levi Believes Electric Motors Are the Future
The 'Shazam!' actor shares his enthusiasm for the new wave of eco-friendly bikes.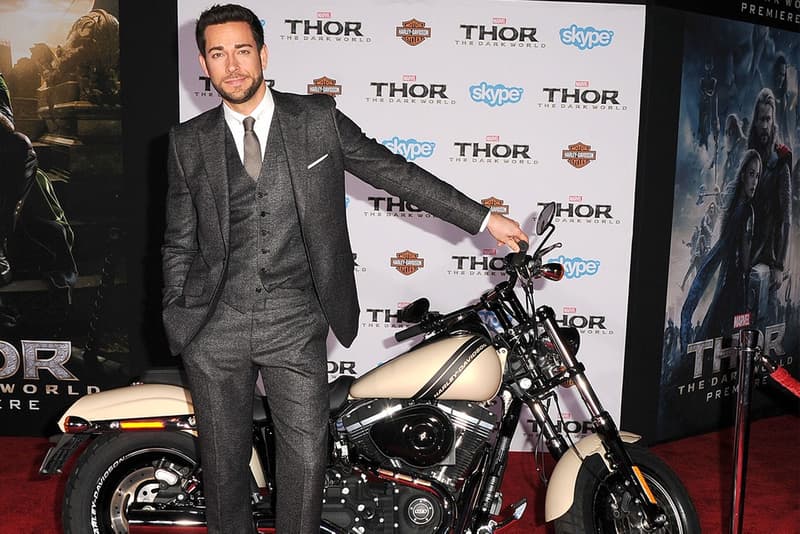 Between his work on the cult classic spy series Chuck or his latest big screen appearance as the playful superhero in DC Comics' Shazam!, many have come to know actor Zachary Levi for his comedic abilities. He's also known to be an avid comic book fan and gamer, frequently talking about his interests during TV appearances and various YouTube channels. A lesser known side to Levi, however, is his passion and enthusiasm for motorcycles.
Joining us at HYPEBEAST, Levi shares how he developed an affinity for being on two wheels, his enjoyment of Harley-Davidson's new flagship electric 74-horsepower LiveWire motorcycle, his belief that electric motors are the future and how it felt to see himself become a superhero.
How did you first get into motorcycles? 
Well I was always a fan of them — or the concept of them — ever since I was a kid, and I had friends who would ride either dirt or road. Eventually I turned 21 and I had enough cash to buy a bike and I wanted to get on two wheels so I got my learner's permit and rode around like that for a while. Then I got some full highway patrol certified training and then got my license, and that was back in 2002, so it was a while ago. I've been riding ever since — Ducatis, Harleys, a Honda CBR, scooters, all kinds of stuff.
With a Ducati and Harley, you've got quite a nice collection of rides. What are three things you look for in a bike?
If I'm going to buy a bike I want it to be unique, especially from the other bikes that I have. It doesn't make sense for me to own multiple bikes that all kind of ride similarly, or feel or sound similar. My Ducati rides very differently from my Harley Dyna Super Glide Sport, which is a very different ride from the LiveWire. They're all very different types of experiences. That's pretty much the main criteria.
Beyond that, not only should it be unique, it also has to be awesome — find something that performs at the level you're hoping for. The third would be to find something uniquely amazing aesthetically. I think the best motorcycles are rideable art. You don't have to ride a motorcycle, you can just look at them and think they're beautiful, like an aerodynamic piece of art.
Tell us what drove you towards Harley's electric LiveWire, as some of the more traditional riders might shy away from electric models.
Look, I understand there are purists that really love the rumble of a gas engine and the rumble of the big V-twin between your legs and the loudness of that, and — I don't know, the f*cking machismo that you feel when you've got this loud engine that you're stradling, hurtling you down the highway. I get it, I feel that when I ride my Dyna, but I don't think that's a better ride per se.
First of all, I think the electric motor is the future. The performance — you can't beat it. Batteries are just going to get better and better, and our ability to charge those batteries will also keep getting better, so it's a no brainer to me that the future belongs to the electric motor. They're just performing better, and they're not obnoxiously loud. They are very quiet, if not silent, and that leads to a very peaceful ride. Also there's no clutch and no gears so, it's just one big beautiful long power bank with power on demand.
Honestly, there's so many times you get on your motorcycle and go on these long rides in the mountains and you don't realize just how much more peaceful you can feel if it's quiet, and you're not disturbing the wildlife that's around you.
On the topic of nature, obviously a big part of electric bikes is sustainability. How do you see this electric movement when it comes to having an effect on sustainability and climate change?
I'm a firm believer of electric motors being the future and I believe 100 percent that they are at the very least mitigating the emissions coming out of cars. That can only be a good thing. You know, batteries are still made from certain materials that we're mining out of the ground and so are solar panels and all these things of that nature, so we have to be mindful of how we're building any of our power sources, but I think the future will be and should be entirely within the electric domain, because it's just better overall — better performance and better for the environment on a myriad of levels.
Any plans on where you're going to take your LiveWire next? Any adventures planned for it?
Not at the moment, no. I've been out of town a lot so I haven't really been able to plan a lot of road trips, but I'll certainly rip it around my house a lot.
Moving to your work on the big screen, most of your fans will know that you've always been a big gamer and comic book enthusiast. How does it feel to actually become a superhero?
It's a dream come true, bro. I still can't believe that I've gotten to live that life that I've gotten to live. I've gotten to do so many things that I only dreamt of doing when I was a kid. One of those things is 100 percent become a superhero, to wear spandex and a cape and I got to do it. Not only that, but I got to do it playing a character that I think is uniquely entertaining, being a 14-year-old kid in a man's body. It's something that is so different from the rest of the superheroes.
Shazam!'s sequel has been confirmed recently. Is there anything more you can share with us? Will we see Mister Mind work with Sivana, and more action from the Shazam! family?
I have no idea, all that stuff's well above my pay grade. But I can say that I'll do everything in my power to ensure that the sequel is just as much fun as the first movie, if not more. I want it to be something that blows people's minds and have an amazing time at the movies. That's what our job is — to give people an amazing time.