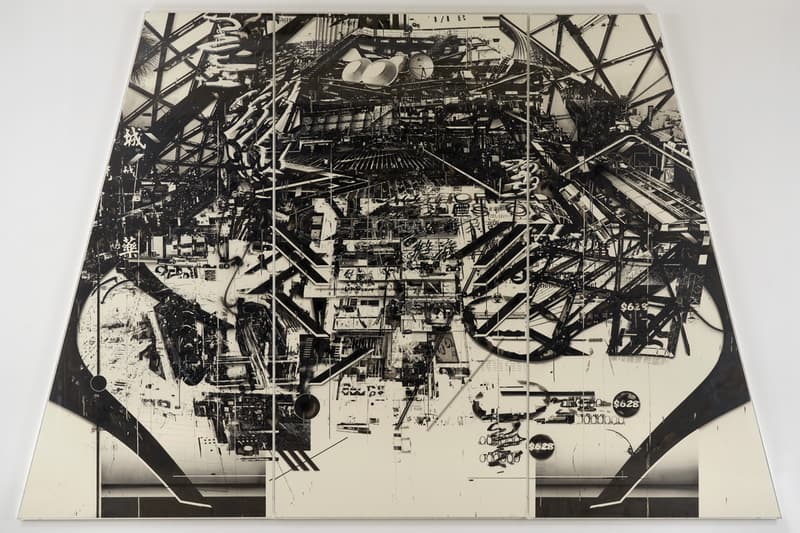 Hiroki Tsukuda Crafts New Dystopian World for NYC Exhibition
Cyberpunk fantasy meets real-life space exploration.
---
Tokyo-based artist Hiroki Tsukuda is known for his black charcoal and ink drawings of futuristic cityscapes and cybernetic environments. This March, the artist is bringing a new series of work to NYC's Petzel Gallery for a solo exhibition entitled "They Live." In reference to John Carpenter's 1988 cult classic film of the same name, "They Live" presents a dystopian reality in which society is controlled by humanoid extraterrestrials.
Drawn to sci-fi since his early childhood, Tsukuda found inspiration in dystopic thrillers, apocalyptic novels and cyberpunk manga. Working in drawing and digital collage, the artist transforms these images of "controlled chaos and organic mutation" into multi-dimensional pictures comprised of created images, computerized characters and cryptic hieroglyphics. Tsukuda's highly detailed works depict new worlds that are both fantastical and rooted in real-life space exploration.
Ckeck out Tsukuda's Neon Demon (2019) in the gallery above. "They Live" will run from March 5 to April 18.
In related news, Tsukuda's design of Tokyo Tower will be included in the UNIQLO NEO-MIYAGE UT collection.
Petzel Gallery
456 W 18th St
New York, NY 10011