The Killers Turn up the Heat With Four Hand-Made Hot Sauces
Peep Brandon Flower's favorite sauce.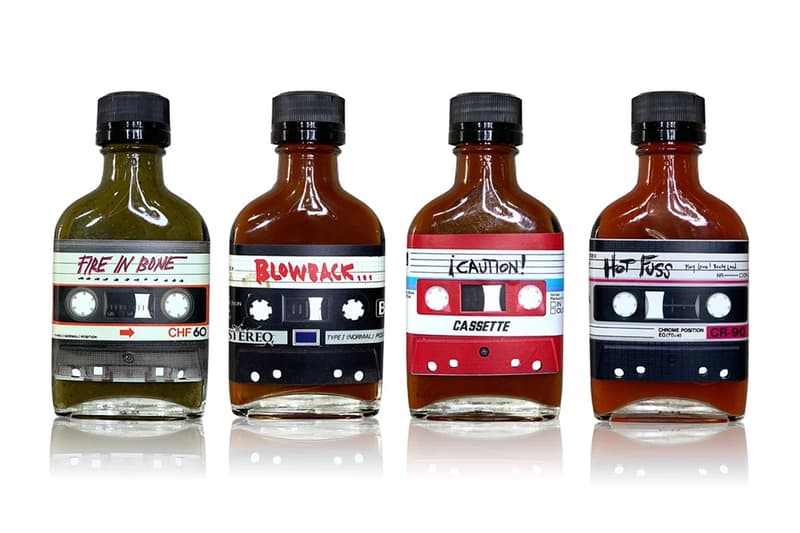 The Killers has just unveiled its first-ever line of hot sauces. Featured are four hand-made flavors that allude to some of the band's hits and albums.
"Hot Fuss" is the mildest of all four offerings with a heat-level of "1/10," according to the sauce's dedicated website. It's made with aged cayenne peppers and a pinch of sea salt, and it's described as the "perfect tangy Louisiana hot sauce that goes well on everything." The next step up in heat-level is the "Fire In Bone," given a score of three out of 10. A rich concoction of fresh jalapenos, serrano, cilantro, dried garlic, onions and green chilis, the sauce is recommended to go with tacos or tortillas. Turning up the heat, "Caution" packs a heat-score of "5/10." Prepared with ingredients Hickory-smoked sea salt, habanero, hatch, tellicherry peppers, dried garlic, onion and some brown sugar, the sauce is described to have a flavor that tastes like it's been stewing for years, and it's also Brandon Flowers' favorite. Ringing in at "10/10," the hottest flavor in the entire selection, is "Blowback," a sauce that's "so hot, you can't stop eating it." There's an abundance of ghost pepper, habanero and hatch chili, complemented by hickory-smoked sea salt, a blend of garlic, onion, brown sugar and black peppers. Make a 50/50-mix of Blowback and honey for a delicious kick.
The Killers' hot sauces are currently available for pre-order on the band's dedicated website for $60 USD per sauce — only 2500 cases are available.
In case you missed it, check out The Killers' bathroom performance for the song "Caution" on Jimmy Kimmel.