Jaguar Is Testing the Limits of (Virtual) Reality
Jaguar's creative designer Oliver Cattell-Ford on developing the brand's latest model for 'Gran Turismo 7' – and then building it for real life.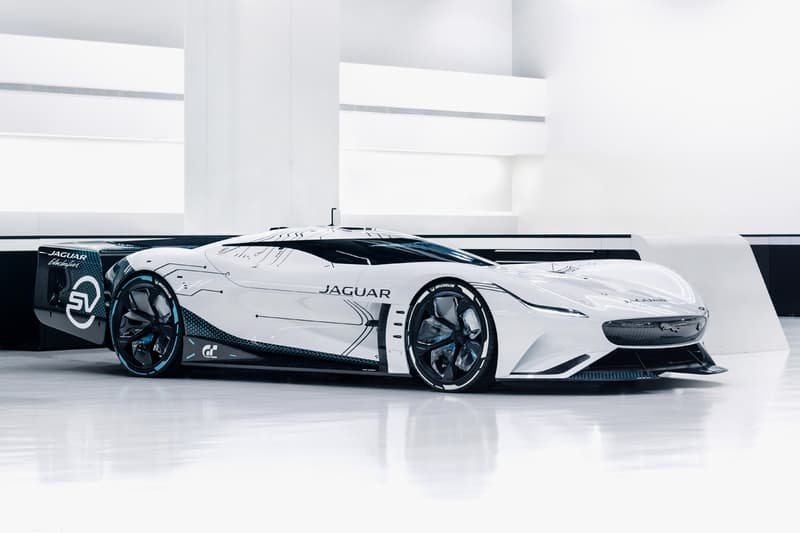 Jaguar has a long and illustrious history of racing, but its future isn't just destined for real life. Following on from its Vision Gran Turismo Coupé, which was built in 2019 for Gran Turismo Sport on the PlayStation 4, the British marque has embarked on a new future — developing not just a race car for Gran Turismo 7 on the PS5, but by also building it in reality. 
Dubbed the Jaguar Vision Gran Turismo SV, the new model combines a look at the future with elements inspired by the past, drawing inspiration from Jaguar's racing heritage — and the cars that helped to define it. For instance, the car features a huge rear wing that draws from historic styles, such as the XJR-14, while from a side-profile, the flowing lines recall the C-Type and D-Type.  
Designed as the ultimate virtual endurance racer, the car had to live up to Jaguar's racing past. As a result, it is covered in a circuit board livery that nods to milestones such as the Le Mans debuts of the C-Type and D-Type in 1951 and 1954, respectively, while its overall low-drag and highly-aerodynamic shape continue to reference history. 
Yet, bringing it into the future are a whole host of different technical features and mind-warping performance figures. Four Jaguar Racing and SV-designed electric motors each power a separate wheel, coming together to give the GT SV 1,877 HP and 3,360 Nm of instant torque alongside the traction and dynamics benefits of intelligent all-wheel-drive and torque vectoring systems. 
The results are 0-60 MPH in just 1.65 seconds and a top speed of 255 MPH, which can be delivered all day long during a 24-hour race such as Le Mans. Aerodynamic solutions have been considered all around the car to keep it stable at such high speeds, for example by incorporating a sculpted underbody to aid airflow thus reducing lift, as well as effective components such as the deployable rear wing, the front splitters and fender vents. Altogether, it will produce 483kg of downforce at 200 MPH. 
Jaguar and its teams Jaguar Design, SV and Jaguar Racing have created something truly extraordinary. While it may only be playable in a video game, this by no means makes it any less of a driving experience. Four electric motors redline at 40,000 RPM, delivering a sound that is purposeful, distinct and futuristic, while elements such as a liquid nitrogen battery cooling system will show just how hot the car is getting during an endurance race, blowing off steam from the rear. 
To find out more about the Jaguar Vision Gran Turismo SV, HYPEBEAST spoke with the marque's creative designer Oliver Cattell-Ford about all things virtual — and how this has been translated into real life. Read on to learn more.  
HYPEBEAST: What are the differences between designing a car for the digital world and one for the real world? 
Oliver Cattell-Ford: It's so exciting to be able to make a car purely for a video game and a digital world. As you can imagine, the opportunities are limitless in terms of what you can do, you don't have the normal constraints of money stopping you from doing the things you want to do, and you also don't have to manufacture it in masses as well. All of these things can be thrown out of the window — you can do whatever you want, which is awesome. 
What are the creative limits?
That's the hard thing because we had to set our own limits. Throughout this project, we wanted it to feel believable, you want people to feel like this could be real. At the same time, you want to push the boundaries to make something more exciting than you could do in real life — it's finding that fine balance. 
How did you create a visceral experience for the design of a virtual (and electric) car?
We very strongly believe in an electric future for Jaguar, and this car had to be electric for us. The vision from the start for the SV was to create the first endurance race car that could complete a 24-hour race, to be the first metric car that is capable of doing that. We thought of lots of different ways to do that and the technology behind that and how it would work to achieve that. 
No one wants to be stopped in the pit lanes for five hours to charge batteries up, so we thought of ways to do it better. One of the biggest limitations with charging batteries fast is the heat that you get from that, the faster you charge a battery the more heat you'll get, and the more you're damaging the battery. We thought about this liquid nitrogen cooling system that we have integrated into the car — there are loads of little stories like this that could work in reality, but we haven't had to engineer it or do thousands of hours of testing, so it's nice to put these elements in. 
So you're using realistic technology to create a car for the game? 
I was watching a program last year… Sometimes [people] use liquid nitrogen to overclock computers to make them faster. They pour liquid nitrogen on the processor to keep it super cool, you could see the steam blowing off of it, it's amazing. Not only would that work for our batteries but it would help create the drama for the game, you see the steam at the back of the car when it's really hot. 
You've also built a real version of the Jaguar SV, right?
Yes, it's a physical model but it doesn't drive. It's just to show how awesome it can look. It's also to generate excitement around it; we started building it before COVID-19 kicked off, so we're hoping we can get as many people as we can to come and see this. It's also a showcase of the level of detail you have to go to now for a video game car. 
What challenges did you face when creating the car in real life?
The challenge started when we first got this brief — of course, we jumped at the opportunity to make a Gran Turismo car. You assume that you can do it quite quickly, you think that there are a lot less details going into it. But, once you realize that people will be sitting in this car in virtual reality and they can see every little detail, in the interior for instance, you quickly realize that the level you need to reach on this is virtually the same as a real car we'd make. That's when we realized how long it was going to take and how much development time we're going to need. Part of making a model is that we'd done a lot of that hard work so we thought we'd show how it looks in real life as a physical model. 
How can the car in the game act as an experience for someone who's never driven a car in real life?
That question reminds me of when I was a lot younger when I was too young to drive. I was playing a lot of racing games myself, so I have been thinking about that. What did it feel like? To have that [video game] as the closest thing to driving when you're that age is really cool. To think of the fact that some people will be driving our car for the first time, we want to get them as excited as I am about driving, and about driving on a track and how much fun it can be. We want to share the excitement that we have for design, about the brand, and its potential. 
Do you think a virtual automotive world could take over real-life driving and racing?
I like to think that real racing will continue with virtual racing, but I think virtual racing will continue to grow and grow. 
I'd like to think, in an ideal world, that you'd still have the same amount of physical racing in the real world, but you'd also have a growing number of people who are into eSports. I guess there are so many people who can't afford to do a track day, so it's cool that anyone can do it through gaming with a much smaller budget. The more that becomes closer to reality, the less the divide will be. 
Aside from the technology and design — what makes this car so special in the game, and subsequently, in real life?
As an exterior designer, the most special thing is that we tried so hard to reference our historic race cars. A lot of players of Gran Turismo wouldn't know anything about those cars. I really believe that those cars are quite beautiful, and to get some of the form language — the surfaces and the shapes we had on those cars have been carried over — we had a few of these historic race cars that we love and we had them lined up and thought, what shall we do with the front fenders should it be more like the C-Type or the D-Type? The challenge is that we want to use those cars, but it's got to look ultra-modern and futuristic. We did that through futuristic details such as slim lighting, but there are other exterior elements that you'll notice straight away. 
 Then there's the daylight opening — the glass in the car that you look through — it tapers when you look at it from a side-view and it gets really narrow. You look at the car and you'd say, "How would you see out of that?" But that's all part of our story with modern technology, in the interior we have screens on the side, like digital side glass that you can look through in the game for an augmented version of the track. Little things like that are things you can't quite do in real life yet, but it gives a cool graphic to the exterior of the car but also a technical story inside. For a race car, you want to eliminate weight and make the structure of the car as strong as possible, so the story works in lots of different ways.