Sole Mates: Luka Sabbat on CELINE's Z Trainer and CT-02
The multihyphenate speaks on Hedi Slimane's first-ever sneakers for CELINE HOMME — as well as resell culture, aspiration, and retro inspiration.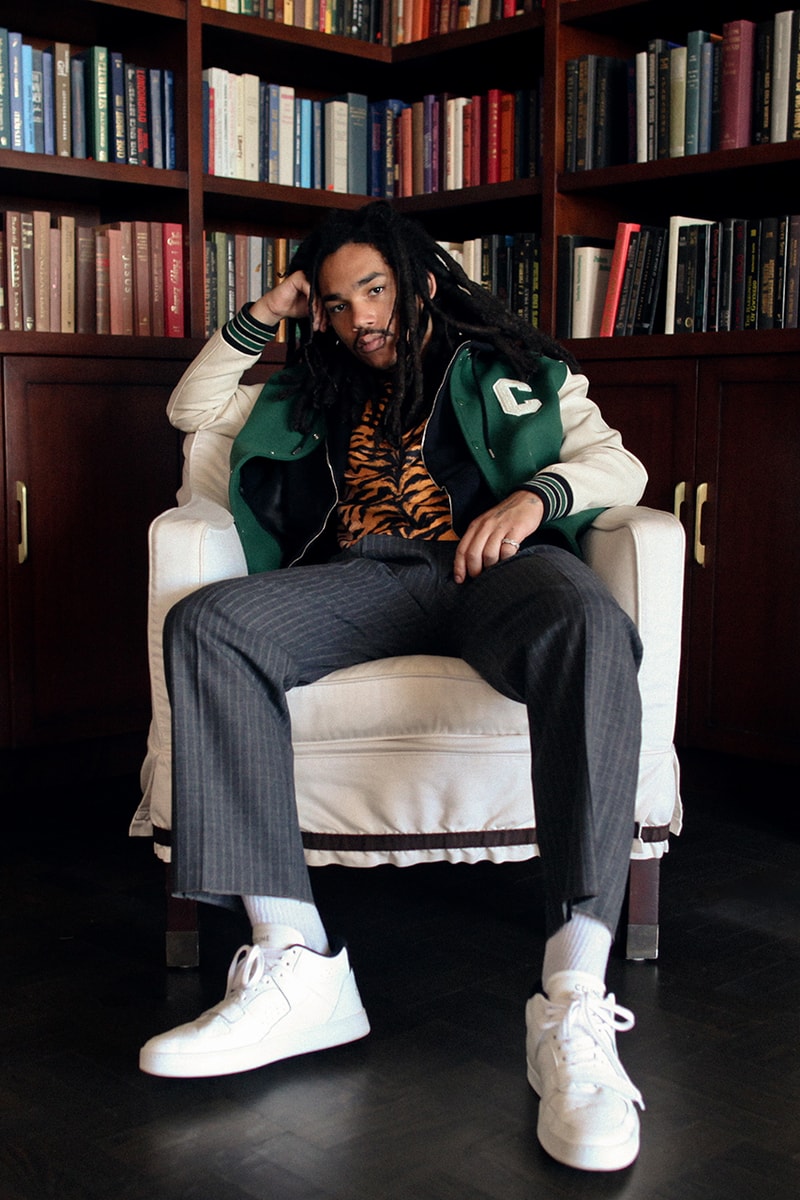 Sole Mates: Luka Sabbat on CELINE's Z Trainer and CT-02
The multihyphenate speaks on Hedi Slimane's first-ever sneakers for CELINE HOMME — as well as resell culture, aspiration, and retro inspiration.
Sole Mates is a weekly HYPEBEAST series that asks one simple question of its participants: "why do you love shoes?" Searching for a deeper meaning beyond hype, Sole Mates uncovers each subject's sneaker origin story, letting them wax poetic on why a particular shoe means so much to them.
---
Two years ago, when Hedi Slimane's arrival at CELINE was first announced, the actor and model Luka Sabbat was one of the most excited onlookers. "F*ck, it's over," he tweeted at the time. "R.I.P. my account." 
Since then, Slimane has steadily given a new direction to the often-esoteric luxury house. Its Spring/Summer 2021 collection, "THE DANCING KID," offered a youthful edge packed with references to e-boys and current skate culture, while tapping firmly into a Gen-Z mindset. Even the soundtrack to the runway presentation was an edited version of a viral TikTok hit. 
Alongside a (literally) star-studded array of garments were the brand's aptly-named Z Trainers. Available in CT-01 or CT-02 cuts (high-top and mid-top, respectively), the Z-Trainers are the first men's sneakers for CELINE — ever. And it's a strong place to start: serving a retro style in clean colorways, they avoid the over-reliance on branding and embellishments that all too often plague luxury sneaker debuts.
So, who better to wax lyrical about the style than Sabbat himself? Over FaceTime, the cultural polymath talked to HYPEBEAST about the luxury sneaker industry, consumerism, and why he's not a fan of reselling. Read on for more.
HYPEBEAST: What got you into sneakers?
Luka Sabbat: When I lived in Paris as a kid I wanted Repetto dance shoes, like dress shoes. French kids at the time didn't want sneakers, but New Yorkers were huge on them. 
What was it like in New York?
Well, the Nike store was at 21 Mercer Street and I'd always see these sneakerheads… I don't necessarily care about hyped sneakers. There's this sneaker culture, everyone collecting and having sneakers on each other, not having the "right" sneakers.  
Did sneakers become more important to you as you got older? 
Not necessarily. I like simpler things. I don't care to have a lot of shoes. I wear the same shoes every day.
You flick between cult staples such as the Converse Chuck 70 and Air Force 1s, but then you'll wear cowboy boots and formal pieces. What are you looking for when you're wearing a shoe? 
If I wear any shoe it's because of how it looks, it's proportionate to the outfit. That's the most important part, how it looks.
So form over function?
Yeah, it has to look good. That's basically it. But it has to be comfortable — boots become very comfortable over time. 
What is your position on luxury sneakers?
Define luxury, you know what I mean? If you look at this [shows CELINE CT-02], a lot of the sneakers that are cool — nobody buys them at retail. By the time people actually buy them for actual consumption, the reselling price is out of control, which then makes it the same price as a luxury shoe.  
What are your thoughts on the resale industry? 
I think it's like…. I guess if that's how you want to make money. It sucks, it makes it hype or blows things out of proportion. Shoes are meant to be worn by people that appreciate the design. The people that like it should be able to wear it, not the guy with the fastest bot. It sucks for all of the people, especially with non-luxury brands, the price points are quite low which makes it possible for almost anybody to buy them. All these people that turn it into a luxury item, like $120 USD pair is now $6,000 USD on a reselling website — for $6,000 USD I could get something else. You're not fooling me into buying Air Force 1s for that. 
The CELINE shoes are luxury, but they're not $6,000 USD. Why does it stand out for you in a luxury market?
I like this one the most [pulls out CELINE CT-02]. It's kind of a retro shoe, with the whole collection its retro. Still of the now, which is something that Hedi's been good at bringing, finding old aesthetic and '80s and '90s things and making it youthful, repackaging it for it to make sense now. 
It's quite a different approach to other high-end labels and the recent luxury sneaker drops. CELINE has taken a different route. What do you think of CELINE's approach?
Most of the things that are hype people can't even afford. People have to be able to get it first. The whole Dior x Air Jordan 1 situation, it's only that sick because it's Jordan. Dior has been making sneakers forever, but they never had hype. Jordan is the cool-factor. 
With this, what's interesting is that CELINE has been a womenswear brand for as long as anybody can remember. [Now] they're dropping a men's sneaker. It's kind of like the first of its kind.
What will this new sneaker do for CELINE? 
Only time could tell. If people buy and wear it, hopefully, [it'll work]. It's being marketed with the "Dancing Kid" [campaign], TikTok, you have to appeal to the future consumer. 
What is that "future consumer?" 
If the shoe is relevant to 14-year-old of now, by the time they're 18 or 19, that shoe would have been part of and relevant to their generation. You need to seed it to the next generation of people who might not be able to buy it yet so then they have —
Aspiration?
Yes. Why was Jordan so cool? Etc. A lot of it was rare. Kids looked up to wanting a Jordan shoe. Making it cool for them so that they have this aspiration behind getting this shoe.
Do you think aspiration is a good marketing tactic for a brand, or is that part of the mainstream idea of consumption? How do you feel about a sneaker's impact on society?
Sneakers are normalized — dads wear sneakers, businessmen wear sneakers, athletes wear sneakers. Everyone wears sneakers. There are so many different markets and pockets for sneakers.  
So how do you react to that? 
Streetwear was always knocking high fashion, and high fashion was always knocking streetwear. The moment high fashion realized that their consumer and people who actually want to buy the stuff is a younger generation doesn't necessarily give a shit about dress shoes and all that other stuff — from Supreme and all these other brands — all these high fashion brands adopted this streetwear essence. More casual. 
There's something about "high fashion, high fashion." It's super elitist. But nobody cares about that anymore, especially this new generation of consumers. Now with the Internet, everybody is into fashion. Before it was a community of people that cared about clothes, but now with Instagram and TikTok, everybody can get into fashion. 
Is the CELINE trainer a gateway into this concept of yours, and how are you wearing it?
[Over Zoom, Luka Sabbat wears CELINE pajama pants along with the CT-02].
The thing is, one thing Hedi has always been good at is he makes everything look good with everything else. It goes with a distressed boot cut jean, you can wear it with anything. There are enough colors [on the CT-02] but it's also the white shoe [most notably, the Z Trainer]. 
It's a good shoe. The [CT-02] feels the most retro, and it'll look beat over time. 
The shoe reminds me of an arcade.