Music Projects You Missed This Week
Featuring Rina Sawayama, J Balvin, Kamaiyah and more.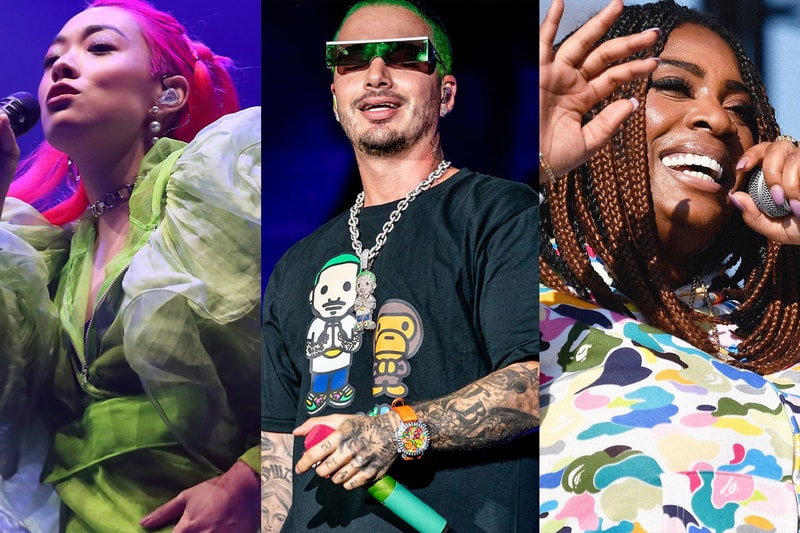 As we power through another week, HYPEBEAST has rounded up a carefully curated list of Music Projects You Missed This Week.
This selection includes collaborations from Kamaiyah and Jackboy, Black Soprano Family's Heem and Benny The Butcher, Mr Eazi and J Balvin, and GoldLink and Lukeyworld. New singles from Rema and Frsh Waters plus a short film from KAYTRANADA also join this week's list, along with the deluxe versions of Rina Sawayama's debut studio album and Drakeo The Ruler's We Know The Truth.
---
Rina Sawayama - SAWAYAMA (Deluxe)
Japanese-British pop artist Rina Sawayama dropped off a deluxe version of her revered studio album SAWAYAMA, adding a total of 11 tracks that include remixes, acoustic approaches, live performances and even a cover of The 1975's "Love It If We Made It."
Listen: Spotify | Apple Music
KAYTRANADA x Lucky Daye – "Look Easy (The Short)"
KAYTRANADA dropped a new short film to accompany his Lucky Daye-assisted cut, "Look Easy." The stand-alone single's visual pays homage to classic Japanese Yakuza films and arrives just after he bagged three Grammy nominations for Best New Artist, Best Dance Recording for "10%" and Best Dance/Electronic Album for BUBBA.
Listen: Spotify | Apple Music
Kamaiyah x Jackboy – "Still I Rise"
Kamaiyah and Jackboy joined forces for "Still I Rise," the lead single off the Oakland rapper's upcoming project NO EXPLANATIONS. "'Still I Rise'" is about how we're all feeling, the times we're living in are hard, and people try and hold you down, but hard work and hustle will always keep you moving forward," she explained "I wanted to put a feature on the song and Jackboy was the only voice I could hear on it. So, when I sent him the record and heard his verse, I knew we had something special!"
Listen: Spotify | Apple Music
Mr Eazi x J Balvin - "Lento"
Mr Eazi and J Balvin reunited to deliver a new and infectious collab, "Lento." The pair continues to bridge their musical worlds on an undulating beat from Nigerian producer KILLERTUNES, further proving that music is the universal language. "Since we connected in 2018, J Balvin and I have been like brothers," Mr Eazi said. He's been bringing me into his world of urbano and reggaeton, and I've been introducing him to mine. It's been a cross-cultural interplay and marriage between what I feel are cousins. It's in that spirit that we made 'Lento,' one of many records we've recorded together."
Listen: Spotify | Apple Music
Rema – "Peace of Mind"
Afrobeats star Rema is, much like everyone, is looking for some "Peace of Mind" on his new track. The single arrives just as we enter the last few weeks of this hellish 2020, and Rema is essentially speaking on everyone's behalf. "In the song, I talked about how much I yearn for peace because of the thoughts and voices in my head due to what I'm facing personally and what my people are facing as well," Rema explained, adding, "So many bad things have happened, and I know many people can relate."
Listen: Spotify | Apple Music
GoldLink x Lukeyworld – "Dunya"
DMV and the U.K. meet on GoldLink's latest track "Dunya," where he enlists the help of English artist LukeyWorld and production from Rascal The Producer. The reflective, lo-fi single follows November 2020's "Best Rappin In The F*ckin World," and is his second release after June 2019's debut studio effort Diaspora.
Listen: Spotify | Apple Music
Heem x Benny The Butcher – "The Realest"
Black Soprano Family signee Heem and founder Benny The Butcher team up once again for "The Realest," the lead single from Heem's forthcoming project Long Story Short. The album is curated and championed by the late DJ Shay, and will feature additional guest appearances from Rick Hyde, Boldy James, Jansport J and DJ Green Lantern.
Listen: Spotify | Apple Music
Drakeo The Ruler - We Know The Truth (Deluxe)
Drakeo The Ruler surprise dropped the deluxe version of his latest mixtape We Know The Truth, adding seven new tracks and expanding upon the "Nervous Rap" subgenre the artist pioneered. The project arrives less than a month after he was released from jail and beat his second life sentence — a story he narrates on the cut "Lil Boosie" with Stupid Young.
Listen: SoundCloud
Frsh Waters – "OTW"
Pivot Gang's Frsh Waters dropped off his latest cut "OTW," which hears him narrating his grind over hard-knock production from daedaePIVOT. This new single marks his first release since his appearance on Pivot Gang's 2019 album, You Can't Sit With Us.
Listen: Spotify | Apple Music