Burger King Japan Reveals Secret Contents of "Fake Burger" (UPDATE)
Would you like fries with that?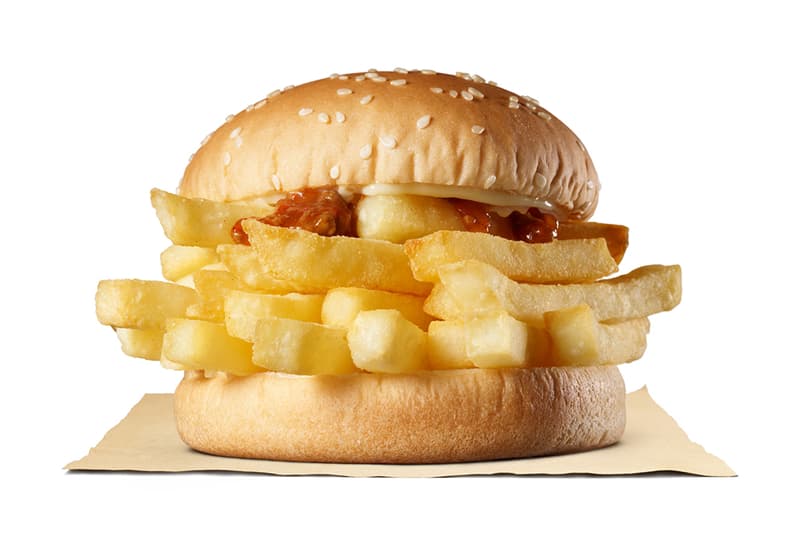 Update (October 23, 2020): The secret contents of Burger King Japan's recently teased "Fake Burger" have been revealed. Just a few days ago, the fast-food chain put up a poster of a heavily censored burger with no details besides its very affordable price of ¥290 JPY (approximately $2.75 USD), leaving many wondering what its gold-colored contents could possibly be. It turns out the contents are thick-cut fries. Called the "POTATO BURGER," the new food menu is stacked with fries and topped with minced beef and mayonnaise. Translated loosely, Burger King Japan emphasized in its reveal that "whether real or fake, the truth lies in [the burger's] taste." Those who love fries can make it a meal set for ¥590 JPY (approximately $5.60 USD).
---
Original Story (October 20, 2020): Burger King Japan is gearing up to release a mysterious "Fake Burger," to be offered to the public for just 14 days, albeit the burger's contents are being kept a secret.
Burger King Japan announced the burger with a poster that censors its gold-colored contents. An excerpt from the fast-food chain's Japanese press release has shared the company's enthusiasm for the special menu item: loosely translated, "[We] can't tell you the details of the taste and contents yet, but once you eat it, you will definitely be addicted to its deliciousness." Details about its taste remain confidential, but its price, ¥290 JPY (approximately $2.75 USD), which is ¥70 JPY cheaper than a whopper, suggests that the "Fake Burger" won't include any premium meats or fancy condiments.
Burger King Japan's "Fake Burger" will be available at the chain's locations in Japan from October 23 for 14 days for ¥290 JPY (approximately $2.75 USD).
In case you missed it, Burger King's April Fools Chocolate Burger has become a reality.
ザ・フェイク・バーガー、10/23(金)新発売!!
ホクッ、フワッ、ウマッ。
ウソかマコトか、食べてみて!#バーガーキング pic.twitter.com/LFgkO4DUD6

— バーガーキング・ジャパン (@BURGERKINGJAPAN) October 19, 2020