Exhibition of 1000 Archival adidas Sneakers Announced for British Textile Biennial
Curated by adidas SPEZIAL's Gary Aspden.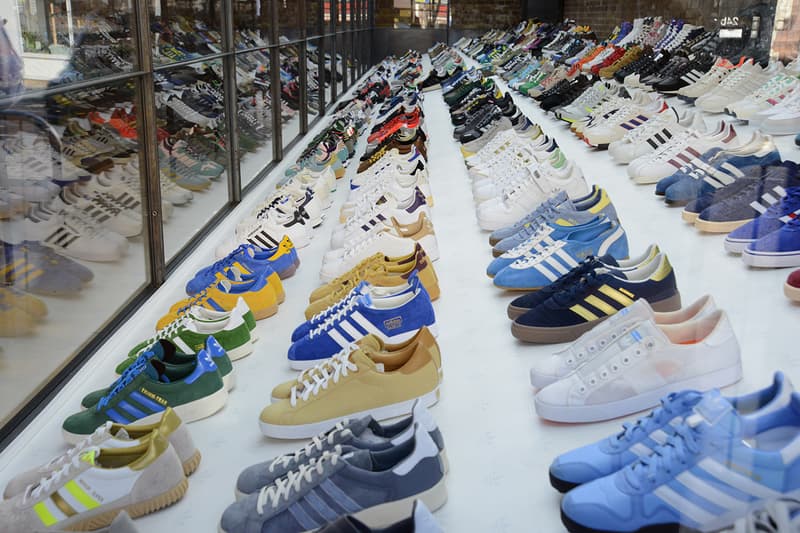 An adidas SPEZIAL exhibition of over 1000 archival sneakers will be the first showcase at Blackburn's British Textile Biennial in October.
Curated by Gary Aspden — adidas brand consultant and designer of the adidas SPEZIAL range — as well as fellow Three Stripes archivists, the exhibition will present numerous versions of the vintage adidas City Series models, as well as a full archive of the adidas SPEZIAL range. It is a fitting opening for the Blackburn-based event, as adidas SPEZIAL's have a notable legacy in the Northern English town and surrounding areas. In the 1980s, the SPEZIAL line was adopted by football fans and the subsequent Casuals culture, soon dominating the Terrace scene, football grounds, dancehalls, abandoned mills and warehouses in the North.
Aspden said in a press release, "I grew up in Darwen and spent most of my formative years in Blackburn. The experiences of my upbringing and youth have always been a source of inspiration for the adidas Spezial range that I design and curate. The creative team who work on Spezial are all from the area so getting involved with the British Textile Biennal whilst supporting Nightsafe seemed a perfect fit."
The exhibition will be joined by other notable displays from Jacqui McAssey, a photographer who has captured female fans of the English and Scottish Premier Leagues and the English Football League to spotlight their place in the football scene in her ongoing work, "GIRLFANS". In addition to McAssey's work will also be "Heirloom", a display of shirts embroidered by local men which tell personal stories of textiles and migration, as well as British Textile Biennial artist-in-residence Jamie Holman, who is exploring acid house, football fandom and folklore in a space on Church Street, Blackburn.
adidas SPEZIAL at British Textile Biennial 2019 will showcase from October 4 to October 20. You can find out more about the 1000-sneaker exhibition and more about the entire event online.
In other news, the YEEZY BOOST 350 V2 "Black" is re-releasing on Black Friday.
SPEZIAL — adidas Trainer Exhibition
Cotton Exchange,
King William Street,
Blackburn,
Lancashire,
BB1 7DT,
United Kingdom