5 Key Takeaways From the Women's World Cup
From goalkeepers and equal pay to VAR.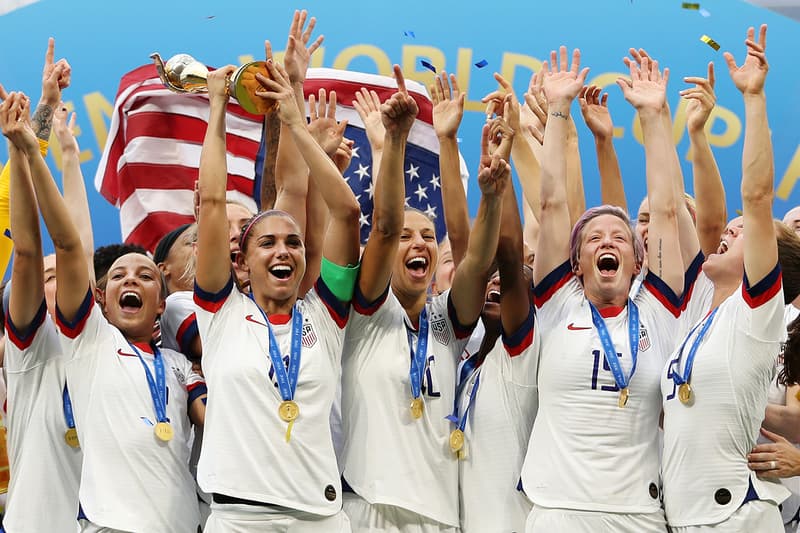 The hardest task will be limiting this women's world cup recap down to just five key takeaways. Just five from among the glory that is Marta's blood-red lipstick, Argentina's battles just to make it to France, Christine Sinclair's heartache, all the iconic celebrations, whatever Phil Neville is- every moment of this World Cup has been rife with takeaways and I maintain that no one should have had to work or go to class this month; how dare anyone expect us to do anything but watch the magic (but more on that later)?
So, anyway, five? Well, I guess if our Empress and President and my future best friend Megan Anna Rapinoe can come back from a hammie injury to play, score the game-winning goal, and win in the World Cup final, I can limit myself to five key takeaways. So buckle up, Hypebeasts, it's kickoff time.
VAR Testing Ground
We've gotta get VAR out of the way, don't we? From the opening match in Parc de Princes when VAR was used to wave off a French goal for an is-it-or-isn't-it-oh-yes-why-it-is offside call, to the final match when the US was awarded a penalty (taken by my bestie, Empress Rapinoe), VAR has made its impact felt in every minute of this World Cup. The sight of a ref holding up two pointer fingers to draw an exaggerated box in the air has come to strike fear, rage, or hope in the hearts of everyone watching, and it's also caused no shortage of controversy as the referees for this particular World Cup had to VAR (what, it's a verb now) their way through brand new rules. But hey, what's a World Cup for if not to test out new technology, am I right?
Goalkeepers Saved the Day
They rarely get the glory and always get the blame. It's the loneliest position on the pitch and to add insult to injury, the sun's usually in their eyes. But damn, the keepers at this World Cup have been, to a woman, the stars of the show. From Hedvig Lindahl springing off the grass to buy Sweden a little more time in the quarterfinals with the tips of her gloves to Barbara Barbosa, she of the fabulous eyebrows and impenetrable net, to Argentina's Vanina Correa coming back from retirement AND THE BIRTH OF TWINS (I'll pause here while you all go appreciate your mothers) to block shot after shot, the goalkeeping has been standout.
And I'm loathe to praise Sydney Schneider, since at 19 years old and already starting in a World Cup, she makes me question every one of my life's choices, but Jamaica's keeper faced down Brazil's Andressa and cooly, calmly, and collectively stopped a penalty and the breath of Brazilians around the world.
FIFA Overloads the Football Schedule
I never thought I'd say this but…there's just too much soccer. No, no, not in total, just…at the moment. And while FIFA swears that scheduling the round of sixteen for the Africa Cup of Nations and the finals of the Gold Cup and Copa America during the- checks calendar, yup, there they are- same exact day as the Women's World Cup final is a "rare and exciting occurrence," they also admitted that oversoccering the calendar was a clerical error.
The issue here isn't just that some of us have run out of excuses for calling out of work so we can watch the games ("my grandma's getting married! And, uh, so am I!"), it's that scheduling three major tournaments over the World Cup sends the message- intentionally or not- that FIFA and the associated federations do not exactly prioritize the women's game. If they're not going to actually give us that "rare and exciting occurrence," we'll settle for something a little better than, "oopsie, we forgot about your tournament."
Big Sellers
Have you bought your USWNT jersey yet? Cause if not, friendly advice, hop on that ish, because that Rapinoe #15, Morgan #6, Press 23 kits are selling fast. In fact, the women's home jerseys are the fastest and highest-selling soccer jerseys of any gender ever sold in a single season.
When Nike's CEO made the announcement in its earning call, demand only increased, as fans took to social media to ask for a wider range of sizes offered, faster delivery dates, a bedazzled kit (okay, fine, that last one was just me). And if you already have your Tobin Heath onesie or Ali Krieger shorts, you can order your World Champions merch (bedazzling not included).
Equal Pay More Relevant Than Ever
Anyone would have understood if these athletes had put their heads down and put everything they had into simply winning the World Cup. It is, after all, their greatest stage, one that only comes around every four years. And the pressure to be perfect, to earn their right to play, is high. But every woman who stepped foot on the pitch in France came with an agenda; every player came as a leader and a fighter. None of them were content to Stick to Sports. Arguably the best player in the world, Ballon d'Or winner Ada Hegerberg, boycotted the World Cup entirely, deciding not to play for her native Norway until female athletes are both paid and treated the same as their male counterparts.
Brazilian veteran Thaísa chided her country's federation, which had banned women from playing until only recently, saying they needed to give women, "a better structure, a governing body that understands women's sports." And the twenty-eight players on the United States Women's National Team, now four-time World Cup winners, filed suit against their football association under the Equal Pay Act and Title VII.
Rather than the distraction some were concerned the lawsuit could be, it galvanized both the team and fans, who broke into chants of "equal pay" as the players streamed onto the pitch for the medal ceremony. Oh, and just one more thing, the next men's World Cup is being played in Qatar, where homosexuality is punishable by up to seven years in prison; at this World Cup- well, as my bestie said, you can't win without the gays, and that's just science.