Jorge Masvidal Scores Fastest Knockout in UFC History Over Ben Askren
With his flying knee to Askren's skull.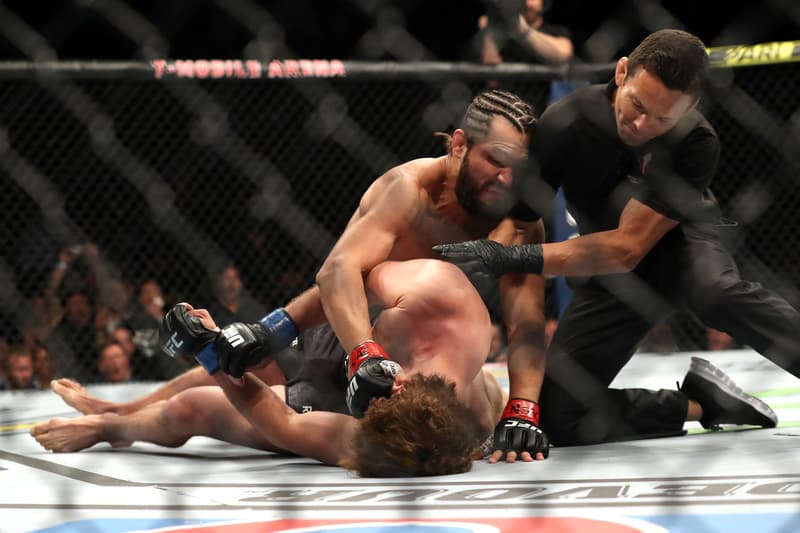 On Sunday night lightweight Jorge Masvidal scored the fastest knockout in UFC history when he defeated Ben Askren in just five short seconds.
The two contenders faced off in a key lightweight division feature fight UFC 239 at T-Mobile Arena in Las Vegas. Leading up to the anticipated match, Masvidal promised brutality, which he clearly stayed true to. To secure the win, Masvidal threw a flying knee at Askren's temple which immediately knocked out the previously unbeaten 34-year-old. Masvidal then continued to throw two more punches to Askren's head before the referee had to intervene.
Post-fight Masvidal shared, "[It's] nothing personal, it's just business. I'm here to get these cheques and get paid." He continued, "He's [Askren] so predictable, he's a scrub. I wanted to show him, if he did shoot like an idiot, then he'd get clipped and that would put the brakes on him. I'd beat him up and execute him. I put my hands behind my back and he fell for it."
The fighter also addressed the haters who thought the hits following his flying knee attack was unnecessary, to which he responded "They were super necessary, why were they not necessary? The referee hadn't pulled me off. My job is to hit someone until the referee pulls me off." He concluded with, "To those people, I would say maybe don't watch MMA, go back to soccer."
UFC president Dana White addressed media following the blow stating Askren was cleared of any significant damage.
Duane Ludwig held the previous UFC record for fastest knockout at six seconds when he defeated Jonathan Goulet back in 2006.
In more sports-related news, USA Women's National Team wins second straight FIFA World Cup.
JORGE MASVIDAL WITH THE FASTEST KNOCKOUT IN UFC HISTORY

5 SECONDS AND ITS OVER FOR ASKREN#ufc239stream @GamebredFighter #ufc #ufc239 pic.twitter.com/5mnYvYA0tz

— Second Deck Sports (@2nddecksports) July 7, 2019
In five seconds, Jorge Masvidal (@GamebredFighter) records the fastest knockout in @UFC history. #UFC239

The previous record belonged to Duane Ludwig with his 6-second KO. pic.twitter.com/cKLFqFu6uh

— UFC News (@UFCNews) July 7, 2019
Well that sucked

— Ben Askren (@Benaskren) July 7, 2019
Lol it's fine, I probably deserve it ? https://t.co/TJpzhyZHvb

— Ben Askren (@Benaskren) July 8, 2019
#fakenews Ben is still sleeping pic.twitter.com/eLCDYG1VOv

— Jorge Masvidal UFC (@GamebredFighter) July 7, 2019
Ben Askren was in terrible shape leaving the Octagon. #UFC239 pic.twitter.com/1Td0uMyMWh

— Andreas Hale (@AndreasHale) July 7, 2019
Join Our Discussions on Discord
The HYPEBEAST Discord Server is a community where conversations on cultural topics can be taken further.