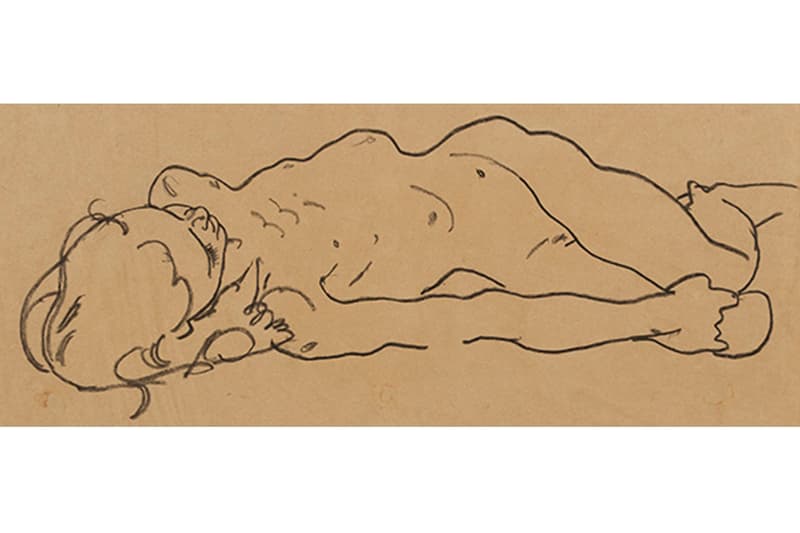 Egon Schiele Drawing Found in Thrift Store Is Worth up to $200K USD
Initially thought to be one of many fake copies.
---
Last year, an anonymous man was combing through articles at a thrift store in Queens, New York and happened upon what he assumed was a rare Egon Schiele drawing. The artwork portrayed a 'Reclining Nude Girl.' a figurative piece with similarities to many other works in the artist's extensive oeuvre. The man reached out to Schiele scholar and director of Manhattan's Galerie St. Etienne Jane Kallir via e-mail to see if the artwork he found at the Habitat for Humanity was indeed legitimate.
According to The Art Newspaper, Kallir was initially skeptical of the drawing considering that she receives many messages from people claiming to have discovered a Schiele piece. "Ninety percent of the time they're wrong […] Most of them are fakes–egregious copies," she said.
However, when Kallir requested a clear image of the drawing a year later she attested its authenticity after analyzing specific stylistic cues of the 1918 composition that could only be done by Schiele while portraying the silhouette of a female subject who seemingly modeled for the artist on numerous occasions:
If you look at the way this girl is lying on her back, and you look at the foreshortening both on the rib cage and on her face, and the way you see that little nose pointing up—think about how difficult that is to do [. . .] There are very few people in the history of art who can draw like that.
The artwork is now on display at Galerie St. Etienne as part of its current "The Art Dealer as Scholar" exhibition. It's currently on sale at the gallery for a price between $100,000-$200,000 USD. The anonymous owner expressed to Kallir that if the piece sells, he will donate a portion of the proceeds to the Habitat for Humanity.
For more archival works, check out the Cranbrook Museum's sprawling presentation of vinyl artwork by Dalî, Basquiat, and more iconic artists.