These Are the Must-See Movies and TV Shows Premiering in August
Including the first spin-off film of the 'Fast & Furious' franchise.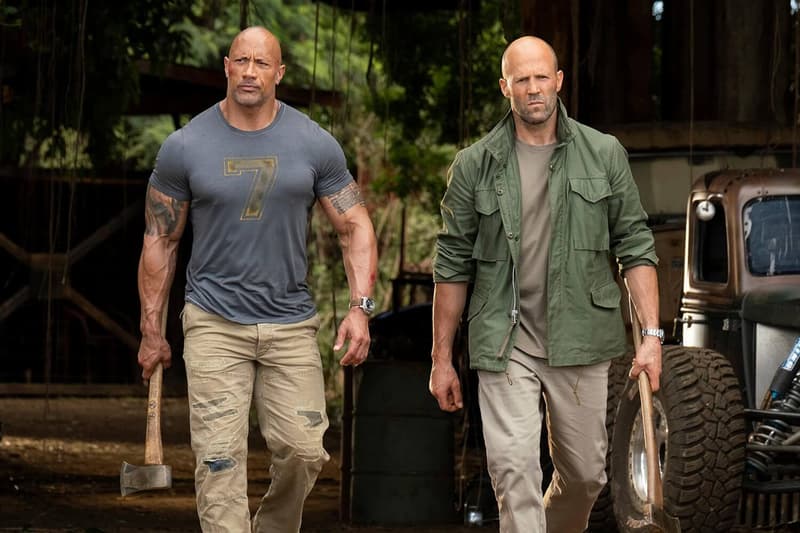 August has brought us another bevy of shows and movies to binge. And for once, this month is far more dominated by exciting new films than exciting new TV. On the movie front, Fast & Furious Presents: Hobbs & Shaw is expected to do gangbusters with talents like Dwayne Johnson, Idris Elba and Jason Statham starring. Nickelodeon favorites Rocko's Modern Life and Invader Zim have found a new home on Netflix as well, this time in movie form.
Over on the TV side, both AMC's Preacher and Starz' Power are airing their series finales this month, which means now is the perfect time for new fans to bingewatch the show's previous seasons, or for longtime watchers to kick back and see how the creators wrap the story up. Check out our full list of films and TV shows to look forward to in August, with everything from the must-see releases to the more under-the-radar titles.
Movies
Fast & Furious Presents: Hobbs & Shaw (August 2)
Dwayne Johnson and Jason Statham star as the titular duo fighting around the world to escape Idris Elba's Brixton Lore. In the trailer, Lore explains that he is looking for Hobbs and Shaw because Shaw's sister stole a virus from him. After countless bouts around the world, Hobbs and Shaw return to Hawaii to go off the grid.
Why it's worth your time: It looks like a live-action Saturday morning cartoon with its over-the-top machismo and action scenes. The trailers alone feature Dwayne Johnson falling off a building; a chase sequence with Shaw and superhuman Brixton; the main series' staple hypercars; and all the laws of physics being defied. One trailer ends with Johnson pulling an entire helicopter out of the sky with a chain, a tow truck, and his bare hands. If Captain America can do it, why not The Rock? The ridiculousness sells itself.
Scary Stories To Tell In The Dark (August 9)
The upcoming film is set in the small American town of Mill Valley in 1968, where a group of teenagers uncovers a book in the infamous Bellows family mansion. Written by a young girl named Sarah, she transformed her tortured life into scary stories that turn out to be more than just reading material.
Why it's worth your time: Guillermo del Toro and director André Øvredal's adaptation of Alvin Schwartz's children's horror book trilogy will surely satisfy fans who grew up with the titles, but it also features new monsters specifically for the movie like Harold the Scarecrow and The Jangly Man.
Apocalypse Now Final Cut (August 15)
In celebration of Apocalypse Now's 40th anniversary, IMAX and Lionsgate are releasing a Final Cut IMAX version of the Vietnam War film at select theaters this summer. Directed by Francis Ford Coppola and released in 1980, the film follows a group of soldiers during the Vietnam War in the '70s. The movie is partially based on Joseph Conrad's Heart of Darkness and stars Martin Sheen as Army Captain Willard, who ventured into the dangerous jungles of Cambodia with a mission to assassinate American renegade Colonel Kurtz, played by Marlon Brando.
Why it's worth your time: It's one of the best, if not the best, Vietnam War films of all time. Where many films with similar subject matter showcase the external horrors of war, Apocalypse Now demonstrates what war does to a person's interior.
Rocko's Modern Life: Static Cling (August 9, Netflix)
Rocko's Modern Life: Static Cling centers around the challenges faced by the main cast after returning from a 20-year trip to outer space. Rocko has trouble accepting this 21st-century modern life, even while Heffer and Filburt are better acclimated. Once Rocko realizes his favorite show The Fatheads got canceled in the interim, he goes looking for the creator Ralph Bighead to get it back on air.
Why it's worth your time: This is a direct continuation of the final episode in Rocko's Modern Life, which makes it satisfying for longtime fans. What's more, the movie is essentially a Ralph Bighead episode, which were often the best episodes in the original TV series. Rocko's has always been meta, but the subject matter of nostalgia here is all too real, especially since the show itself brings up so many memories for '90s babies.
Invader Zim: Enter the Florpus (August 16, Netflix)
Zim discovers his almighty leaders never had any intention of coming to Earth and he loses confidence in himself for the first time in his life. This marks the big break his human nemesis, Dib, has been waiting for.
Why it's worth your time: Invader Zim is the Rocko's Modern Life of 2000s kids, but it never got a fair chance to be a breakout hit in the same way as its contemporaries. And that's where Netflix comes in, as the platform has a track record of reviving shows that were overlooked in their time. Now Zim will get a second chance in the limelight, and maybe finally get to take over the world in a new series.
Good Boys (August 16)
After being invited to his first kissing party, 12-year-old Max is panicking because he doesn't know how to kiss. Eager for some pointers, Max and his best friends Thor and Lucas decide to use Max's dad's drone to spy on a teenage couple making out next door. But when the drone is destroyed, the boys skip school and set off on an odyssey to right their wrongs. It ends up involving stolen drugs, frat-house paintball and cops.
Why it's worth your time: It's a Seth Rogen joint if you couldn't tell. Besides being the middle-school version of Superbad, it's from the Rogen/Goldberg duo that's made some of the best comedies this decade, so of course it's going to be funny. But be forewarned, if the entire butt of the joke is kids cursing, the movie might get old fast.
Angel Has Fallen (August 23)
After Mike Banning (Gerard Butler) took back control of the White House from a terrorist in Olympus Has Fallen and thwarted an assassination attempt on several world leaders in London Has Fallen, he is now finding himself get accused of the very crimes he prevented. In Angel Has Fallen, Banning is on the run after being accused of trying to kill the President (Morgan Freeman) and begins to look for the perpetrators trying to take him down.
Why it's worth your time: It's the inevitable eventuality of a third installment: live long enough to see yourself become the bad guy. But of course, he's not really the bad guy, so kick back and watch the gunfire and explosions as Gerard Butler gets himself out of a hairy predicament.
TV
Dear White People: Season 3 (August 2, Netflix)
The satirical series returns with our group of Winchester University's diverse students as they navigate a landscape of varying social injustice, cultural bias, political correctness and activism in the age of Twitter.
Why it's worth your time: Three seasons deep and the series still showcases college life better than any show available. Although a lot of topics and characters are a bit over-the-top, this new season has been said to push characters toward exciting new beginnings.
Preacher: Season 4 (August 4, AMC)
As the series inches closer to the finale, God's endgame for the universe begins to click into place. Trapped between heavenly prophecies, hellish prisons, and all-out nuclear war, Jesse (Dominic Cooper), Tulip (Ruth Negga) and Cassidy (Joseph Gilgun) make their bloody way to the Most High.
Why it's worth your time: It's the series finale, and although there are a lot of villains to deal with in the series, the creators have decided to wrap up the story here. The plot is difficult to predict as many details on how the season will unfold are under wraps, but knowing when it's time to end a show so as to not ruin its reputation is always something to appreciate.
Free Meek (August 9, Amazon Prime Video)
The six-part program provides insight into the Philadelphia-born artist's life. Meek Mill stars alongside his family and social justice cohorts such as JAY-Z (himself an outspoken advocate for prison reform), who candidly offer their perspectives on the rapper's tumultuous personal experiences. The series also provides commentary on the failures of law enforcement and the justice system to offer adequate services and fair decisions to marginalized populations.
Why it's worth your time: Meek came out of his troublesome situation with the law as a better man, and has since become an activist for changing the unfair treatment people of color receive in systems of justice around the world. More than that, the documentary couldn't come at a more relevant time, considering A$AP Rocky's ongoing incarceration in Sweden.
Mindhunter: Season 2 (August 16, Netflix)
The show's second season is expected to focus on the Atlanta child murders, which refers to a series of 28 murders that took place between 1979 and 1981 with all African-American victims, most of which targeted children and teens.
Why it's worth your time: The first season was a slow build, but this one looks to have a better-focused subject matter. However, according to Entertainment Weekly, the upcoming trailer heavily featured fan-favorite serial killer from last season, Ed Kemper (Cameron Britton). Luckily, David Fincher is returning to helm the series.
Power: Season 6 (August 25, Starz)
The series that followed New York City nightclub owner James "Ghost" St. Patrick is coming to an end. According to the official synopsis, the final season picks up with Ghost seeking vengeance. Rocked to his core by the deceit and cruelties of those he once called his family, Ghost devotes himself to one notion: success is the best revenge, with all intentions of getting both.
Why it's worth your time: The final season is set to create several spin-off titles that will follow the cast of characters, which is worth seeing unfold (that will not include 50 Cent's character, however, due to the events of the previous season). Be prepared for even more mainstay characters to kick the bucket this season as well.
The Dark Crystal: Age of Resistance (August 30, Netflix)
The upcoming prequel series to Jim Henson's 1982 cult classic The Dark Crystal showcases several mythical-like creatures like the elfish Gelflings and the bird-like Skeksis. The latter species crack the titular Dark Crystal, which is the main source of power for the planet Thra, and its energy turns its guardians into monsters obsessed with power.
Why it's worth your time: The 10-part show looks incredible. The visuals of Thra itself have been drastically updated from the practical sets of the original film to a more modern computer-generated look. However, the new series still uses practical effects for certain things, which helps maintain the same aesthetic as its 1982 counterpart.