Gunna on Atlanta's Influence: "We Come From Our Own Lingo"
He also discusses building off a strong 2018 and interest in working with Post Malone.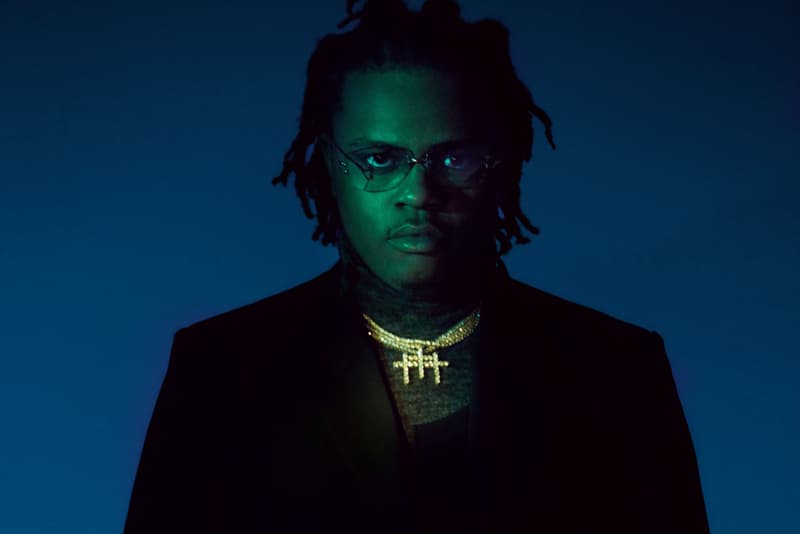 Hard to miss Gunna. A true Atlanta rap celebrity, he is now also all over the world. No longer is he simply an artist, he's one of the faces of the new hip-hop landscape. When he arrived in our photo studio one evening at the previous Paris Fashion Week, the ATL star had a glow around him. He and his stylist ate candy while bursts of laughter bellowed in the background. The rest of the team is chill, slumped on a couch while rolling joints.
2018 was a monumental year for Gunna, who went from a southern upstart to one of the most influential new artists in hip-hop. He started the year by dropping Drip Season 3 in February 2018 and in October 2018, he and Lil Baby released the joint mixtape Drip Harder, which peaked at No. 4 on the Billboard Hot 200. In between, Gunna was featured on some of the hottest songs of last year, starting with Travis Scott's "Yosemite," Metro Boomin's "Space Cadet" and Young Thug's "Chanel (Go Get It)" plus a number of Lil Baby records.
In February 2019, Gunna dropped his album Drip or Drown 2, which debuted at No. 3 on the Billboard 200 with 90,000 album equivalent units. Since then, his momentum hasn't slowed down and now Gunna plans to take things to even greater heights. HYPEBEAST sat down with Gunna in Paris to talk about Atlanta's influence in hip-hop, his early beginnings and his interest in working with Post Malone.
HYPEBEAST: You had a very successful 2018, which moment stood out for you?
Gunna: There's definitely a lot of highlights. I would say, every single feature I got were special for me. The projects I dropped too, of course. Drip Season 3 was a huge moment for me as well. Same goes for my project with [Lil] Baby, especially its single, "Drip Too Hard." I can't really complain, I had quite a good year.
From the outside looking in, your rise to the top might appear to be quite quick, but in reality, success usually requires a lot of work. Can you share a little about your early days in Atlanta?
I have to give it to my hometown of Atlanta. That's where my journey started off, the Southside of Atlanta to be exact. I was rapping from an early age on, and from there, I elevated my style gradually. Growing up there was a lot of fun. I love being from Atlanta, I love having been raised in Atlanta. The food is great there, and so is the shopping. Lenox Square and Saks Fifth Avenue are cool spots to shop. Atlanta is also somewhat the home of the strip clubs, such as Magic City.
How do you explain the creativity coming from this city?
We come from our own lingo, our own slang. It's how we talk, having different words and nicknames for certain things in life. These give us a certain flavor and style about the way we express [ourselves]. And a lot of us managed to incorporate this into our music.
You're 25 now. Who was Gunna when he was 15? And where will you be in 10 years from now?
I was a cool kid, I didn't do any sports or anything, but I had my homies around to kick it. I was also already recording back then. By the age of 35, I'd like to own a nice big house with 20-30 plaques. Ideally, diamond plaques but surely, gold and platinum. [Laughs] Grammys too, of course. That's my vision as a recording artist. If I [wasn't] a recording artist, what would I be? Most likely an entrepreneur, having my own business.
At what point did you realize that things were starting to take off for you?
It was the one show I did in Lithonia, Ga. a few years back. It's about one hour outside of Atlanta. It was lit, the crowd was so crazy that the stage broke. I knew back then, these folks really love my music and that I can reach even more people with my music.
Would you be open to collaborating with artists outside of the rap genre? Pop or country music.
I'm definitely open to work with any genre as long as I can feel their vibe. I'd definitely like to work with Post Malone since it'd be interesting to see the chemistry when our styles collide.