Solange's 'When I Get Home' Album Experience Showcases the Importance of Houston
We went down to the multi-talented artist's hometown for a tour of the city.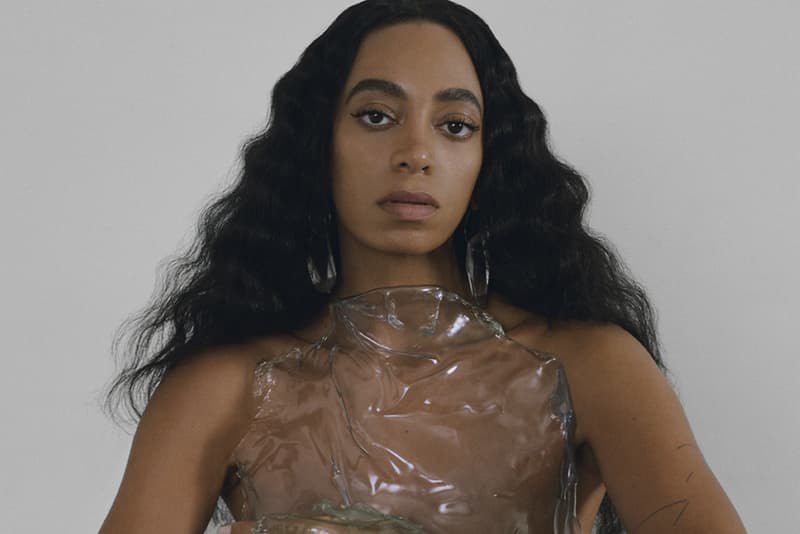 "I'm from Texas, it's such a spiritual place. Any time of day you can see and experience something unique," says Solange in front of a crowd of musicians, artists, filmmakers and fans at Houston's SHAPE Community Center, where she has just presented  a visual album experience for her newest LP, When I Get Home.
There's something special about Houston; there's a story behind everything. The downtown area — which has been completely overhauled within the last five to 10 years — feels like New York City, but tighter, with skyscrapers covering every inch of real estate. It's modern but slow; instead of everyone rushing to get to their destination, they stride with southern hospitality. But look further, and you'll find history.
In Houston, you'll find the Unity National Bank, the only Black-owned banking institution in Texas that was founded in 1963. You'll see Texas Tire & Wheel, a local rim shop that has served the downtown Houston area for years. You'll stumble onto Ensemble Theatre, which aims to preserve the artistic expressions of Black art, and Project Row Houses, a Third Ward neighborhood platform dedicated to developing art in the local community. And then, of course, there's SHAPE Community Center, a staple Solange's When I Get Home tells the story of the city from her point of view. It explores how the aforementioned institutions allowed her to materialize her dreams and better understand herself. Last Sunday (March 3), Solange's team flew down a handful of journalists for an album experience in her hometown.

Writer and art curator Antwaun Sargent moderated a talk with Solange during a city-wide Houston event that simultaneously played the visual album experience at a number of locations.

Understandably, some might ask why bother flying people out to watch a movie that had been released on Apple Music two days prior. And sure, there wasn't anything different between what was shown on Apple and what was shown in Houston, but the point of the trip wasn't necessarily to watch the short film. It was to experience what home feels like to Solange.

"I think touring the last record, the things that [were] happening to my body, to my sprint, things that felt out of control. And I think any time you go through something like that, you crave and yearn things that remained the same."

Driving through Southwest Houston while listening to "Almeda," walking into SHAPE Community Center and seeing two generations of Black cowboys; Solange's mother Tina Lawson posted the cover art for When I Get Homeon Instagram the day of the album release and wrote about how centered Houston is all throughout the album.

"And when I get home to Houston I'm gonna 'Exit on Scott' street and get some chicken and red beans and rice from Frenchy's That evening i'll hit Nola's on 'Almeada' and get a shrimp Po Boy. Ride by our old house on 'Binz' reminisce and take the 'Beltway' to Papadeauxs take a trip down memory lane on 'S McGregor' where Debbie Allen and Phylicia Rashad 's daddy Dr. Allen lived and we jogged on the Bayou," Mrs. Lawson wrote, painting a picture of how every part of this project is linked to the city.

"It felt so good to be home," Solange said towards the crowd in SHAPE. "I think touring the last record, the things that [were] happening to my body, to my sprint, things that felt out of control. And I think any time you go through something like that, you crave and yearn things that remained the same."

This album was about healing, and the best place for Solange to heal was home. This visual experience wasn't so much about getting everything off her chest, like we saw A Seat at The Table, but expressing feelings; its aim is more spiritual, building worlds for the next generation to use as a reference point. Images of Black cowboys are sprinkled throughout the film, and Solange discusses with Sargentwith how growing up the cowboy wasn't an aesthetic but a culture that Black people lived; riding horses as transpiration and wearing cowboy hats was normal. "I don't know who John Wayne is or his story is, but I know about zydeco and I know about trail-riding," she says to Sargentwith as the crowd laughs and applause.




Listening to Solange explain repetition as a way of reinforcing the mind and body and aligning all of those concepts was illuminating. Solange turns to us and describes the power that comes with that practice. "I think repetition is a strong way to reinforce those mantras that maybe we're given but once we actually repeat them out loud and we call them into action and into our lives. When I sing, 'I saw things I imagined' four times, I didn't actually really believe it but by the eighth time it's coming into my spirit," she says with a smile.

She was particularly joyous when discussing her editing process, and how proud she was of her production work on the album. She expounds about the recognition she's finally gaining as a producer is encouraging, but it's still not recognized in the same vein as her male counterparts, who are usually deemed, savants.

"Speaking my truth, it's rather difficult as a producers to sometimes be reduced to just a songwriter or just the artist when you spent 18 hours editing one drum sound, and I think we've come a long way from that for women, but it's still got a little ways to go—the way we're able to have that conversation about Rick Rubin but we're not extending that conversation to others," she said.

Stevie Wonder's Journey Through The Secret Life of Plants album was a major inspiration for the visual album, and her "finsta" — which is a secondary "fake" Instagram account used to post photos they don't want to share on their primary accounts — was a major outlet to dump her endless thoughts.

"With this album, I had so much to feel. Words would have been reductive to what I needed to feel and express. It's in the sonics for me."

Solange also expressed excitement at working with young, Black Texan artists and filmmakers, saying collaborating with "voices and faces and energy" that she loves and put together all the elements for the album experience.

"There are things that I can't do," she shares to the audience. "Why not extend that to the originators of that and have them be a part of this?"

Surely many are thinking by now, what's better, A Seat at the Table or When I Come Home? But while both projects are sure to bring her critical acclaim, they deserve to live separately. The film created for When I Come Home doesn't need an instant hot take. It's supposed to be played over and over again. It's supposed to be consumed slowly. It's supposed to be experienced.

"Obviously with A Seat at the Table I had so much to say," she said. "With this album, I had so much to feel. Words would have been reductive to what I needed to feel and express. It's in the sonics for me."