Apple Offers 10% Bonus Credit When You Add Funds to Your Apple ID
Valid for amounts ranging from $1 USD to $200 USD.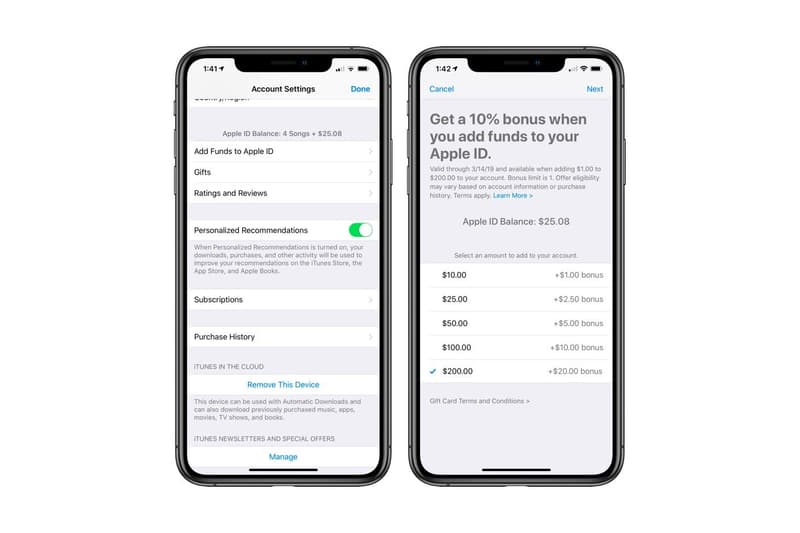 Over the weekend, Apple sent out emails to all of its iTunes and App Store users about its latest promotion. From March 10th to 14th, Apple is offering a 10% credit bonus for any funds added to your Apple ID account. The offer is valid for any amount ranging from $1 USD to $200 USD, so any users adding the maximum amount of $200 USD into their Apple ID accounts will effectively receive a total of $220 USD (a $20 USD bonus).
To add funds to your Apple ID, simply open up "Settings," tap on your account name, and click on the iTunes and App Store option. Once you've selected your Apple ID of choice, tap on "Add Funds to Apple ID." You'll be taken to a menu screen where all the promotional bonuses are available, and you can choose the amount of money you wish to add. The "Add Funds" page can also be reached through the iTunes Store by clicking on your Apple ID or through the App Store at the bottom of the page and tapping on the "Add Funds" option.
The promotion extends beyond the United States with countries such as Germany offering up to a 15% bonus. However, as of now, no credit bonuses will be issued to users in the UK, Australia, or Canada.
In other Apple news, the tech giant will now repair iPhones with third-party batteries.