Why You Won't See Dolce & Gabbana at The Oscars
We interviewed five stylists about the state of the controversial brand.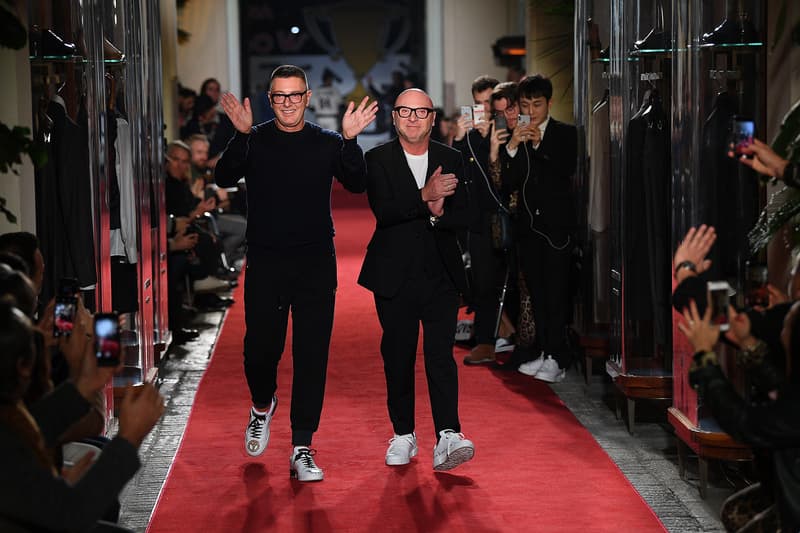 You'd have to be living under a fashion rock to not have heard about November's Dolce & Gabbana controversy. The Italian label released a campaign ahead of its Shanghai fashion show which was immediately criticized for its offensive imagery and, along with subsequent derogatory comments from Stefano Gabbana about Chinese people, inspired a swift backlash against the brand. And it's likely not the first time you've heard criticism against Gabbana and Domenico Dolce; in 2015 the two came under fire for comments against gay couples adopting children or using IVF, and again in 2018 when Gabbana called Selena Gomez "ugly."
And yet, the fallout from the Chinese ad actually seems to have hit D&G where it hurts: the red carpet. As Vanessa Friedman wrote for the New York Times in January, no major stars wore the label to this year's Golden Globes ceremony. The label was similarly absent from the SAG Awards. With the Academy Awards taking place this Sunday, it begs the question: In the age of celebrities using the red carpet to make statements around #MeToo and Time's Up, can a brand like Dolce & Gabbana recover from such a scandal?
To find out, we spoke to five stylists about not just Dolce & Gabbana, but how a brand's politics impact their work, the value of call-out culture, and how fashion can become more inclusive. Whether or not any stars will actually wear D&G to this year's Oscars, we'll have to wait until Sunday to see.
The following interviews have been condensed and edited for clarity.
Jason Bolden
Instagram: @jasonbolden
Clients: Ava Duvernay, Janet Mock
What was your first reaction when you heard about the controversial Dolce & Gabbana ad?
My issue was way before that, my issue was about homosexuality. So I made my decision a long time ago to close my ears and close my eyes to that brand. When they said all that stuff about homosexuality, I was done.
When that stuff hit the media, it wasn't a shock to me. Is it awful? Absolutely, it's awful. But when you think about it full picture, it was awful way before then. If we're gonna talk about human rights, then we have to talk about it as a whole. Not just because of one particular thing that made more noise than something else.
There's been the homophobic comments, the comments about Selena Gomez, why do you think that this particular instance has caused more waves?
I honestly tie all of it and give all the praise to social media, cause it gives us all access to see people for who and what they really are. And in certain cases, no one ever had that access because a lot of those things were said behind closed doors, and you never got that opportunity. And if you did get the opportunity, some of the people, some minorities, may have just only had it at a personal level, and not had the access to exploit it the way that social media can do now.
As a stylist, have you ever had to dissuade from wearing a particular brand because that brand's politics were in conflict with their values, or with your values?
I've presented brands to clients just in a kind of education, like heads up, "This particular brand feels like this," "This particular designer has stated this," or, "This particular brand just does not dress people that look like you." So, I mean those are conversations that my clients and I have on a regular basis. We've been so lucky enough to have brands come to us that support us and also vice versa, brands that we support and we see what they do for the community.
Do you think Dolce & Gabbana can bounce back and become a red carpet staple again?
I think it goes back to what I'm saying. He showed us many times who he is. It really sucks because there are so many layers to business. There are people who probably work at the brand who don't feel the same way.
Everybody deserves a chance. If you can have your moment in the middle of the town, and you say what it is, you apologize, and then you go into fixing it all. But this Dolce & Gabbana stuff it's like, my ears and eyes have been closed. I won't be in the town hall for that one.
We're seeing more celebrities using the red carpet to make political statements. Do you feel like your work as a stylist has changed in this era?
The only thing that's changed for me in this era is that you see more people of color. There's still a system to it, and that's that. The only thing that's changed is that I'm a black stylist that's being recognized and actually able to have these types of conversations.
Are you aware of any instances where designers didn't want to work with you specifically, or with any of your clients?
This conversation is really way deeper than that. We can take it all the way back to like, oh you're actually good enough to be in the campaigns. You're good enough to walk the red carpet, you're good enough to sit at the fashion shows. But do you get the same treatment, or are you held on that same pedestal when you actually go into the stores and shop?
I can talk about this all day, but the idea is how do you fix it? The person who has been in charge for so long, that person needs to literally get in the town square and call out all of the fucked up shit that they have allowed to happen. Until that type of stuff is really cleared up, we're gonna constantly have these conversations that we're having right now. We gotta really turn all the mirrors and the microphones around to the powers that be and ask them, what are you doing wrong?
What would you like to see from brands, stylists, PR people, designers, etc., to really make fashion more inclusive?
It's really that simple — make fashion more inclusive. Just give everybody the same chance and the same opportunity. A lot the inspiration has been taken from people of color, and we definitely don't get that same experience. This whole country was built on a lot of things that people of color have brought to the table, but it's been disregarded.
Like how Diana Vreeland would always say she would go to Harlem and she would look at the style point of views of the men and women of Harlem. I would love to hear that. Give the credit back to the people. You take from the people, and then they ask to wear it and you're like, no.
Rox Brown
Instagram: @rox_brown
Clients: Young Thug, Justin Bieber
What was your first reaction to last year's controversial Dolce & Gabbana ad?
I feel the ad was very insensitive and not well thought out. When a campaign idea is presented, it usually gets presented to a few people before it's given the ok. I was pretty surprised that those higher up wouldn't ask for a different creative direction.
The CEO of Balenciaga said last year that luxury labels today are more about values than heritage or craftsmanship. Do you agree?
I would have to disagree. Maybe some care about values, but I think most only care about being on the right side of things for financial gain. If we are talking values, especially equality, I think the world of fashion has a long way to go.
Do you think D&G can recover from the controversy around its ad last year?
I think they can definitely recover by correcting their wrongs and paying homage to the cultures they have offended. I feel that they need to take all things into consideration before approving ads that can be offensive or controversial.
Celebrities are now often using fashion to make a statement, such as wearing all black to align themselves with the Time's Up movement. Do you think this has changed the role of the stylist?
Personally, I think if you're using fashion to make a statement, such as aligning yourself with movements like #MeToo, you shouldn't be using a stylist. If your look is your voice, let it come from you. I think the role of a stylist should be just that. We are storytellers in a way, but we should not be responsible for individual views.
Do you feel a greater responsibility to ensure your clients wear brands that align with their values because of that trend?
One hundred percent. And the client and I would have to have similar views and agree on the same brands. However, if the look is symbolic for something in particular like #MeToo, I would want it to be solely their idea.
How do you think fashion as a whole, including luxury labels like Dolce & Gabbana, can become more inclusive of people of different backgrounds?
It's coming to a point where luxury brands have no choice. If they don't include everyone, they'll soon be the ones who are excluded. With the internet at the forefront of our society, no one's asking to be a part of these worlds anymore. No one needs permission.
Law Roach
Instagram: @luxurylaw
Clients: Zendaya, Celine Dion
What was your first reaction to Dolce & Gabbana's controversial Chinese ad?
I hadn't seen it until the controversy. And it's kind of a hard thing to you know, digest. No matter how I felt about it, the fact that people were offended by it, whether it's one person or a million people, if someone is offended by it there's something wrong, period. When someone does something that has that type of reaction, then there's something wrong there. There's something that needs to be fixed.
When there's controversy around a brand, do you think, as a stylist, about how it affects your relationship with the brand?
I really don't think that way. Because I have a personal relationship with Domenico Dolce like I know him on a personal level. It affects me more in a way that, you know, it's a heavy heart cause I know him. I know Stefano, I don't know him as personally as I know Domenico. And my heart went out to him. But wrong is wrong, and right is right.
Vanessa Friedman noted that no one wore Dolce and Gabbana to the Golden Globes this year. Did it surprise you that no one wore the label?
No, it didn't surprise me. I think there's a lot of fear in Hollywood. I feel like we've gotten to a place where we can't have an opinion. If your opinion is different from the popular opinion then it becomes a problem, and everybody is so afraid of this call out culture we live in that no one said, "I love Dolce, I wanna wear Dolce."
We live and work in an industry where people want to tell you what to wear, what to eat, who to like, who not to like, and I think because people are making decisions out of fear that it's actually counterproductive in a way. You support who you wanna support, you support who you don't wanna support. But don't do it or not do it because you're afraid of what people are going to say.
Do you feel responsible for ensuring that your clients don't face backlash because of a certain thing that they wore? Would you step in and say, "Don't wear this brand"?
I would never. I would absolutely never. It is my client's choice and final decision on whatever they wear. So if I had a client that wanted to wear Dolce & Gabbana, I'm gonna request Dolce & Gabbana, that is my job. My personal feelings and politics should not weigh in on my job.
I'm in the service industry. My service is very heavily based on my opinion and what I think, but again the final decision lies with the client, the person who actually has to get on the carpet or go to the event to wear it. And I think all the women I work with are very informed about what's going on. So I think they can make their own decision.
We now see celebrities using the red carpet to align themselves with certain movements, like #MeToo or Time's Up. Has this changed your approach with your clients?
Not at all, cause again it's their decision. When #MeToo happened and the blackout for the Golden Globes, my job was to get my clients the best black dresses and to support their decision to be a part of it. It had nothing to do with me. Not that I don't support or I don't acknowledge, but I am not a spiritual advisor — although we can be on some days — I am not a political advisor, although sometimes we can be. My core job is to provide a service. If I had a client who said, I'm not supporting the blackout, I wanna wear white, then I'll pick out white dresses. I try to keep my personal separate from my professional.
Do you feel that "call out culture" can be beneficial? Or has it had more negative than positive effects?
I think calling out people, if you're doing it to educate the culture, absolutely. But I feel like when it becomes vindictive and it becomes hateful, then you're just as wrong as the other person. You know it's great that we have social media and we get information so quickly. And it's up to us to take that and make our own decisions and digest that, but I do think that we have gotten to a place where people love to see people being torn down. That makes me sad, cause it's not always even about getting the truth, it's just about the story.
Do you think fashion is still lacking in terms of being inclusive of people of different backgrounds?
Absolutely. It's one of my biggest things I'm trying to use my platform for. There isn't a lot of people who look like me who are working at the level that I've been blessed to achieve. And I'm definitely not saying that people in power are like, "I'm only going to work with white women." But I think it goes back to things just being the way they've always been. Somebody has to be brave enough to say, "Wait, you know it's always been this way, let me use my platform or my power to give that opportunity to someone who might not as readily gotten that opportunity." I do feel like people of color don't get afforded the same opportunities that would allow them to get to a certain level of success.
Taylor Okata
Instagram: @taylorokata
Clients: Mette Towley, SSENSE
What was your first reaction when you saw last year's Dolce & Gabbana ad and the controversy around it?
When I first saw it, I just thought it was a perfect example of how fashion gives the impression of being inclusive and completely misses the mark. And I wasn't surprised it was a luxury house with millions of dollars making such a mockery of an ad, either. Growing up, I'm multiracial and I'm of Japanese heritage, and I've been insulted and isolated by many ads.
It's 2019, it's just so crazy that these ads are still being made. I didn't immediately think about my work as a stylist being affected, but more I thought about what I wanted to do as a stylist that can change the way this industry functions.
Vanessa Friedman noted that no one wore Dolce & Gabbana to the Golden Globes. Did that surprise you?
I wasn't surprised because I think there's so much more transparency now. Whether it was these celebrities' choice or awareness, or whether it was the stylist doing a great job at making sure that their client wasn't being tone-deaf, I wasn't surprised at all. I wouldn't have been surprised if a celebrity had ended up wearing the brand because of all the endorsement deals and dollars going around.
We don't leave the house naked, so whatever you wear is consciously an extension of yourself. And I think that stylists, and especially celebrities because of their platform, need to be smarter about the choices they make.
As a stylist, have you ever had to tell a client to wear or not wear a brand because of what it might mean?
Absolutely. There are so many brands and designers out there that deserve to be featured or styled or highlighted, so I try not to tell my client don't wear this brand because of xyz, but really educate them on why I don't have that brand sitting on the rack. Because I didn't feel that it aligned with my personal values, nor did I want my client to be at fault for having any backlash for representing a brand that had made negative remarks to a certain community. I think that is my responsibility as a freelance stylist.
The CEO of Balenciaga said last year that luxury labels today are more about values than heritage or craftsmanship. Do you agree? Do you think brands that don't understand this will fall behind?
Craftsmanship should always be important for a luxury label. But I do agree that labels need to be more about their values. The consumer of luxury goods isn't what it was 30 years ago. And the brand's that don't understand this will definitely fall behind. I think Louis Vuitton is a perfect example of this happening at the moment. These consumers are buying into a culture and a designer's values.
We've seen brands like Dior recover from past scandals. Do you think Dolce & Gabbana can do the same and become a red carpet staple again?
I think it was a little different with Dior, in the sense that Christian Dior himself had already passed. So Galliano was let go and his name was tarnished, it still reflected poorly on the house, but it wasn't the house's namesake making those awful remarks.
I think with D&G, the label is Domenico and Stefano's names. The name of the label itself is tarnished because they are the ones making these awful comments. And even if they left, I don't see the label snapping back the way Dior did anytime in the near future. Let's remember, it's not just the terrible Chinese advertising, there are many instances of discrimination, bigotry, by both of them.
Do you think this "call out culture" that Diet Prada has created has actually helped the fashion industry become more inclusive? Or is it just making brands afraid of bad PR?
I definitely think it's both. And I think the Diet Prada duo are young and smart, and representative of their generation. The politics of fashion are outdated and should be called out when necessary. I think they're being critics, and as time as has gone on we've almost kind of lost that. Even as stylists I think that we get sometimes a little hesitant because we don't want to upset a brand, or whatever it is. And I think that we are getting back to a place slowly where it's ok to have an opinion, and it's ok to be a critic.
What would you like to see fashion as a whole do to become more inclusive?
I think they need to stop creating such segmented marketing initiatives. Because for somebody like me, I'm kind of all of the above, I'm part white, but I'm part Pacific Islander, I'm part Asian, and I am LGBTQ, but the ads that they create, I don't identify with that. Why not look at things from just a general perspective of people being human beings?
They also need to stop focusing on diversity as a commodity and actually hire diversely within their own companies. From age to race to gender to sexual orientation, different socioeconomic backgrounds, and they need to make sure that they are working with the appropriate agencies or individuals or staff when producing campaigns or products.
Talia Bella
Instagram: @taliaabella
Clients: Tee Grizzley, V magazine
What was your reaction to last year's controversial Dolce & Gabbana ad?
I wasn't exactly shocked. However, I do understand the offense that may be taken from different points. It's just different when you are made aware of a treatment or concept prior to shoots. Especially at this level. So everyone who agreed to work on the photo shoot had the opportunity to speak up and oppose the concept. There had to be one person who didn't agree with it. We need to do better as humans during times like this.
Now, after seeing this latest Gucci controversy, I'm upset. They used references of Blackface in their Valentine's Day release of coats and sweaters. During Black History Month. With Dapper Dan a trailblazing face of the brand. This is outrageous and careless.
Have you ever made a choice to not work with a brand because of its values or politics? Or conversely, wanted to work with/feature a brand in your styling because of its values?
All the time! A brand has to speak to me. If there is no love language between the stylist and the garment, how could I bring it to life?
Do you think "call out" culture, particularly spurred by IG accounts like Diet Prada, has helped the fashion industry become more inclusive?
I stan Diet Prada. I love the blunt truth. The information presented is usually backed by facts. But I don't think Diet Prada is responsible for inclusiveness or making anyone feel responsible to add diversity. I believe the culture of artists, creatives, and designers are all working really hard to connect dots that should have been connected years ago. For example, Virgil making way for rappers like Playboi Carti and Offset to walk in a Paris runway show.
Do you think D&G can recover from the controversy around its ad last year? Would it require Domenico and Stefano leaving the label?
D&G built a legacy long before the controversy. I'm sure they will recover. I don't think Domenico and Stefano will leave the label.
Do you feel a greater responsibility now to ensure your clients wear brands that align with their values?
One hundred percent! I am very keen on understanding my clients' values and what's important to them prior to accepting any job. I pay very close attention to their needs and background.
I especially seek out emerging designers on social platforms who haven't gotten much exposure but have quality work. Follower count doesn't always equal talent or hard work. We should be supporting the up and coming. Cardi B's stylist Kollin Carter does a great job of this, Cardi as well. She literally called a friend of mine, a local designer, and was like, "Where you at I'm in the Bronx and I wanna wear one of your pieces!"
How do you think fashion as a whole, including luxury labels like Dolce & Gabbana, can become more inclusive of people of different backgrounds?
First off, fashion as a whole has been historically non-inclusive. Now, if we're talking about style — it's everyone and everywhere from the homeless man on the train to the women in the grocery store.
Luxury labels should screen who they are hiring for their PR teams better. In my experience as a woman of color, I find that I encounter PR men and women who have no knowledge of the industry. They are trained to only know numbers these days. If you don't have a following past a certain number, you can forget about wardrobe loans or attending events. Which would make these brands more inclusive and involved in their communities. Not just what they want their audience to see in ads. They probably spend millions of dollars gathering "cool" models and influencers attempting to persuade viewers that they are in touch with them.