UPDATE: 21 Savage's Lawyer Says Rapper Applied for Residency Visa in 2017
The deportation process is said to start this week.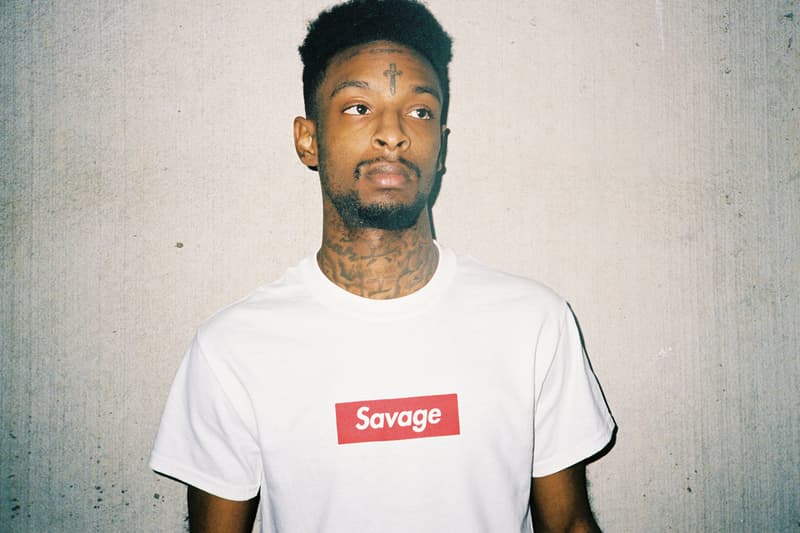 UPDATE: February 5, 2019 4:32 a.m. EST: 21 Savage's lawyer Chuck H. Kuck recently told TMZ that ICE was being "unnecessarily punishing" to his client, further intimidating him to leave the country by exercising such unneeded and aggressive force. Kuck also told reporters that the rapper had applied for a U Visa in 2017, which is a nonimmigrant visa for victims of crimes willing to help law enforcement officials in the investigation of the criminal activity. As of now, the visa application is said to still be pending.
In 2013, 21 was shot during an incident that took the life of his friend — his lawyer states that due to the rapper being a victim of the crime, he is applicable for a permanent residency visa in the United States. ICE is currently scheduled to start the deportation process this week, which could include a 10-year reentry ban from the US.
UPDATE: Feb 3, 2019 4:18 p.m. EST: Young Nudy was the original target of a police operation which led to the arrest of 21 Savage by U.S. Immigration and Customs Enforcement (ICE). CBS News Atlanta reports that while police was arresting Nudy, they also brought in 21 Savage with two others. While getting booked, that's when police handed over 21 Savage to ICE. Young Nudy's arrest was not linked to his status in the United States, according to CBS.
DJ BJ, an associate of Young Nudy, claims that Nudy and 21 were not in the same vehicle at the time of the "targeted operation" plus the Atlanta Police Department were not the ones doing the traffic stop that started the chain of events.
Writer Donovan Farley later shares a statement from ICE spokesperson who "unequivocally denied" a heavily circulated quote that appeared to be ICE attempting to smear 21's image and turn the public against rapper.
British tabloid the Daily Mail released what looks to be 21 Savage's 1992 birth certificate, from the London Borough of Newham. Both parents are listed as UK citizens.
In a statement to The Blast, another lawyer for Abraham-Joseph, Charles H. Kuck, said that ICE apprehended his client "based upon incorrect information about prior criminal charges and now refusing to release him on bond of any amount, despite the fact that he has a pending U-Visa application." Kuck continues, stating that Abraham-Joseph "has never hid his immigration status from the U.S. government. The Department of Homeland Security has known his address and his history since his filing for the U-Visa in 2017, yet they took no action against him until this past weekend."
In addition, Charles H. Kuck stated to The Blast: "As a minor, his family overstayed their work visas, and he, like almost two million other children, was left without legal status through no fault of his own. This is a civil law violation, and the continued detention of Mr. Abraham-Joseph serves no other purpose than to unnecessarily punish him and try to intimidate him into giving up his right to fight to remain in the United States."
Kei Henderson — 21 Savage's manager and CEO of Sincethe80s, an Atlanta-based Label, management and publishing company — shared a link to a petition to stop the deportation of 21 by ICE.
There are around 4.2 Million Black immigrants in the U.S. – 619,000 are undocumented. He is the father of 3 beautiful kids. And active in their daily lives. Stop family separation and sign the petition to stop the Deportation ??? https://t.co/LmSphE6EPT
#Free21Savage pic.twitter.com/NttOSUpgVt

— Kei (@keiopensdoors) February 4, 2019
Fake news. Savage and Nudy won't even in the same car. Don't let media lie to y'all https://t.co/PgFUBLlqkp

— Hennessy Papi (@RealDJBJ) February 4, 2019
Again. Savage and Nudy were in separate cars…and it wasn't even APD. Y'all doing some horrible reporting and investigating https://t.co/GBfNwMgyfJ

— Hennessy Papi (@RealDJBJ) February 4, 2019
ICE spokesman also unequivically denied saying anything slanderous about 21 Savage being fake or what have you. Said that's 100% people twisting his words and seemed surprised when I quoted the quotes we've all been reading. Take that as you will. #21Savage

— Donovan "Abolish Guac Costing Extra" ? ? Farley (@DonovanFarley) February 3, 2019
Original Story: According to reports, 21 Savage has just been arrested by officers from U.S. Immigration and Customs Enforcement (ICE). Savage, whose real name is Sha Yaa Bin Abraham-Joseph, is actually from the United Kingdom, according to ICE officials, and reportedly entered America legally in 2005. Officials state that Savage "subsequently failed to depart under the terms of his nonimmigrant visa" and has been placed into removal (read: deportation) proceedings.
ICE also claims in its statement: "Mr. Abraham-Joseph initially entered the U.S. legally in July 2005, but subsequently failed to depart under the terms of his nonimmigrant visa and he became unlawfully present in the U.S. when his visa expired in July 2006. In addition to being in violation of federal immigration law, Mr. Abraham-Joseph was convicted on felony drug charges in October 2014 in Fulton County, Georgia."
As The Fader points out, reporter Mark Winne quoted ICE spokesman Bryan Cox as saying:
U.S. Immigration and Customs Enforcement (ICE) arrested unlawfully present United Kingdom national Sha Yaa Bin Abraham-Joseph AKA '21 Savage' during a targeted operation with federal and local law enforcement partners early Sunday in metro Atlanta.
TMZ reached out to Savage's attorney, Dina LaPolt, and received the following statement:
We are working diligently to got Mr. Abraham-Joseph out of detention while we work with authorities to clear up any misunderstanding. Mr. Abraham-Joseph is a role model to the young people in the country — especially in Atlanta, Georgia and is actively working in the community leading programs to help underprivileged mothers and youths in financial literacy.
View Winne's original Tweets below and stay tuned for more news as the story develops; we've reached out to 21 Savage's team and will update with more information.
In a 2016 interview with The FADER, 21 revealed that his mother is of Dominican descent.
Breaking: ICE has arrested #21Savage official confirms @wsbtv

— Mark Winne (@MarkWinneWSB) February 3, 2019
ICE spokesman Bryan Cox: "U.S. Immigration and Customs Enforcement (ICE) arrested unlawfully present United Kingdom national Sha Yaa Bin Abraham-Joseph AKA '21 Savage' during a targeted operation with federal and local law enforcement partners early Sunday in metro Atlanta." https://t.co/G0WlPymYIr

— Mark Winne (@MarkWinneWSB) February 3, 2019
"Mr. Abraham-Joseph was taken into ICE custody as he is unlawfully present in the U.S. and also a convicted felon. Mr. Abraham-Joseph initially entered the U.S. legally in July 2005, but subsequently failed to depart under the terms of his nonimmigrant visa", Cox emailed https://t.co/MeqSZAFAcz

— Mark Winne (@MarkWinneWSB) February 3, 2019
More from ICE spokesman: "Mr. Abraham-Joseph is presently in ICE custody in Georgia and has been placed into removal proceedings before the federal immigration courts. ICE will now await the outcome of his case before a federal immigration judge to determine future actions." https://t.co/QrIwHI6Uq1

— Mark Winne (@MarkWinneWSB) February 3, 2019
"Mr. Abraham-Joseph was taken into ICE custody as he is unlawfully present in the U.S. and also a convicted felon. Mr. Abraham-Joseph initially entered the U.S. legally in July 2005, but subsequently failed to depart under the terms of his nonimmigrant visa", Cox emailed https://t.co/MeqSZAFAcz

— Mark Winne (@MarkWinneWSB) February 3, 2019
Ah! You raise an interesting point? Is he? https://t.co/HNbWEY8FQd

— Mark Winne (@MarkWinneWSB) February 3, 2019
Check out 21 Savage – Wikipedia. If this is back story fans have—what Immigration and Customs Enforcement tells us seems to throw much of that into serious question? U.K.??? ⁦@wsbtv⁩ https://t.co/nDM8Rjv3hY

— Mark Winne (@MarkWinneWSB) February 3, 2019