Tomohisa Yamashita Talks Onitsuka Tiger and His Respect for Hiroshi Fujiwara
A never-before-seen side of the famed Japan star.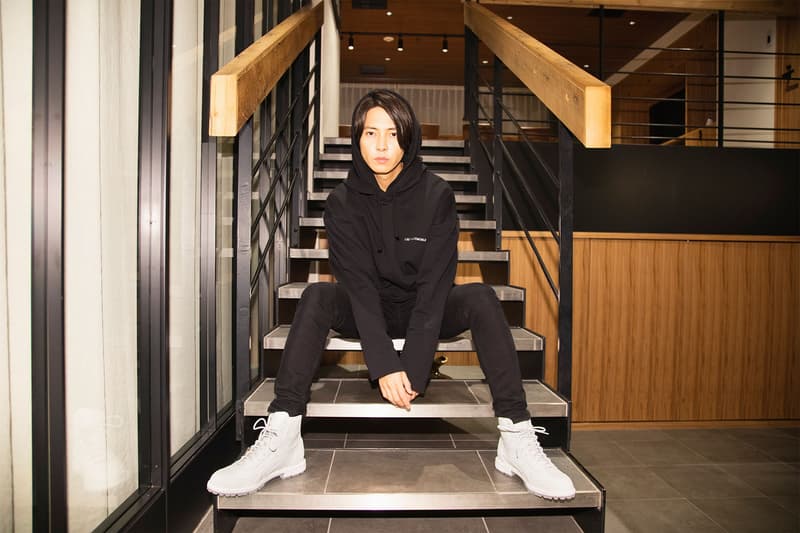 Tomohisa Yamashita, nickname Yamapi, is a Japanese singer and actor who is making serious waves in his home country. With already four million followers on his seven-month-old Instagram account, he is currently the most followed male celebrity in Japan and is signed on with talent and creative agency, Westbrook Inc., whose founders include husband and wife, Will and Jada Pinkett Smith.
A man of many hats, many fans of JPOP will remember Yamashita's early start in the group NEWS, followed by his solo career in 2006. Shy at times, Yamashita fully accepted his position in the lime light after his breakthrough role in the television drama 'Kurosagi' in which he released one of his biggest tracks: "Daite Senorita," that even today, remains as one of his most popular bodies of work; the track alone sold over 800,000 copies. Music aside, Yamashita transitioned seamlessly onto the small and big screens starring in Japanese blockbusters such as Proposal Daisakusen and the live action remake of Ashita no Joe, and strived in a declining drama industry, consistently getting leads in romance-tied roles.
Recently, Yamashita has ventured into the world of fashion, having starred in Hiroshi Fujiwara's Moncler Genius short film, as well as collaborating with Onitsuka Tiger on his own full-white iteration of its RINKAN BOOT.
We caught up with the famed Japan star while in Tokyo, getting a glimpse of a never-before-seen side of him, his thoughts on his project with Onitsuka Tiger, and his profound respect for fragment design founder Hiroshi Fujiwara.
You star in the "7 MONCLER FRAGMENT HIROSHI FUJIWARA" short film. Can you tell us how that project came about?
Originally, I have been a big fan of Moncler and have worn their outerwear for a long time now. I have also met Fujiwara-san before. After that, I got to know the press of the brand and when I was invited to their show in February last year, I met the person who organizes all of their advertising in France and my photo was posted on Moncler's official Instagram. Probably because of that, they seemed to remember me.
It was really a combination of fateful connections and a series of coincidences that led them to approach me about the project, a way in which the accumulation of our encounters over the past few years finally bloomed.
You appeared in the collection designed by Hiroshi Fujiwara. What was your impression after working with him?
Fujiwara-san stayed onsite and I got the impression that he is not restricted by anything and embodies that way of life at this moment. It's really great that when he was asked what he does for a living, he answered, "What indeed?" Speaking of Fujiwara-san, he played a huge role in building Tokyo's fashion scene since I was a junior in high school. I never imagined that I would have the chance to work with such a legend and I'm extremely honored. I look at him with admiration and hope that I can live like him.
From being thrown in the fashion spotlight with the Moncler Genius short film, and now being on Instagram, how do you feel about this connectivity?
Well, since I started Instagram this year, I can deliver my message directly and at the same time, receive feedback from viewers. I feel first-hand that I'm now more directly connected, and that we are getting closer in terms of distance and time.
How do you stay updated with fashion?
I like fashion, but I'm actually not the kind of person who digs that deep. I sometimes go out on the street and observe people or read magazines, but it's more like the combination between information obtained and my own sensitivity. Also, since I live in Tokyo, I want to respect the energy of this city; and when I'm overseas and I wear clothes that are made in Japan, I sometimes get asked, "Which brand is that?" This is something I really value as well.
Are there any overseas fashion scenes that you are fascinated by?
Not only scenes, but depending on the community, it can be totally different. In the case of my own style, it is determined by the influence of the people with whom I get involved with in some vague way. Though I hope to live freely without being too influenced by that.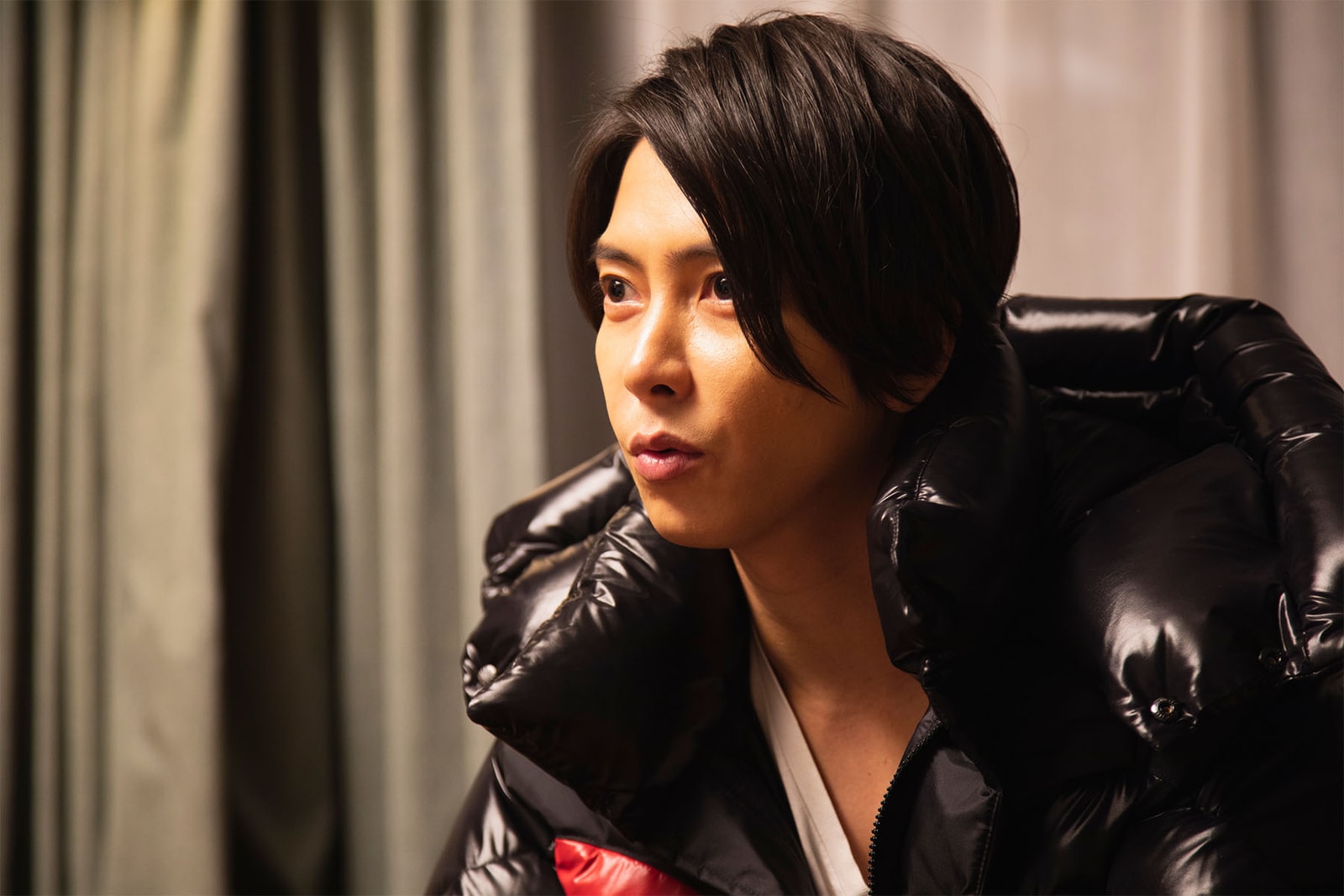 Describe your own sense of fashion.
I like a laid-back style. It has not changed since I was a little boy. I don't want to pursue fashion to the level that my movement is restricted due to it. That's why I tend to only wear something over a T-shirt, even in winter. Now, I'm also wearing two items. Easy to wear, easy to move, and impact are of course very important. For sneakers, comfort is extremely important, than design. I care about these points.
What else do you look out for you when selecting sneakers?
I am, of course, vulnerable to "limited edition items." If it is claimed to be limited, I'm tempted to buy it. I'm also susceptible to "collaboration items" and "signature items."
How many pairs of sneakers do you own?
I never count them, but my sneaker shelves are full. I can't throw away old sneakers that I bought a long time ago — I think that most Japanese people are the same. I also have the impression that foreigners have a very strong affection for sneakers because I know many people who display their sneaker collections.
In terms of personal style, do sneakers come first?
If they are good sneakers, yes I sometimes build my style around that.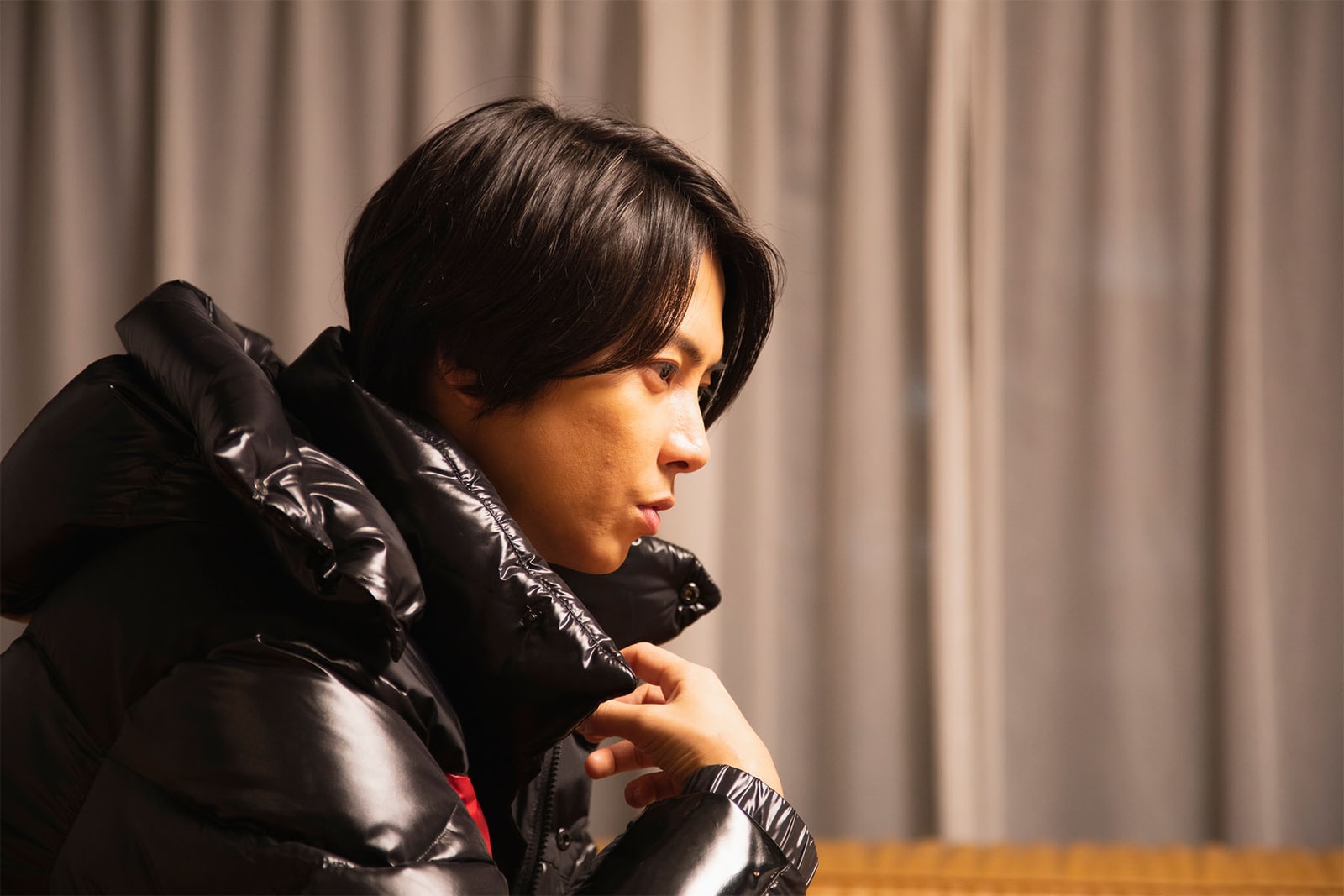 What fashion brand has been a staple for you lately?
Because of the winter season and also because I'm working with them, I wear Moncler very frequently these days. Since there are many options for Moncler's down jackets, I can select whatever is suitable in terms of functionality and design.
Are there any designers or brands that recently caught your attention?
It may be cliché, but the other day, I had a chance to wear a new Louis Vuitton suit designed by Virgil Abloh. I was amazed by its colors and textures. It was really unique and I felt its strong originality.
Why did you chose the RINKAN BOOT as the base model for your collaboration with Onitsuka Tiger?
The reason is simple: during my journey, I got the inspiration for the design. During my travel, the roads are not always easy to walk, so with these boots, you can go wherever you want to go and stay fashionable. The boots are lightweight, easy to walk in and unisex.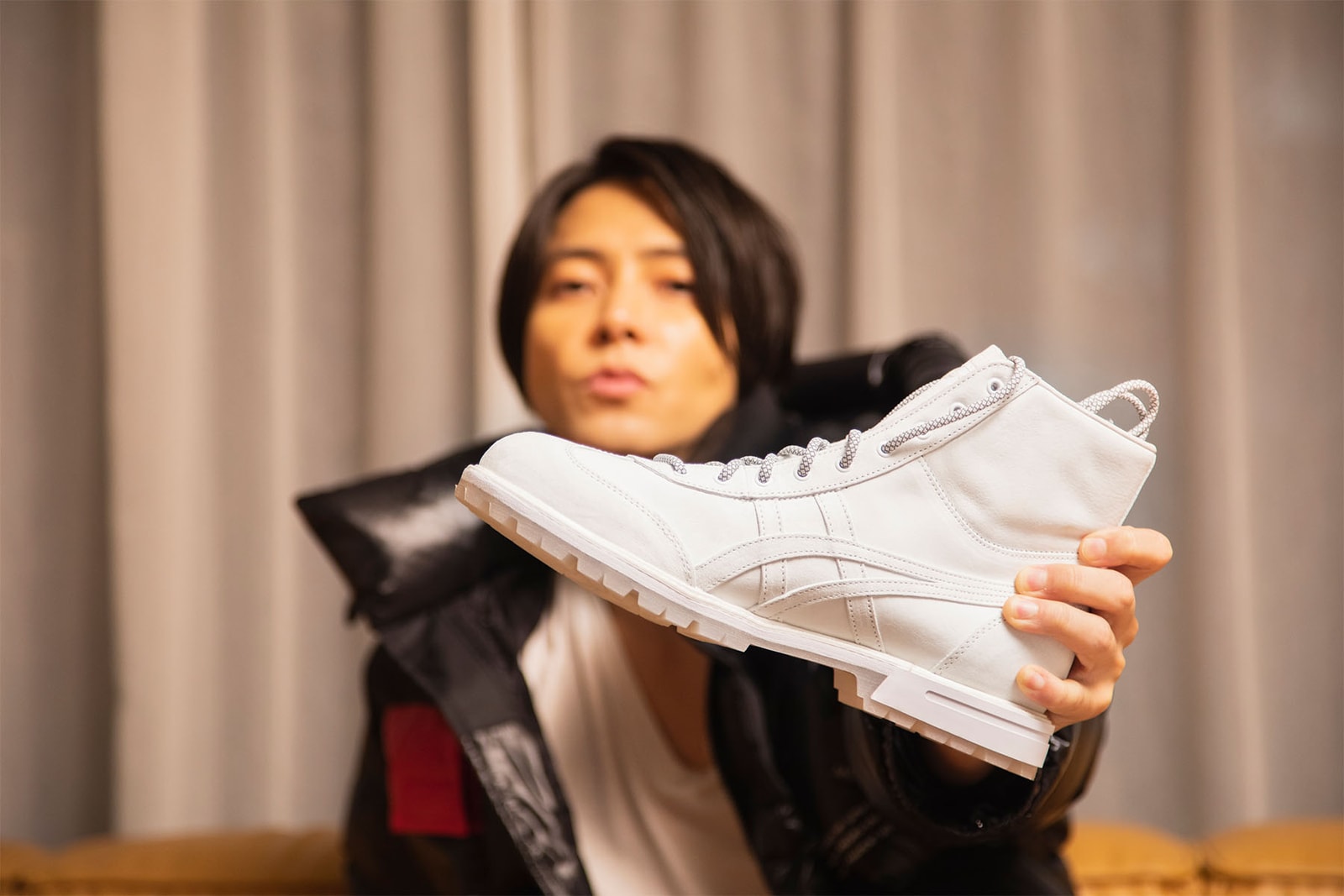 Did you already have the RINKAN BOOT in mind when you received this offer to collaborate?
No, there were numerous candidates, and I debated over and over again before finally reaching this decision.
Are there any special points about the process to which you particularly paid attention?
For the leather, I used pigskin. I really like its feel, and even if it gets discolored, it looks great. I also want the owner to be able to wear them for a long time. If I compare life to a journey: a good trip begets a good heart. In that sense, I requested the use of high quality materials. And here (heel section), I asked them to add rubber, which was not attached to the original model. I also asked them to print "GFWD (Go Forward)" on the outsole, make its design in a slightly higher cut, and include three different pairs of laces.
1 of 2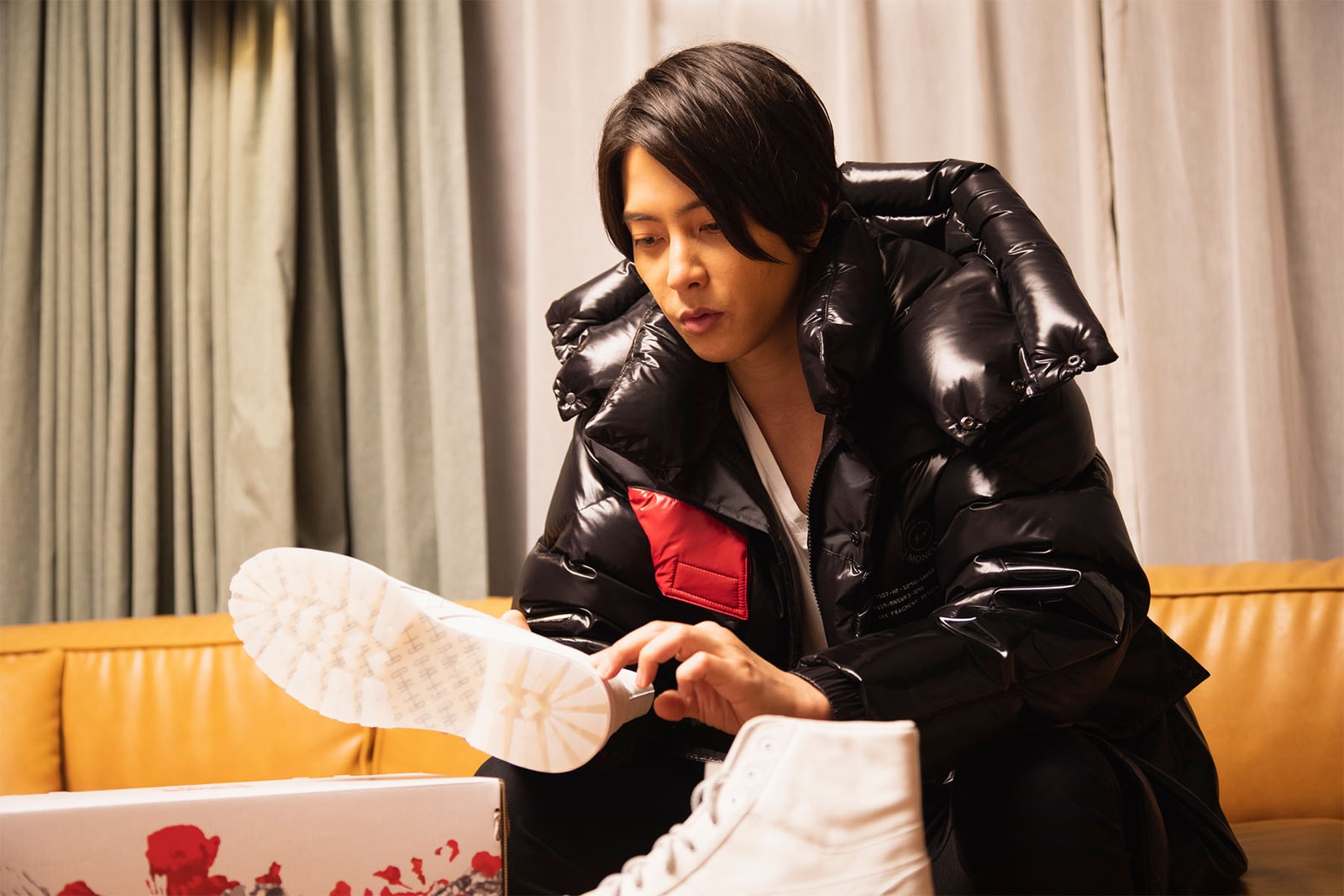 2 of 2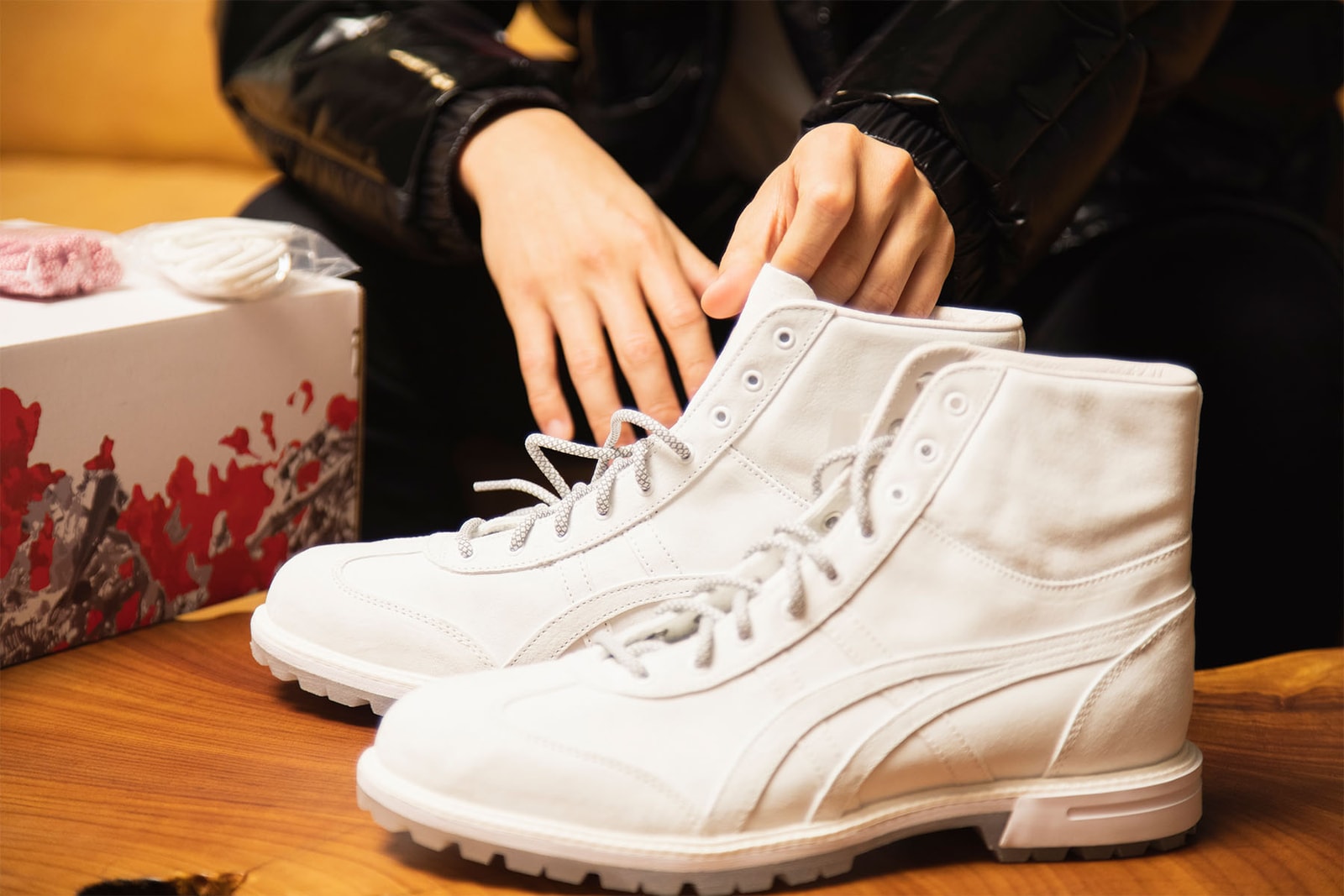 What is the reason behind providing three types of laces?
Simply because customization is more fun, and the preference differs with each person. Also, reflective materials are used here, and they shine with the light.
You mentioned that you hope each wearer will put their own original color on the sneaker. Is your hope that these all-white boots are worn ruggedly and aggressively?
I would say these boots are 95% complete — I want the wearer to add the other 5%. Use it as your companion and bring it to the various places of your travels.
What difficulties did you face when designing these boots?
Everything is unknown. I started designing under conditions where I didn't know anything. As a performer, I'm usually seen as a "product," so I'm used to being part of the process. In commonality with that, I had to now oversee the process, and is something I wish I could more easily express. Only supported by the passion of the staff at Onitsuka Tiger, could I then reach this end point — something I could not achieve alone.
How long did it take to complete this project?
The first time that we talked about this was probably about half a year ago, and is something that also is bound by timing: I could only do this now, I could not have done it before, and I may not be able to do it in the future.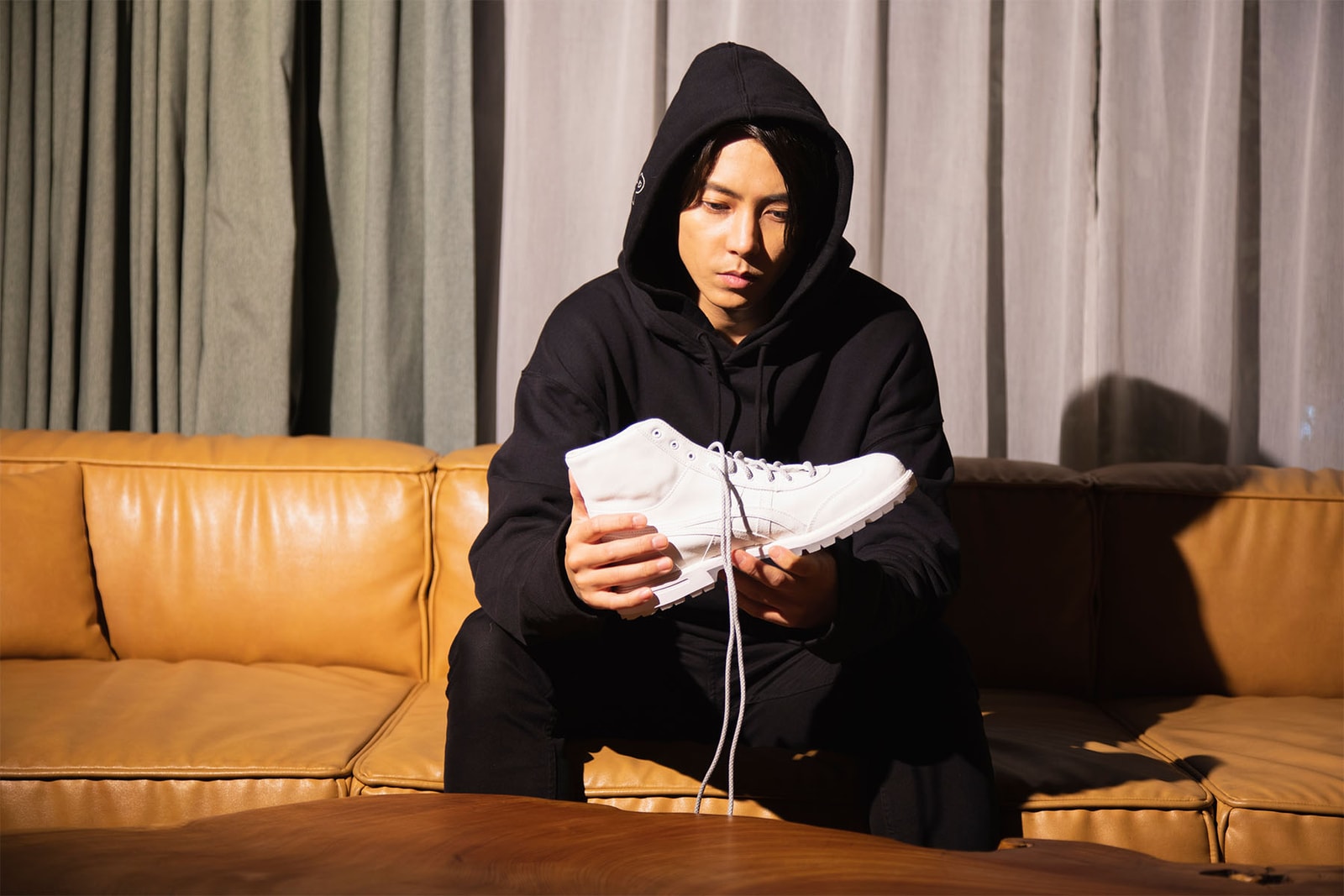 From Moncler Genius to Onitsuka Tiger, do you plan on being more involved in the fashion scene?
If given the chance, yes I would like to be. This was also an encounter or a connection that I don't want to lose desire in.
Is there any designer or artist that you want to collaborate with in the fashion field in the future?
I'm an amateur when it comes to fashion, but if someone asked me to collaborate, I would accept the challenge. I also hope that the relationship with Onitsuka Tiger will continue for a long time, and not be a one-off event.
I think I'm very blessed that I had a chance to talk directly with Fujiwara-san and the designers. Fashion is a long process. There is a lot of thought-out passion, so now I wear it not only because it's visually cool, but also because it reminds me about the process that produced it. In that sense, I hope to always be part of this.