Best New Tracks: Earl Sweatshirt, Travis Scott, Vince Staples, Westside Gunn & More
One of this year's strongest weeks.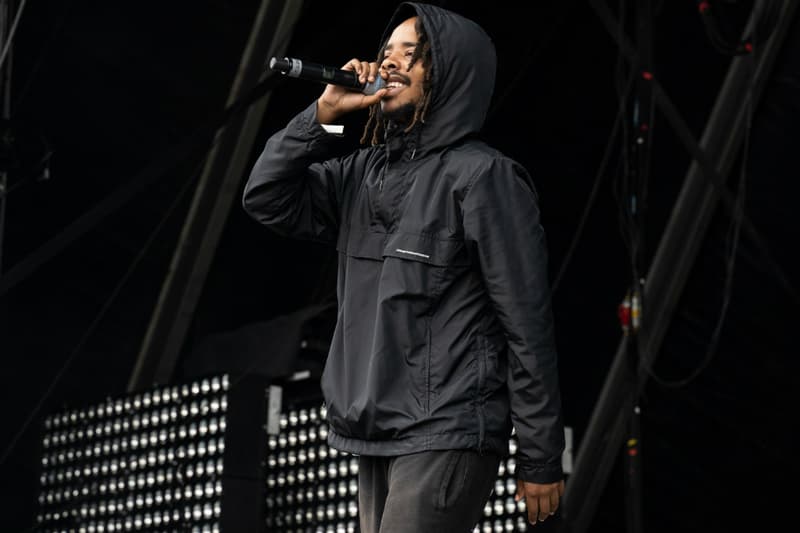 Westside Gunn – Hitler Wears Hermes 7
Three months after the release of Westside Gunn's third studio album Flygod Is An Awesome God, the Griselda Records emcee is serving up the seventh installment of his popular Hitler Wears Hermes series. Hitler Wears Hermes 7 contains 16 new songs from Gunn, with additional verses provided by Curren$y, Conway the Machine, Benny the Butcher and Fat Joe. Production comes from the studios and minds of Alchemist, Daringer, Statik Selektah, DJ Green Lantern and others.
"You know Westside Gunn before the deal is still Westside Gunn after the deal. Only thing I can honestly say that's different is my life in Buffalo," Westside Gunn told us last year, confirming that he still controls his career and body of work on his own terms.
FMB DZ – Ape Season
FMB DZ is back with another essential new studio project. This time around, the Detroit favorite contains 12 new tracks, with Paperboy Rell chosen as the effort's only guest. For his latest album, FMB DZ is aiming to prove himself as one of his scene's best and most capable artists, as well as show what he's capable of when he's left to his own skillset.
ALLBLACK, Offset Jim, P-Lo & ShooterGang Kony – "Demon"
ALLBLACK and Offset Jim aren't wasting a single minute when it comes to the promotional campaign for their recently-released joint album 22nd Ways. Released as October started to wind down, 22nd Ways delivered ten new ALLBLACK and Offset Jim collaborations to listeners, including other collaborative offerings with DaBoii, Fenix Flexin, OMB Peezy, $tupid Young and more. Now, continuing to elevate the set of visuals that belongs to 22nd Ways, the LP's Oakland-raised creators are unveiling a new music video for its P-Lo- and ShooterGang Kony-assisted standout "Demon." Like many past visual releases from ALLBLACK and Offset Jim, this week's clip for "Demon" was put together by Stacking Memories.
"It's always been me and Jim; Jim is the frontline, he's like the muscle and puts the force behind it," ALLBLACK previously explained to us. "We've been saying we were gonna make a 22nd Ways project — way, way before this came out. The shit he's going through and the shit I'm going through, it just meshed. All of that shit just meshed."
"He does him and I do me and it just came together like that. It's just easy for us to come together," Offset Jim added. "We were already cool before we started rapping. We were already around each other for years and years. Rap is sort of secondary to all the other shit we've been through."
"We do this together. I ain't never did a song with him where it was some 'add your verse' type shit," ALLBLACK revealed. "Especially on 22nd Ways; we flew out to LA to sit down with P-Lo and Cal-A and do all that together. If I did something and he wasn't there, I would be back in the studio with him while he did his shit."
AJ Tracey & Skepta – "Kiss and Tell"
UK star-in-the-making AJ Tracey links up with established superstar Skepta for his latest single, "Kiss and Tell." Along with the "Kiss and Tell" audio, Tracey is also unveiling its official music video, which finds him experimenting with lo-fi visual stylings. "Kiss and Tell" comes to us just a few days after the release of the deluxe edition of AJ Tracey's eponymous debut album, showing audiences that his passion, motivation and drive are where they need to be as his upward swing picks up even more momentum.
"My goal isn't specifically to be known in America I just want people globally to hear my music. I feel like as I just keep on doing it and making what I'm making branching out — it's gonna happen eventually," AJ Tracey recently shared with us. "Music's in a great place right now in the U.K … whatever you wanna make, people have an ear for … there's not one sound you have to make."
Rexx Life Raj & Kehlani – "Your Way"
Directly following the October release of the lead single for his Father Figure 3 album, "Fallin," Rexx Life Raj reaches out to Bay Area star Kehlani for its follow-up single, "Your Way."
I've been trying to get out of the mode of being so attached to "verse/chrous/hook" structure, and just kind of do what feels right — that's the music I love. There's a lot of people who just do what feels right and they're not following the rules," Rexx Life Raj previously shared with us, sharing some insight into his current creative direction. "My whole thing with music when I put it out, is I want it to have staying power. I want my shit to be around for a minute, so I'll be really invested in my records … I'm just creating in a space where I f*ck with this beat because I like this beat and not only because others f*ck with it … I rap like this because I like to rap like this, not because other people rap like this or that."
Rexx Life Raj's forthcoming studio album Father Figure 3: Somewhere Out There will hit streaming services and similar platforms on November 6. Besides Kehlani, Father Figure 3 will also contain collaborations with Kenny Beats, Sango, Bas and more.
Mozzy & Tsu Surf – "This Weekend"
In recent months, Mozzy and Tsu Surf have come together for a handful of impressive, lyrically-tight collaborations. Continuing to come together to showcase their sharp chemistry and even sharper bars, the two rappers are unveiling a new video for a collaborative single dubbed "This Weekend." The new clip for "This Weekend" was put together by director Bryan Berry, a videographer who has worked with multiple high-profile acts from the contemporary West Coast rap scene — specifically, northern California. For Mozzy, this appears to be his first major release since dropping his most recent studio album, this year's Internal Affairs.
Trouble & Boosie Badazz – "Ain't My Fault"
A few months after linking up with City Girls for the joint single "She A Winner," Atlanta street-rap icon Trouble is reconnecting with his favorite rapper Boosie Badazz for his latest major single, "Ain't My Fault." According to Trouble, a video for his new Boosie Badazz collaboration is also in the works.
"Edgewood is only the beginning. I really felt like it was time for a level up for Trouble," Mike WiLL previously told us during a 2018 edition of our MIC/LINE podcast, giving the rapper a rare level of high praise. "I've been watching his grind for years now, since we were young as f*ck, coming up in Atlanta on the music scene, trying to make something out of nothing. Trouble is the only person from the city who's going to give you that raw, pure, honest, real rap, mixed with originality, new flavor, new flows and new lingo. He has the grind, work ethic and dedication to back it up, and the city knows."
Earl Sweatshirt – Feet of Clay
Just 24 hours before its release, Earl Sweatshirt revealed plans for his latest major studio project. Known as Feet of Clay, the acclaimed lyricist's new EP gives listeners seven new cuts to digest, including collaborations with Mach-Hommy, Alchemist, Mavi and Ovrkast. Feet of Clay also marks the first release for Earl on Warner Music following his departure from Columbia, while also serving as the follow-up to Earl's 2018 studio album Some Rap Songs. In a recent statement, Earl shared that the aforementioned project is "a collection of observations and feelings recorded during the death throes of a crumbling empire."
Vince Staples – "Sheet Music"
Continuing the unique, experimental rollout and promotional campaign for his next major studio project, Vince Staples serves up the second episode of The Vince Staples Show, using the Calmatic-directed visual as a platform to debut his latest single. Known as "Sheet Music," Staples' latest track is his second single for Motown Records and contains production from Leken Taylor. Although the final, official details are scarce, Vince's upcoming LP will serve as the follow-up to last year's FM! LP.
Max B – "So Cold"
Closing in on his recently-rescheduled exit from prison, Max B is supporting his forthcoming House Money EP by sharing a new visual and single, "So Cold." Max B's new video for the A Boogie Wit Da Hoodie-assisted "So Cold" was put together by director Mr Iozo, producer Bobbi Digital, executive producer David Wept, editor Nolan Riddle and the production outfit AT.LAS. Notably, the vignette for "So Cold" is billed as Max B's first visual release of the contemporary era. House Money will see release on December 6, and also contains contributions from Cam'ron, A$AP Ferg, Jadakiss, Dave East and Wiz Khalifa.
Travis Scott, Young Thug & Gunna – "Hot"
Less than 24 hours after receiving the audio component of Travis Scott, Young Thug and Gunna's new iteration of the So Much Fun highlight "Hot," the official music video is here and available for viewing. The clip for the Travis Scott-propelled version of "Hot" comes to us courtesy of Psycho Films and director Christian Sutton. Including "Hot," Thugger's latest project clocked in at an expansive 19 tracks in total, including collaborations with other high-profile artists like J. Cole, Quavo, Lil Uzi Vert, Future, Juice WRLD, Lil Baby and more.