Best New Tracks: Travis Scott, Danny Brown, Cam'ron, Lucki & More
This week's best sounds and sights.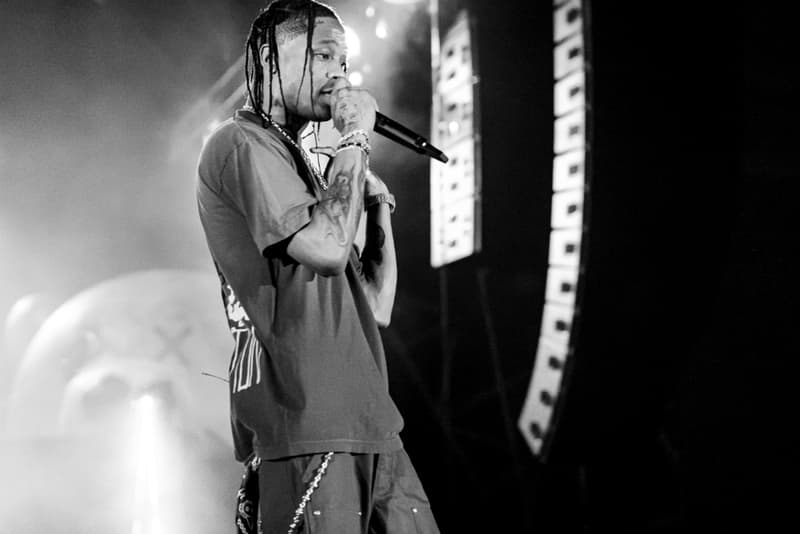 Danny Brown – uknowwhatimsaying¿
Three years after the release of his critically-acclaimed studio album Atrocity Exhibition, Danny Brown unleashes his fifth full-length studio album, uknowwhatimsaying¿. Comprised of 11 new records, the Detroit lyricist's latest LP contains collaborations with Blood Orange, Run the Jewels, JPEGMAFIA and Obongjayar and boasts A Tribe Called Quest icon Q-Tip as its executive producer. Focusedd, strigh co
Brown has labeled uknowwhatimsaying¿ as his take on a "stand-up comedy album," noting that the majority of his "close friends" are "comedians and actors," not rappers and other musicians. "I wanted to create something that mixed humor with music. Something that was funny but not parody," Brown explains.
Robert Glasper – F*ck Yo Feelings
Three years after the release of Robert Glasper's previous full-length ArtScience, the talented musician unveils a new project known as F*ck Yo Feelings. Comprised of 19 new tracks, the F*ck Yo Feelings tape pairs his forward-thinking compositions and grooves with the vocal arrangements and flows of Yasiin Bey, Denzel Curry, Mick Jenkins, YBN Cordae, Buddy, Rapsody, Bilal, SiR and others. Additionally, Glasper also recruited critically-acclaimed, like-minded artists like Herbie Hancock and Terrace Martin for the recording of F*ck Yo Feelings, and put together a mini-documentary to document the studio sessions surrounding the project.
"As far as having Herbie fall through the session unannounced, it was unexpected but at the same time expected because Herbie has been dropping by different shows I've had," Glasper shares with us, opening up about his recent studio sessions with the legendary Herbie Hancock. "Within the last two years, he's been popping up at my shows. He even popped up at my birthday party, so it was really cool that he came to this recording. I think Terrace Martin told him I was doing it and Herbie fell through, so it's always an amazing experience when your favorite pops up on your sessions or at your show for sure."
"I would say that's the collaborator [Herbie Hancock] that surprised me the most because it was literally a surprise," Glasper adds. "That was really dope."
Cam'ron – "Believe In Flee"
Following up this past April's visual for his The Program 2 record "Choppers," Cam'ron is serving up his latest major single, "Believe In Flee." Notably, "Believe In Flee" appears to be a preview of Cam'ron's The Program 2. A soulful effort, Cam'ron's new record finds him delivering his signature flows and flamboyant bars over hard-hitting beats and keys.
The original The Program surfaced in November of 2017, and served as its creator's first full-length solo release in four years, giving listeners 15 essential tracks to digest. The Program 2 will likely be Camron's first project in two years.
"When we were coming up, we had to hustle to get our music and mixtapes out there," Cam'ron explained to Interview last year, sharing some insight into his back-story as a solo artist and with Dipset. "We had to get someone to print up these CDs. We had to put them in the shops and hit the pavement. I think that helped us learn the ropes, which kids these days don't necessarily get to do."
FMB DZ & Various Artists – FMB DZ Presents: Turnaround For the Fast Money
Detroit street-rap hero and cult-favorite FMB DZ is back with his latest major project, FMB DZ Presents: Turnaround For the Fast Money. However, instead of focusing on delivering solo efforts, FMB DZ decides to serve up a compilation project with various artists, shining the spotlight on the talents contained within his inner circle. FMB DZ Presents: Turnaround For the Fast Money is made up of 14 new tracks, including collaborations with Sada Baby, Damjonboi, Rio Da Young OG, RMC Mike, Skilla Baby, Eastside Reup, Skilla Baby, Doehead, FMB Zay and more
Peewee Longway & Money Man – Long Money
Peewee Longway and Money Man are teaming up for a new collaborative project known as Long Money. An expansive offering, Long Money contains 20 new tracks from the aforementioned pair, including collaborations with Young Dolph, Kamaiyah and Jackboy.
"It's always a party! I cannot take it serious. When you take it too seriously, then your feelings get involved. You start tripping on the wrong things … so I just try to leave those feelings out of it," Peewee Longway previously told us, explaining his approach to creating and recording music. "It's serious as far as getting the project done, but it's most definitely fun — I'm going to keep it fun! If there ain't no happy vibe, I don't even really want to be in the environment because it won't come out right. We don't have time to talk all that "extra gangsta" stuff, we're here to have fun and party and get these tracks."
ALLBLACK, Offset Jim, P-Lo & ShooterGang Kony – "Demon"
ALLBLACK and Offset Jim are teaming up with fellow northern California representatives P-Lo and ShooterGang Kony for their latest collaborative effort "Demon." The pair's latest offering is being released as the second single in support of ALLBLACK and Offset Jim's forthcoming joint project 22nd Ways, and serves as the follow-up to September's Capolow-assisted cut "Fees." 22nd Ways will hit streaming services and similar platforms later this month.
Rico 2 Smoove – "No Rap Cap"
Coming straight out of Sacramento, Rico 2 Smoove delivers his latest essential, hard-hitting track and visual, "No Rap Cap." Pay attention to Rico 2 Smoove's current hot streak, as he's currently one of the best up-and-comers in northern California's present lineup of rising rappers.
Travis Scott – "HIGHEST IN THE ROOM"
After several months of anticipation, Travis Scott has finally debuted the official studio version of "HIGHEST IN THE ROOM."
The aforementioned record was originally introduced to listeners as the soundtrack for an ad for Kylie Jenner's Kybrow collection, and has also been performed at a handful of Travis Scott's shows. Recently, Travis Scott has taken to Instagram to reveal the single's artwork and its release date. Now, along with the song's visual component, "HIGHEST IN THE ROOM" is finally available for streaming and listening. Further promoting the record, Scott is also releasing a lean run of "HIGHEST IN THE ROOM" merchandise, which includes a new tie-dye t-shirt.
Lucki – "Nascar Dashcar"
Lucki is promoting and supporting his next major studio project, Days B4 III, by serving up a new music video and single, "Nascar Dashcar." The visual for "Nascar Dashcar" was put together by director Jake Osmun of No Future, who previously worked with Lucki on other music videos, such as March's vignette "More Than Ever."
Supa Bwe – Jaguar
Several months after the debut of his Just Say Thank You EP, Supa Bwe has released another new studio project Jaguar. Made up of eight new tracks, the Jaguar EP features collaborations with Qari and GU$TO and is billed as a prelude to Supa Bwe's forthcoming full-length album No Thanks.
"I took acid & became a Jaguar!!" Supa Bwe writes in a statement posted to Genius, breaking down Jaguar. "This EP was stressful as f*ck but worth the experiences that come with it. I cried a lot, lost friends, fell deeper in love & found a new piece of myself. Something fierce & reliable. NO THANKS is next, but these EP's (JSTY & JAGUAR) act as its predecessors."