Kendrick Lamar Meets Quincy Jones
"How do you even ask Quincy what were his musical influences? That's just too much legacy right there." – Kendrick Lamar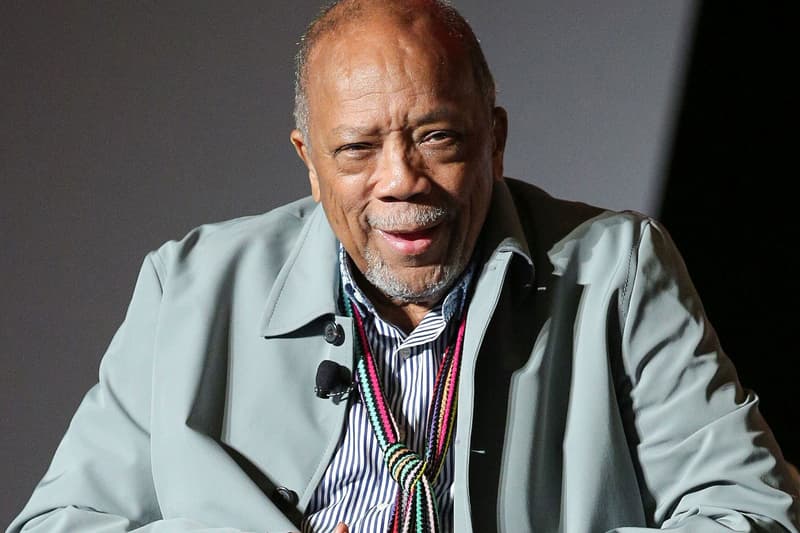 The revolving door of history is life's greatest mentor, and while it's always at your disposal, it's up to you to know when to question it or when to let it question you…
As the Californian smog succumbs to our relentless sun, a multipurpose studio bustles with frantic party organizers prepping for a night of shameless fun at the expense of your ordinary out-of-touch corporation. Hidden in a small room away from the commotion, Kendrick Lamar, "hip-hop's newest savior," sits hunched over on the arm of a couch eagerly absorbing every word of the charming, soft-spoken man relaxing in the seat before him. Commanding the attention of the two-time GRAMMY Award-winning emcee is 27-time GRAMMY Award-winning musical legend and cultural icon, Quincy Jones.
A man whose résumé includes helping introduce the world to the beauty of jazz, the genius of Michael Jackson, and the power of hip-hop, Quincy has paved the way for so many musicians, composers, producers, entrepreneurs and philanthropists alike. Born to a generation that used music to inspire those fighting in the Civil Rights Movement, Quincy now spends a significant portion of his time ensuring the youth of today are being led by a batch of musicians dedicated to raising the culture and amplifying their voice.
In our inaugural issue, we interviewed Kendrick only days before the release of "i" – the first single off his third studio album, To Pimp a Butterfly. At this time, the now 28-year-old "luminary" was just beginning to grasp the voids within hip-hop, his creative genius, his global impact and the responsibility that follows, to his generation, Compton, the culture, the youth, and the world.
With the theme of this issue centered on "generations," we wanted to sit Kendrick down with a man that not only understands his burden, but why the culture has remained so "stagnant."
So while the young rap superstar walked in focus on his first-ever meeting with Quincy, hoping to leave with a greater appreciation for his repertoire of work and hip-hop's roots, Quincy calmly bops through the doors knowing that he's here to make sure the youth and the culture are in good hands.
Both appreciative of music that not only provides a narrative but a dissection of our reality, Quincy and Kendrick move past the introductions and immediately connect over the violence that plagued their early years. The conversation hits a somber note when Jones recalls his earliest brush with death while growing up in a post-Capone 1930s Chicago, a city that later raised Lamar's parents.
"That's my medal," Quincy points to a scar on his hand as a very visual metaphor for his childhood. "Seven years old, wrong neighborhood; they took a switchblade and nailed my hand to a fence. I almost died. And you think it's heavy now? Shit."
Nestled somewhere in the oblivion of those outside our annexed room, the magic of their conversation sends chills through the few of us lucky enough to be in their company. It's a familiar scene found in various generational tales from cultures around the world: a brave young warrior seeks the wisdom of the village's elder statesman just before embarking on a journey into the unknown. All the while, their fellow villagers continue on outside, blissfully ignorant of the future that awaits them.
[slides lightbox=true]


[sep]


[sep]


[sep]


[sep]


[sep]


[sep]


[sep]


[sep]


[/slides]
Like the young warrior, Kendrick has set about on his own expedition this summer, performing To Pimp a Butterfly around the world; an album that received critical acclaim for its radically introspective lyrics, and a fusion of hip-hop, jazz, and blues that Quincy pioneered during the early '90s with albums Back on the Block and Q's Jook Joint. However, just as TPAB's outro "Mortal Man" asserts, this has been more than a promotional tour to turn his gold record into platinum. Compton's native son is leading an "army" into a battle for justice and equality. His lyrics have become a voice for black America's youth, as the thin veil of privilege, wealth and politics can no longer conceal their daily persecution from the previously ignorant.
After providing a brief but vivid account of his arduous childhood, the 82-year-old musician-turned-multimillionaire entrepreneur moves to the edge of his chair to add, "The hood is the same everywhere in the world." As his words linger, leaving Kendrick anticipating his next piece of advice, you can hear a hint of fatigue echoing from Quincy's voice, and rightfully so. Although the decades of social activism, from working with Martin Luther King, Jr. to Nelson Mandela, may have had its toll on Jones and his well-known joyous spirit, it's likely more indicative of the uphill battle that constantly awaits his people.
Listing the places he's been, the languages he's learned, and the cultures he's studied, Quincy urges his musical offspring to do the same and experience it for himself. "It's so educational – the food, the music, the language."
Similar to Lamar, a young Jones also went on an international tour amid a very racially charged time in America. In 1952, shortly after playing at Seattle clubs with close friend Ray Charles and then dropping out of what is now the esteemed Berklee College of Music in Boston, a 19-year-old Quincy was hired to play trumpet for jazz vibraphonist Lionel Hampton on a European tour.
Just a year prior back in Quincy's hometown, whites rioted as a black family attempted to move into a suburban neighborhood just east of downtown Chicago. This incident, and many like it, paints a clear depiction of the American pulse during this time as the watchdogs of segregation began feeling their ironclad grip loosen against the unity and perseverance of black Americans.
Jones has often noted how touring the world during the 1950s opened his mind to the racism in America. Just before jumping the Atlantic Ocean, Hampton and company played through the States with a number of segregated gigs in the South that put their lives in jeopardy. Here he learned from his older comrades how to combat hate with intelligence and art, while Europe helped him realize the struggle wasn't just black and white, but rather that the world was constantly in conflict, whether over land, religion or race.
However there he was in cities like London, Paris, and Athens being praised for his creativity and skill. He and his fellow jazz musicians, ambassadors of a foreign culture, could finally play from the unshackled artist within, rather than the battered prisoner in his own home. To Jones, music is what brings people together, later assuring Kendrick that "the last thing to leave this planet will be water and music. People cannot live without music."
Contemporary hip-hop on the other hand is in a much different place than 1950s American jazz. It is not the budding art form of the 1980s just catching notoriety outside the United States. Hip-hop is a multibillion-dollar industry that is widely considered popular culture rather than the counterculture it once was. Its influence spans professional athletes, Italian fashion houses, and even major food and beverage corporations.
It's hard to say whether or not Kendrick's brash, socially conscious rap has the ability to transcend cultures, uniting the exploited and impoverished around the world against the powers that be. Quincy Jones however, someone who played a major part in catapulting Michael Jackson from a child star to one of the greatest entertainers the world has ever known, seems at ease in handing Lamar the torch.
"I'm glad you're doing the amalgamation of all of our cultures," Quincy states with a sense of relief as he pats Kendrick on the knee. "You are the future."
As a pioneer of said "amalgamation," one of the latest additions to Quincy's legacy involved bridging the gap between jazz and its descendant: hip-hop. In 1989 he released the GRAMMY Award-winning compilation album Back on the Block, featuring a legendary cast of musicians spanning three decades, from Ella Fitzgerald, Miles Davis and Luther Vandross to Ice T, El DeBarge and Big Daddy Kane. Quincy followed this genre-splicing album with a similar record in '95 dubbed Q's Jook Joint, and later From Q with Love in '99.
After explaining to Kendrick that he's had a front row seat to the birth of hip-hop and its influential rise, Quincy harks back to a time in which he was just discovering the joys of music. "[Arturo] Toscanini (a famous Italian conductor) told me when I was 15 'one day, African beats are going to crumble the halls of classical music.' And it has. And jazz and blues were the foundations."
On the surface, jazz and hip-hop were born out of a need of self-expression for black Americans. Both provided a distinct voice when no one would listen, be it during the decades of segregation or today's systematic racism. Artistically, jazz and hip-hop share a genius for repetition. As the author Michael Eric Dyson explained so elegantly in Robert Glasper's 2013 song "I Stand Alone," "The key to such repetition was that new elements were added each go-round. Every round goes higher and higher. Something fresh popped off the page or jumped from a rhythm that had been recycled through the imagination of a writer or a musician. Each new installation bore the imprint of our unquenchable thirst to say something of our own, in our own way, in our own voice as best we could."
Unfortunately, hip-hop has veered off course, abandoning this very essence without ever knowing it existed. Aware of the self-destructive path it's on, frustration pours from Quincy's voice as he moves closer to Kendrick to ask, "Do you know where rap came from?"
Lamar hesitates before responding as if questioning everything he's learned, "My generation would say the Bronx."
"Bullshit," declares Jones. He then begins listing the various forms of expression that have had a helping hand in shaping hip-hop, from the social commentary and oral history of West African poets called griots and the imbongi of South Africa, to early 20th century African American males battling with witty insults in "the Dozens," to similarities between capoeira – a Brazilian martial art that incorporates elements of dance and music – and breakdancing.
Because hip-hop has become such a lucrative industry, an overwhelming majority of the younger generation has resorted to simply mimicking a formula for success without adding anything new. So while the riches continue to pour in, the artistic integrity dwindles, and the culture remains stagnant and uninspiring.
As the industry continues to manipulate and marginalize black culture, a theme that weaves in and out of Kendrick's music, Quincy attributes the lack of originality, cultural leaders, and a meaningful voice in hip-hop to not knowing its history or its origins. With Kendrick hanging onto every word, Quincy confidently says, "You get to where you're going easy, if you know what happened before you and how it got there. It's very important."
If his last album is any inclination, Kendrick has already begun studying the work of his predecessors. His juxtaposition of brash rap lyrics against smooth jazz melodies in To Pimp a Butterfly has not only directed his young listeners to look within for answers, but it has also introduced them to a genre of music that paved the way for many of their favorite entertainers. What will then propel Kendrick to the cultural icon Quincy hopes he'll become is his ability to educate and inspire. A level that will only come to fruition after he, like Quincy, educates himself by traveling the world to contemplate the greater struggle between the fair and unfair, the moral and immoral, the good and evil.
Nearing the end of our shoot, Kendrick is obviously much more comfortable in the presence of Quincy. No longer does it feel like the first meeting between teacher and pupil, but rather comrades exchanging notes.
As they sit together in laughter, someone asked how the interview is going. Kendrick returns with a question of his own. "How do you even ask Quincy what were his musical influences? That's just too much legacy right there."
Don't worry Kendrick, the question wasn't for you.
Words by Robert Marshall Jr.
Photography by Yuri Hasegawa
For the full story, pick-up a copy of the HYPETRAK Magazine: Volume 2 for $12 USD over at HBX.