Best Art Drops: Ron English x Compound 'Police Grin,' Jerkface Print & More
Including a limited edition REVOK zine.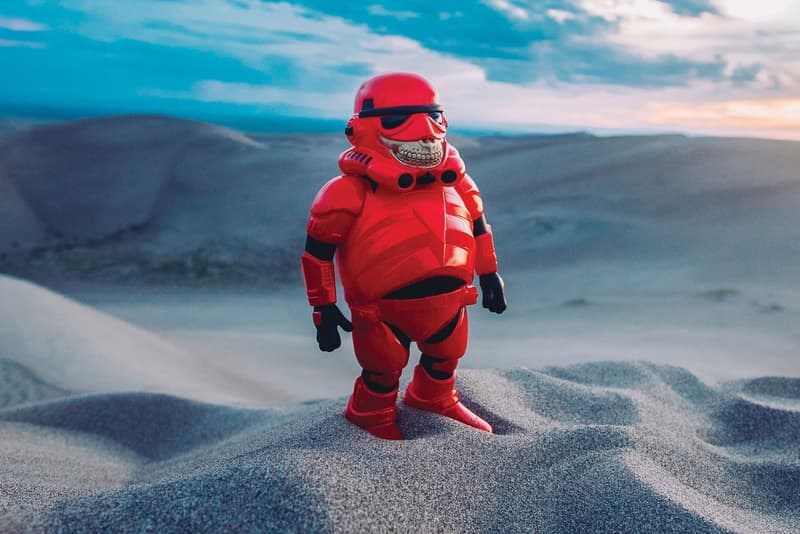 Designer toys, whether commercially sold or auctioned as fine art, continue to garner attraction from all sorts of enthusiasts. From life-sized KAWS Companion figures, to miniature comic-inspired figurines, these toys come in varying sizes and genres, and are normally made of resin, vinyl or wood. Because of their collectibility and decorative nature, they've led to rampant business for specialty booths at major fairs such as Comic-Con International and the North American International Toy Fair, which launched back in 1903. The rarest variants are produced in limited editions, and one of the must-have options at the moment is certainly Ron English and Made by Monsters' Police Grin collaboration with Compound.
Read on to learn more about Police Grin alongside this week's best art drops.
Compound & Ron English Release Limited Police Grin Collectible
Release Date: Available now at Compound's online shop
Release Price: $350 USD
Compound is a creative space helmed by Set Free and Yasiin Bey. The company recently teamed up with Ron English and Made by Monsters to release three red spin-offs of the Police Grin collectible toy. The special figures feature three unique grins in "bone," "gold," and "white." A total of 500 units have been made available now at Compound's online shop.
Jerkface Drops Krusty the Clown-Inspired Prints in NYC
Release Date: Available in-store at the Taglialatella Gallery at 12 p.m. EST
Release Price: TBC
Anonymous artist Jerkface will soon launch a new series of prints at New York City's Taglialatella Gallery. The piece will arrive in three variants and centers upon the beloved The Simpsons character, Krusty the Clown. The prints will launch in-store only at the aforesaid institution this August 11 at 12 p.m. EST. Pricing details have yet to be confirmed.
Taglialatella Gallery
229 10th Ave.
New York, NY 10011
1xRUN Offers Ricky Powell's 1985 Portrait of Andy Warhol & Jean-Michel Basquiat
Release Date: Available now on 1xRUN's online shop
Release Price: $1,750 USD
To celebrate the late Andy Warhol's 90th birthday this past Monday, 1xRUN joined forces with a slew of artists to sell Warhol-inspired pieces. One of the participants is iconic street photographer Ricky Powell, who dropped a limited-edition archival pigment print of his Warhol and Jean-Michel Basquiat portrait. Measuring 44 x 32 inches, the visual was captured in New York City in the fall of 1985. Each print is signed, numbered and arrives with a Certificate of Authenticity from Ricky Powell and 1xRUN.
REVOK Releases Limited Zine at Beyond The Streets LA
Release Date: Available now at Beyond The Streets LA's gift shop
Release Price: TBC
REVOK recently launched a special edition zine at the Beyond The Streets festival in Los Angeles, California. The publication features 44 pages of the influential visual artist's paintings and public artworks. REVOK is known for his unique abstract motifs that are created using unconventional tools equipped with spray cans, markers, handmade rollers and more. The zine is available at Beyond The Streets' gift shop alongside an exclusive T-shirt capsule.
Spoke Art Gathers Celebrated Artists for the Moleskine Project VII
Release Date: Available now at Spoke Art's NYC gallery
Release Price: TBC
Spoke Art recently launched the seventh installment of its Moleskin Project in New York City. The latest in the series features sketchbook works by renowned international artists such as Aaron Li-Hill, Michael Reeder, Kelsey Beckett, Stephanie Brown, Vanessa Foley, Hikari Shimoda, Greg Gandy and more. All pieces are for sale at Spoke Art until August 25.
Spoke Art NYC
210 Rivington St.
New York, NY 10002