This Is the Entire List of Credits for Tyler, the Creator's New Album 'Flower Boy'
Featuring a slew of stars.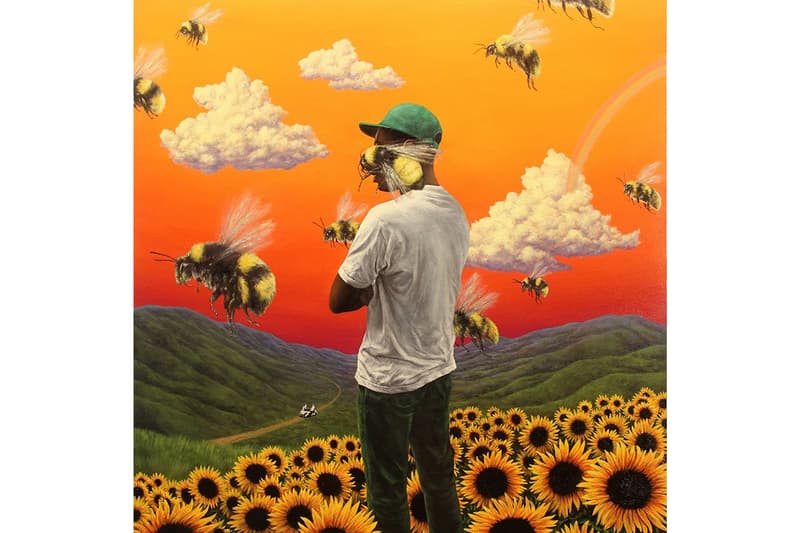 Earlier this week, Tyler, the Creator's fourth studio album Flower Boy officially arrived. Featuring guest appearances by high-profile talents like A$AP Rocky, Pharrell Williams, Lil Wayne, Frank Ocean and others, Flower Boy delivers 14 new tracks and serves as the followup to 2015's Cherry Bomb project. Now, with Tyler's new LP available for listening on all major streaming services and available for purchase at all participating retailers, the project's entire list of credits, producers and guests has surfaced. Along with the aforementioned artists, Flower Boy features Kali Uchis, Jaden Smith, guitar work from Austin Feinstein and Steve Lacy, Rex Orange County on background vocals, Anna of the North, and more
Courtesy of The FADER, you can run through the full list of Flower Boy credits below. Yesterday, Tyler, the Creator himself also cleared up some misconceptions concerning his latest release.
Tyler, the Creator – Flower Boy (Credits)
1. "Foreword" f. Rex Orange County
Produced by Tyler, The Creator
Composed by Can, Rex Orange County, Tyler, The Creator
Guitar: Austin Feinstein
2. "Where This Flower Blooms" f. Frank Ocean
Written by Tyler, The Creator and Frank Ocean
Produced by Tyler, The Creator
3. "Sometimes.."
Written by Tyler, The Creator
Produced by Tyler, The Creator
Additional Vocals: Shane Powers
4. "See You Again" f. Kali Uchis
Produced by Tyler, The Creator
Composed by Tyler, The Creator
Kali Uchis appears courtesy of Virgin EMI Records
5. "Who Dat Boy" f. A$AP Rocky
Written by Tyler, The Creator and A$AP Rocky
Produced by Tyler, The Creator
Composed by Tyler, The Creator, A$AP Rocky
A$AP Rocky appears courtesy of RCA Records
6. "Pothole" f. Jaden Smith
Produced by Tyler, The Creator
Composed by Tyler, The Creator and Roy Ayers
Background Vocals: Alexander Brettin
Jaden Smith appears courtesy of Roc Nation
7. "Garden Shed" f. Estelle
Produced by Tyler, The Creator
Composed by Tyler, The Creator and Estelle
Background Vocals: Rex Orange County
Guitar: Austin Feinstein
8. "Boredom" f. Rex Orange County and Anna of the North
Produced by Tyler, The Creator
Additional Vocals: Corinne Bailey Rae
Guitar: Austin Feinstein
Anna of the North appears courtesy of Honeymoon / +1 Records / Different Recordings
Corinne Bailey Rae appears courtesy of Good Groove Recordings
9. "I Ain't Got Time!"
Produced by Tyler, The Creator
Incorporates elements of "Introduction" performed by Bel-Sha-Zaar with Tommy Genapopoluis
10. "911" f. Frank Ocean and Steve Lacy
Written and produced by Tyler, The Creator
Composed by Frank Ocean, Ray Calhoun, and Tyler, The Creator
Additional Vocals: Anna of the North
Contains elements of "Outstanding" written by Ray Calhoun
"Mr. Lonely"
Produced by Tyler, The Creator
Vocals: Jasper, L-Boy, A$AP Rocky, and ScHoolboy Q
11. "Droppin' Seeds"
Written and produced by Tyler, The Creator
Composed by Lil Wayne and Tyler, The Creator
Lil Wayne appears courtesy of Cash Money
12. "November"
Produced by Tyler, The Creator
13. "Glitter"
Written and produced by Tyler, The Creator
Guitar: Steve Lacy
14. "Enjoy Right Now, Today"
Written and produced by Tyler, The Creator
Vocals: Pharrell Williams