XXXTentacion LA Memorial Shut Down by Police With Riot Gear
After a peaceful vigil in Florida.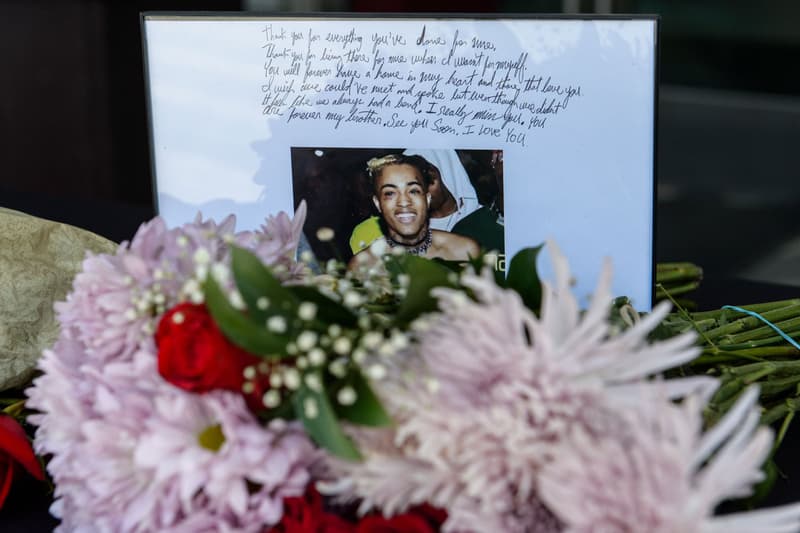 A memorial for XXXTentacion in Los Angeles took place on June 19. Organized by Adam Grandmaison of No Jumper, the event drew around 1,000 people. "If you loved X come through," Adam22 wrote on Twitter. The event took place outside of Grandmaison's OnSomeShit store in LA's Melrose Avenue; however, it was ultimately shut down by police officers in riot gear after attendees became too rowdy.
KABC-TV reports that a few attendees threw rocks at authorities and the LA Times said that police had to fire tear gas, pepper-spray balls and rubber bullets to disperse the crowd. LAPD said that Adam did not have a permit to hold the memorial. Fortunately, no injuries or arrests were reported.
Another memorial took place in Deerfield Beach, Florida, where X was shot and killed. Fans decorated the streets with candles, flowers and sidewalk art to pay their respects to the rapper. XXXTentacion was gunned down on Monday, June 18, shortly after leaving RIVA Motorsports.
See footage from the Los Angeles memorial below. In related news, the rapper's song "Sad!" broke Spotify's single day streaming record.
Tomorrow night 8 pm we will all be meeting up outside my store on Melrose. If you loved X come through

— adam22 (@adam22) June 19, 2018
Massive gathering in Los Angeles to celebrate the life of #XXXTentacion ?? @nojumper pic.twitter.com/4sqKppsMqe

— WORLDSTARHIPHOP (@WORLDSTAR) June 20, 2018
RIOT ON MELROSE AT X MEMORIAL pic.twitter.com/N54kCPatRX

— Cam (CUFBOYS) (@CamHaller) June 20, 2018
Moments before the tear gas LONG LIVE X pic.twitter.com/W2LM0uzRGP

— Mezzi ?✨ (@MezziMB) June 20, 2018
THIS WAS FOR YOU @xxxtentacion SHUT MELROSE DOWN #RIPXXXTentacion and @nojumper beautiful stuff! pic.twitter.com/jgvheiHctb

— Taylor Caniff (@taylorcaniff) June 20, 2018