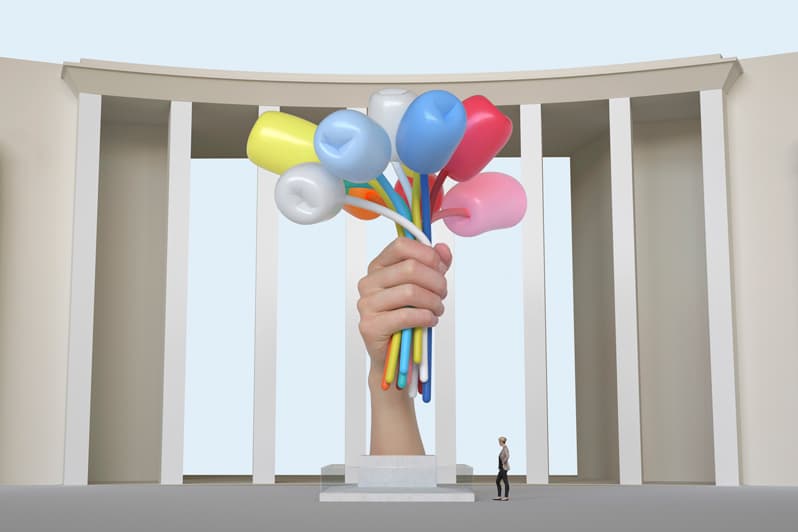 Proposed Site for Jeff Koons's Memorial Sculpture for 2015's Paris Attacks Rejected
After public outcry, Koons's 'Bouquet of Tulips' will not be installed at the entrance of Palais de Tokyo.
---
The proposed site of contemporary art museum Palais de Tokyo in Paris officially rejects the installation of Jeff Koons's Bouquet of Tulips sculpture, a piece gifted to the city as a memorial for the victims of the tragic terrorist attacks that targeted Parisian civilians in 2015. Following its announcement in 2016, the 35-foot-tall art piece faced public outcry for its "costly installation, its tone, and the proposed location amid the Place de Tokyo's classical architecture," according to artnet.com.
The Bouquet of Tulips hasn't welted away just yet; French Culture Minister Françoise Nyssen stated her office and Koons will work together to find an alternative site in a "popular, visible" location. Nyssen told a local newspaper she has spoken to Koons "many times" and that "we share the desire to come out on top of this controversy. He is not bent on the Place de Tokyo."
There is no confirmed shortlist of alternative sites at the moment. You can learn more about the sculpture and its intended purpose at NoirmontArtProduction, Koons's production team.
For more on Jeff Koons, read our exclusive interview with the artist during this year's Art Basel in Hong Kong.