Bryson Tiller Talks UPS Beginnings to Juggling Fast Fame and Fatherhood
Pen Griffey reveals dad hat origin, 'GTA IV' skills, influence behind 'True To Self' and more.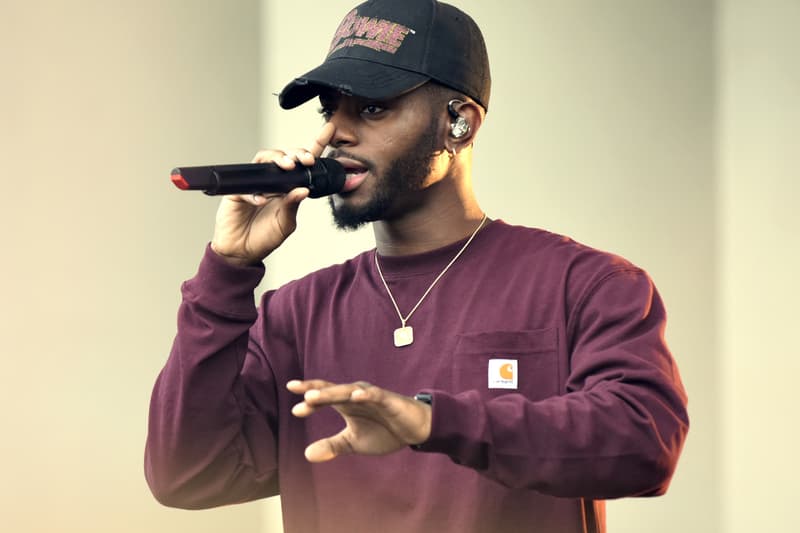 For some, many think of the phrase "just be yourself" as a cliché when it comes to breaking ground in the entertainment industry; for Bryson Tiller, he turned that so-called cliché phrase into a reality. Once working for UPS and additional odd-jobs that many of us can personally relate to, the young 24-year-old has generated a rapidly-growing fan base through his next venture. One of Tiller's most recent chess moves was the spontaneous drop of his sophomore project True To Self approximately a month before its schedule June 23 launch date which would eventually land at #1 on the Billboard 200 chart.
Personable lyrics set the stage for Tiller as his own trials and tribulations have been able to lead him to the rising point he's currently in. From taking a break from music to becoming a changed man with priorities and responsibilities thanks to the birth of his daughter Harley, Bryson Tiller has developed an authentic blueprint for success that stems from a genuine source of wanting to betterment of oneself and the people around him.
In a recent interview with the Kentucky native, he reflects upon his growth from TRAPSOUL to True To Self, the sudden wave of the "dad" cap, his relationship with Nike, what video game he's confident he'll kick your ass in, and much more. Take a look below for more of our conversation with Bryson Tiller.
How does it feel to witness your own growth from TRAPSOUL to True To Self?
Man, it's crazy. It's dope to see and specifically remember all the venues. It's really dope to see how many fans come out to show support.
What was the most memorable and most difficult process of making True To Self?
When I was making the album I thought the answer to that question would be the sample situation and getting them cleared, but they actually cleared really quickly which was super surprising. For the most difficult part I'd probably have to say all of the stuff I had to go through to actually make the album. Some of the songs like "Before You Judge" had stuff I wish I didn't have to go through. The most memorable would probably be being in the studio. I slept in the studio for a few days trying to finish it as fast as I could with all these dates and deadlines coming close such as missing Harley's birthday, and that made me tell myself 'oh my God, I have to get this done and done right.'
Can you paint a picture of your creative process? Are you the type who needs a lot of people in the studio with you or would you rather be alone while you create?
I like to be by myself in the studio, nobody around at all. I don't like having a lot of people in there, I like being in my own world.
"I was working UPS one day and now I'm in LA about to go to Africa. My life completely changed. My motto is "I can and I will" and I truly believe that there's nothing I can't do."
I noticed that you contributed to the writing on Chris Brown's "Proof" track off of his recent Royalty album. Do you find it more satisfying working behind the scenes helping others in the writing process or would you rather tell your own story?
I find it more satisfying working alongside another artist. I'd rather them be in the spotlight, them be on stage performing those songs and getting all the love from recording that song. I just feel great to be a part of it. I started doing the artist thing because a few people started to like my music and it became a snowball effect.
You've been seen alongside a lot of notable names such as Drake, The Weeknd, Playboi Carti and many others. Do you ever sit back and think to yourself that things are moving extremely fast?
Yeah definitely. When I was making TRAPSOUL I thought to myself like 'what's going on?' One of the most memorable moments from that album and being on tour was a time in LA. I get off stage and I walk through my green room getting ready to chill and kick back and the next thing you know, Justin Bieber walks in slow-clapping and congratulating me. Then Rihanna walks in then Kylie Jenner walks in and French Montana and Travis Scott and Diddy and all these other people. I thought to myself like, 'Wow, this is crazy.'
What are some things you do in your free time to disconnect from music as work?
I play video games all day and my daughter sits there and watches me. If I'm not playing video games I try to take her out and do something fun. That's definitely what I do in my spare time.
Since you're a gamer, what are some titles that you confidently talk shit in?
Grand Theft Auto IV… Team Deathmatch. Gaming is different for me now because I barely have time to play. GTA is my game though and I'm super competitive. Team Deathmatch is a little different in GTA V, but GTA IV I would literally play from sunrise to sunset. I don't really play sports games like that, I like shooters.
How has Harley helped your growth as a man and as an artist?
Man. I always tell people this. I've been making music since I was around 15 years old and put out my first mixtape at 17 and I was talking crazy. I was saying things that people wanted to hear. Then I quit music for a few years once I realized I was having a daughter. I told myself 'let me get a job,' then I was looking at her when she was sleeping and said 'I gotta be able to get all that I can get for her.' Then I thought to myself what would happen when someone comes up to her in school and they ask her what her dad does for a living or what if someone plays an old song of mine for her and it's from when I was 17. That made me say to myself, 'I gotta get back in the studio.'
What was your initial reaction to everyone following the wave of wearing the "dad" hats?
Man, what do you call 'em, 'Hypebeasts?' I'm just now learning what that word means and still learning. It's funny to see. To me it was just me and was what I wear. I used to wear snapbacks around the time that song "Snapbacks and Tattoos" was popular. Then when I found out I was having a daughter I got a job. So I was going to work and people were asking me if I had a kid on the way, but I felt that people were looking at me as if I was a thug with some baby-mamma drama just because I had the snapback, tattoos, and a tank-top. I thought to myself 'I'm a dad, I'm working, I'm trying to take care of my daughter and I want to be treated as such.' This is the weird part of it. I went to Walmart and saw a Boston hat with a curved brim and I put it on and it made me feel like a dad. I started taking my lunch to work for a week and told myself 'yeah, I'm a dad.' After that, I never wore a snapback ever again.
We also noticed your growing relationship with Nike such as showcasing the SF-AF1 before its initial launch in addition to the Bespoke and recent court you dedicated back in your hometown. How did that relationship with the Swoosh come about?
The court came about when I was traveling throughout Louisville and I saw this court and I wanted to do something special for my city. A lot of people usually donate to charity or an organization, but me personally I don't really care for going about it in that manner and don't see how that inspires kids from where I'm from. I wanted to do something that you can physically see and go to, almost like a monument. I don't really play basketball and I'm not really a sports guy, but this court is the court that I remember the most out of any of them in my city. So when I officially decided to do a court we hit up Nike and they were on board and wanted to make it official. Before that, we worked on the Bespoke and just made everything special.
You said you wanted to inspire people regardless if they plan to be artists or not. For those who are inspired by you musically, what advice do you have for them?
Do what you feel is best. I always tell people to invest in their own studio equipment so you can work out of your own space and never have to pay for studio time because that can get expensive, especially when you're trying to juggle jobs and other priorities. Why not have a studio of your own and just wake up in the middle of the night and be able to record when you get that light bulb moment. Not only that, you avoid being judged by any middleman or engineer in the studio. You can do whatever, you can make soul music or you can yodel in the studio if you want to. I always tell people to invest in themselves and don't let nothing stop you.
When it's all over, how do you want Bryson Tiller to be remembered?
I want to be remembered as somebody who inspires people to be great. You don't have to enjoy my music at all, you don't have to like what I'm saying, you don't have to like me as a person but one thing you can't say is that you're not somewhat inspired by what happened to me. My life did a complete turn. I was working UPS one day and now I'm in LA about to go to Africa in two days to do a show with Travis Scott. My life completely changed. Anybody can do anything, my motto is "I can and I will" and I truly believe that and there's nothing that I can't do. Everybody has a dream and you just have to believe in yourself and I want to be the spokesperson for that.