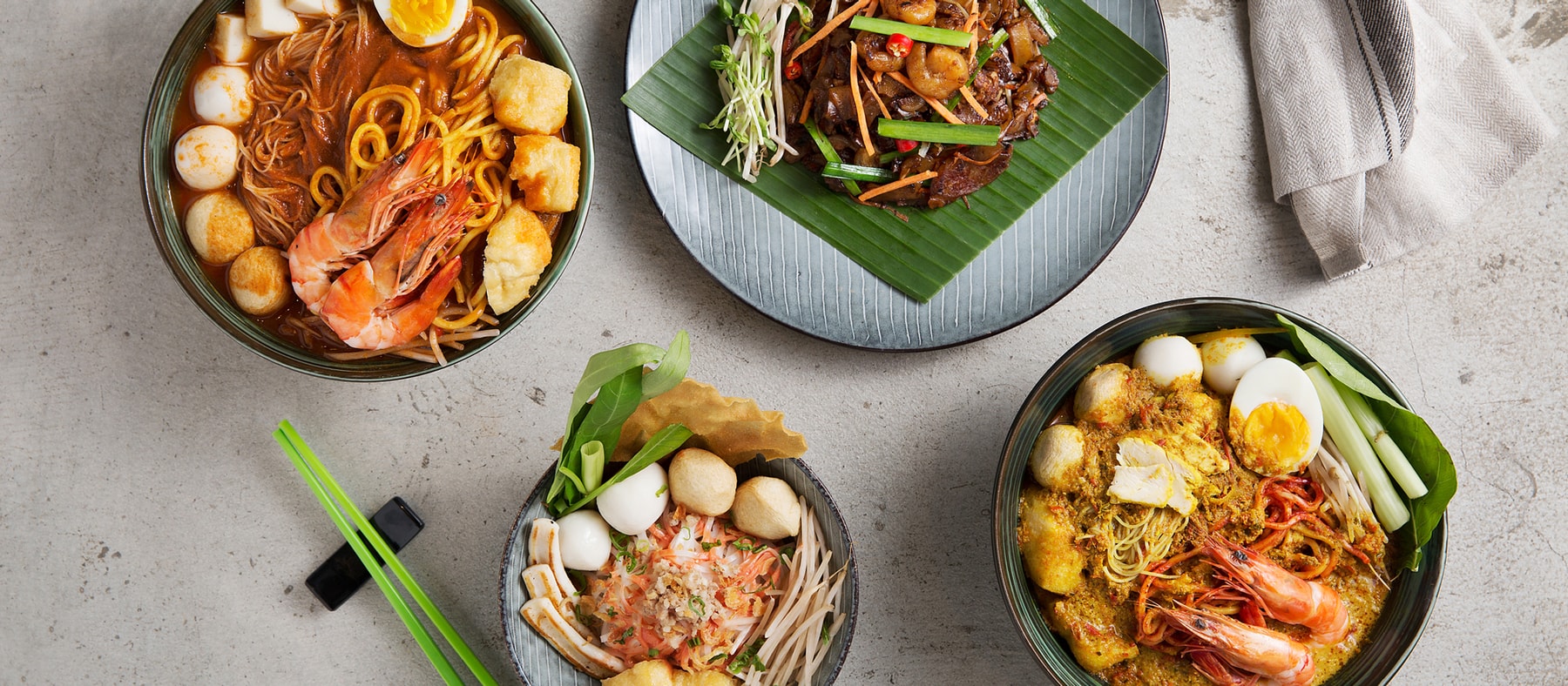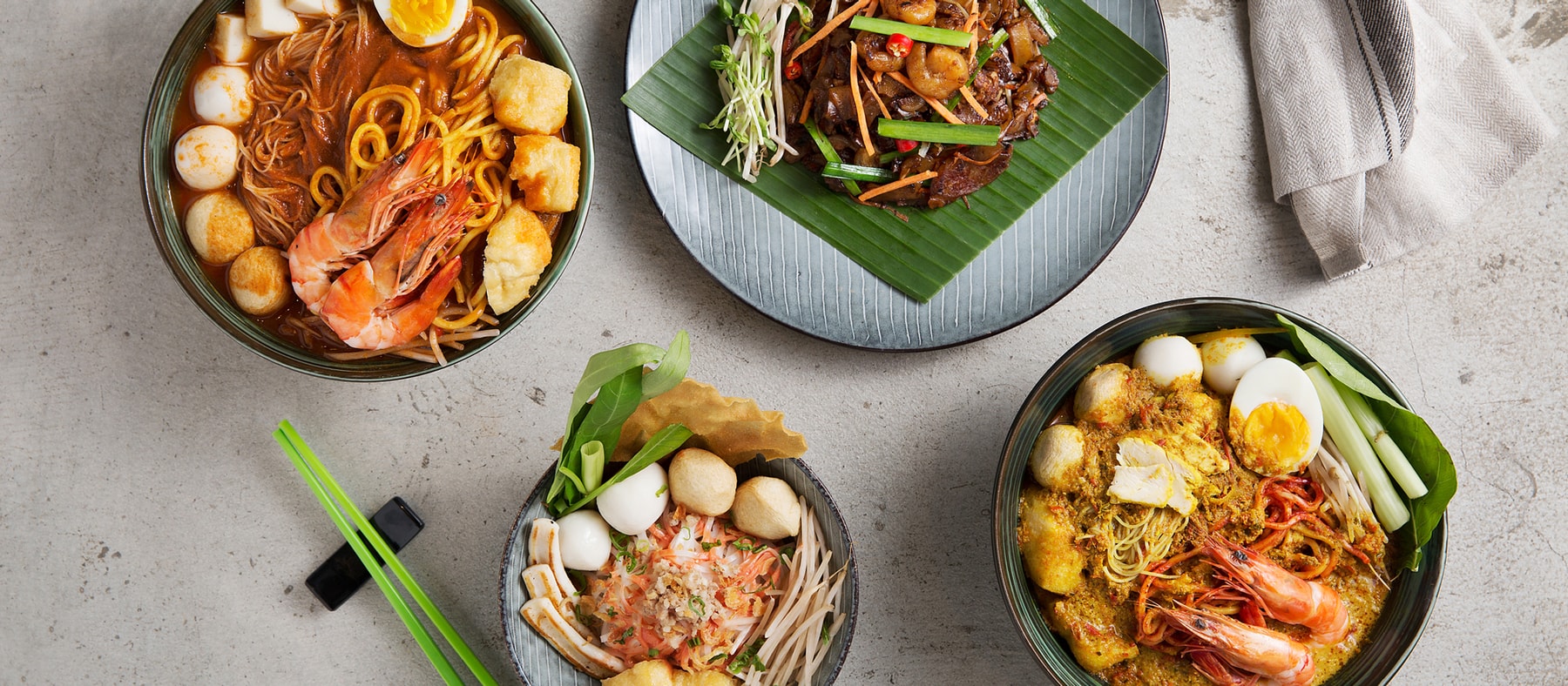 Mean Noodles Strikes the Perfect Balance Between Food and Design
Design director Caroline Chou and founding partner Kevin Lim explain how and why.
In an age of food where we "eat with our eyes" first, plating and presentation have become extremely important to the success of a culinary establishment. With that in mind, design has played a larger role than ever before as aesthetic and vibes are immediately spread throughout the internet and can set one place apart from another. Harkening from backgrounds in both fine dining and design respectively, Kevin Lim and Caroline Chou have paired the two perfectly in their newly opened Hong Kong restaurant, Mean Noodles.
The Perfect Duo
Having split time living, learning, and working in both the United States and Asia, Lim and Chou bring to the table knowledge and experience that have led to a perfect blend of food and design. Kevin was born in Boston and moved back to Hong Kong at the age of one while Caroline was born in Dallas and moved to Taipei, Taiwan with her family when she was six years old. Both of them are an integral part of openUU design firm and explained to us that "the lack of space with an abundance of high-rise buildings, living in Asia teaches us to think differently about spatial design with efficiency and flexibility. Living in the U.S. for 10 years with larger living spaces has broadened our knowledge, and honed our spatial planning skills, without losing the human ergonomics in a large project."
"We want guests to feel the intense Southeast Asian flavors first through the restaurant design."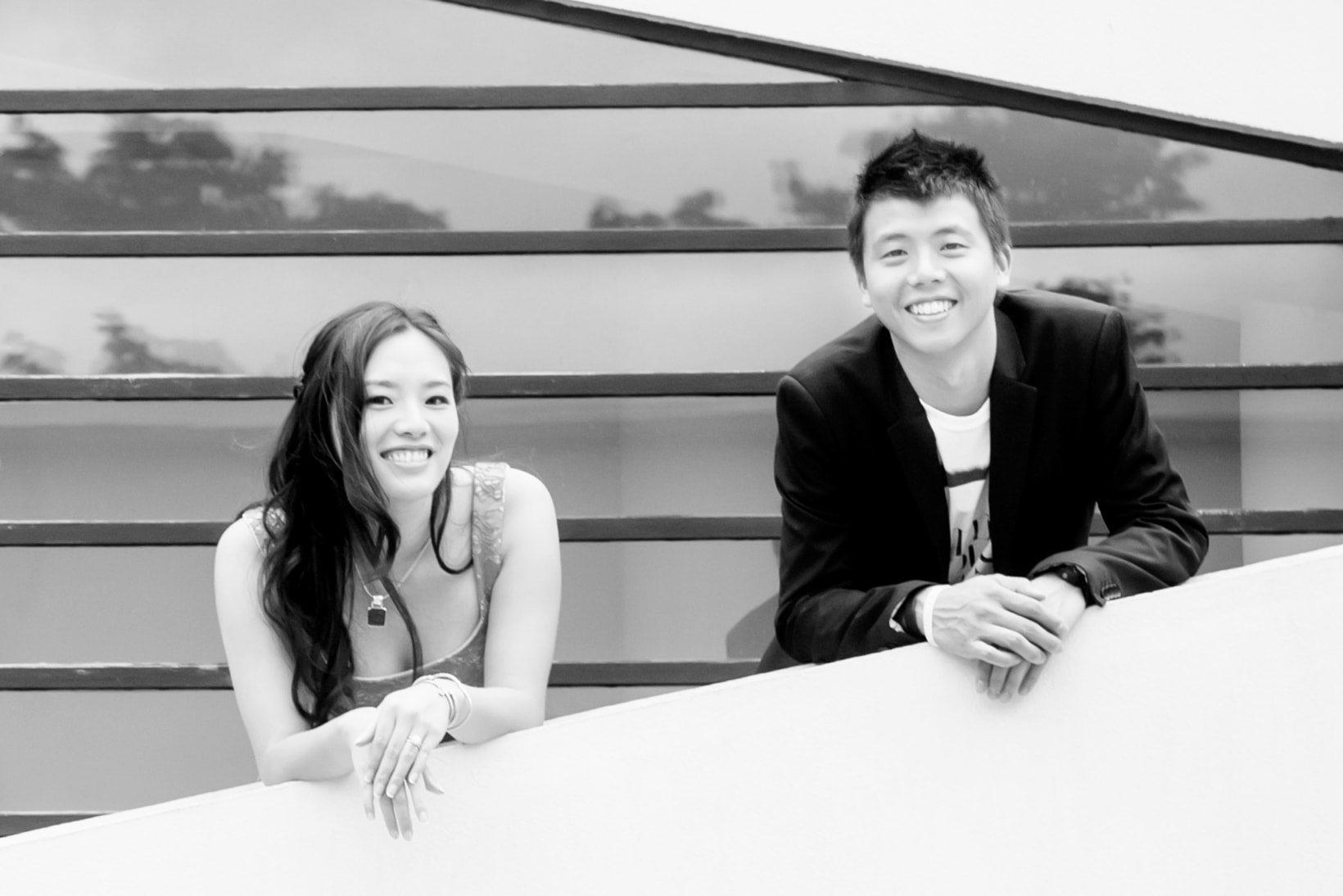 Like many in the hospitality and service industry as well as the design industry, the two believe that passion is of the utmost importance, and they bring that every day to Mean Noodles. Kevin, who attended school at Le Cordon Bleu College of Culinary Arts in Boston and worked at Blue Ginger (now closed) in Wellesley, Massachusetts, looks to inspire passion within the team in everything they do. "This [passion] is seen from the attention to details of the restaurant, to the effort and labor put into the food at Mean Noodles."
Design
The design of Mean Noodles stems from the duo's belief that "the current trend of restaurants places emphasis on both design and food in more bistro-style establishments." In order to cater to the customer, "many restaurants have opted for a more casual style, but also have visually appetizing food." Further adapting to their customers, restaurants allow for a "more trendy and inclusive atmosphere" now and thanks to the cut-throat nature of the F&B (food and beverage) industry, more concepts are being discovered and created. "We see restaurants are becoming more specialized, similar to when they [restaurants] first existed in the 18th century selling one type of dish," the two comment.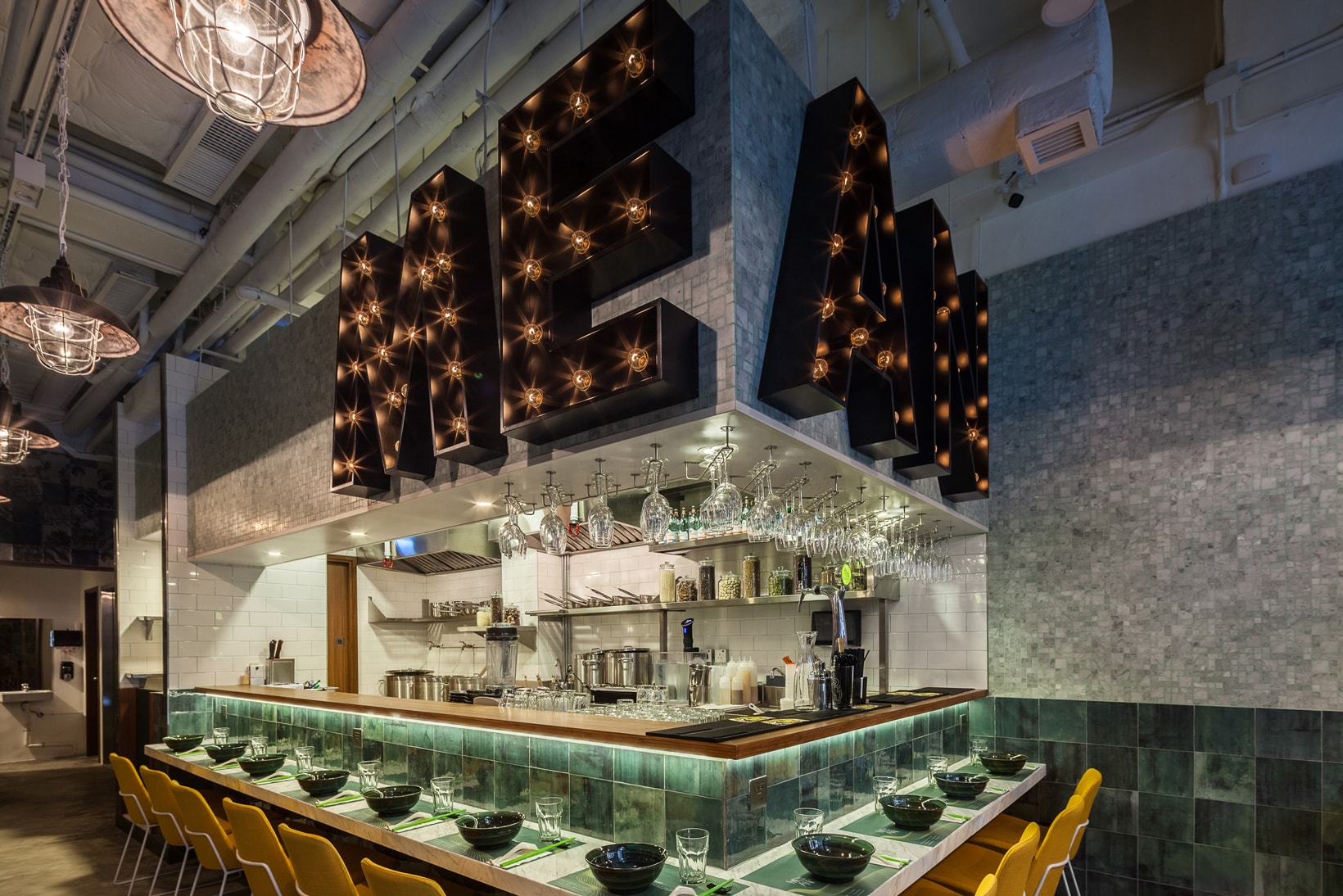 So inside of their restaurant, you'll see an old school "MEAN" sign, high ceilings, plenty of white and green tiles with flower print and yellow chairs complemented with clean and modern cutlery and tableware. Little touches like USB outlets for device charging and hooks below the counter for hanging belongings are often overlooked essentials that can completely change a dining experience, but not in the case of Mean Noodles. The definition of "mean" in this case derives from slang for cool or nice, thus the name Mean Noodles is symbolism for "having a mean bowl of noodles." Additionally, "mean" is also similar to the Chinese phonetic for noodles; mian.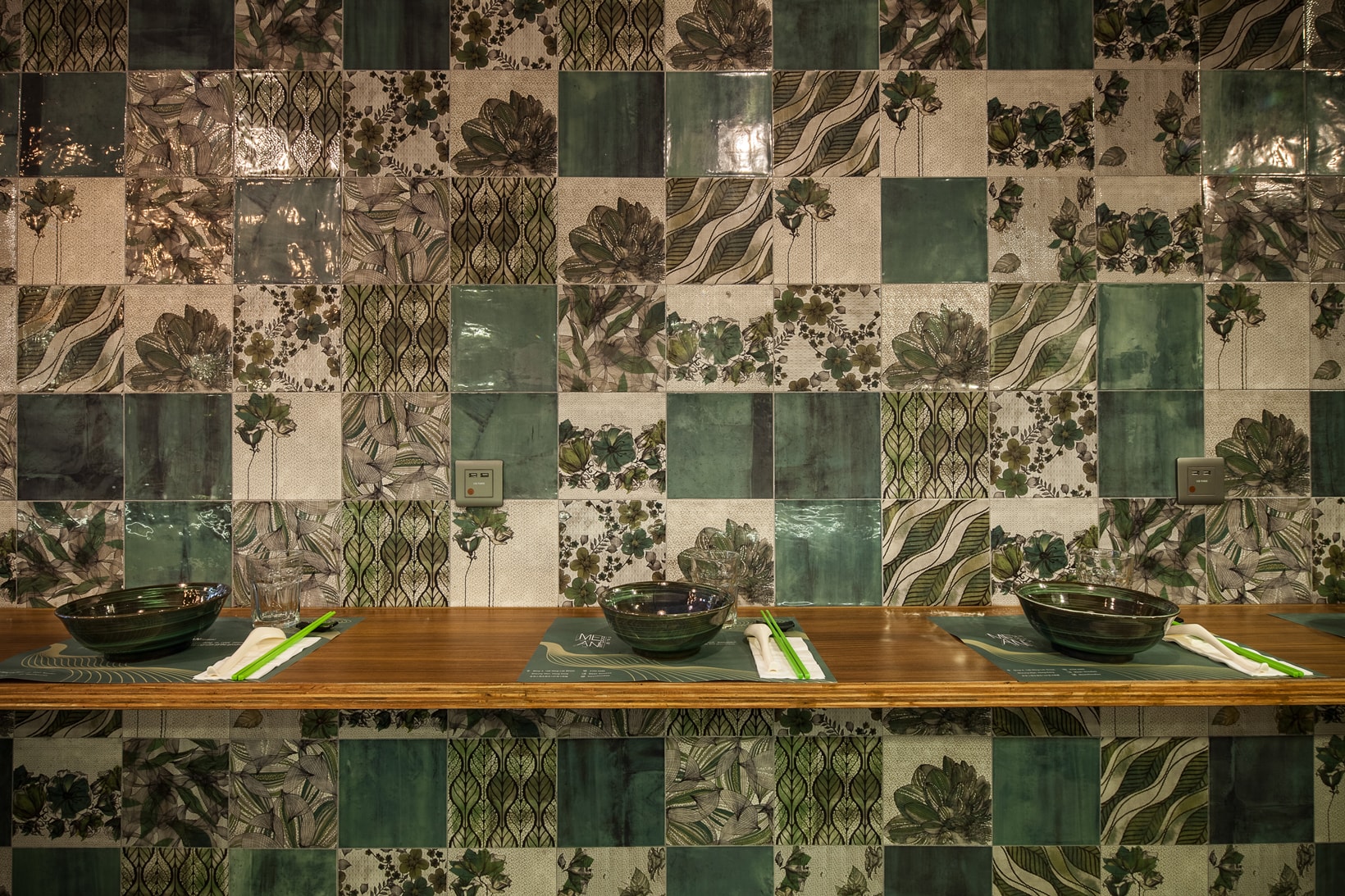 Thinking ahead to how social media affects the overall success of a restaurant nowadays, Caroline and Kevin acknowledge that it was something constantly on their minds throughout the design and planning process. "The space design sets the mood for the diners, so we want guests to feel the intense Southeast Asian flavors first through the restaurant design, as well as the dining experience. The presentation of the food allows the diners to eat with a different form of eyes — cameras eat first." Not sacrificing flavor. taste or technique, each noodle order is cooked individually — taking longer than an average bowl — so that nothing is overcooked. They say that this process "allows us to craft and present each dish in a visually appetizing manner."
The Food
Circling back onto the topic of food, Kevin says that one of his biggest inspirations is chef Ming Tsai who he worked under at Blue Ginger. It was there that he started off as a line cook and worked at the restaurant's Asian station where he prepared different kinds of noodles and learned cooking techniques to prepare a portion of the menu aside from stir-frying in the wok. "His cuisine is truly 'East Meets West,' and it's also the name of his cooking show," Kevin says of chef Ming Tsai.
"The presentation of the food allows the diners to eat with a different form of eyes — cameras eat first."
Kevin took the experiences and knowledge from Blue Ginger and implemented the techniques and ideas into Mean Noodles. "We are not reinventing the noodles, but rather recreating our favorite noodle dishes, by utilizing a Western technique to extract the most flavors from the ingredients," he says. When asked which dish he would create to best represent Hong Kong, he said a stir-fry dish.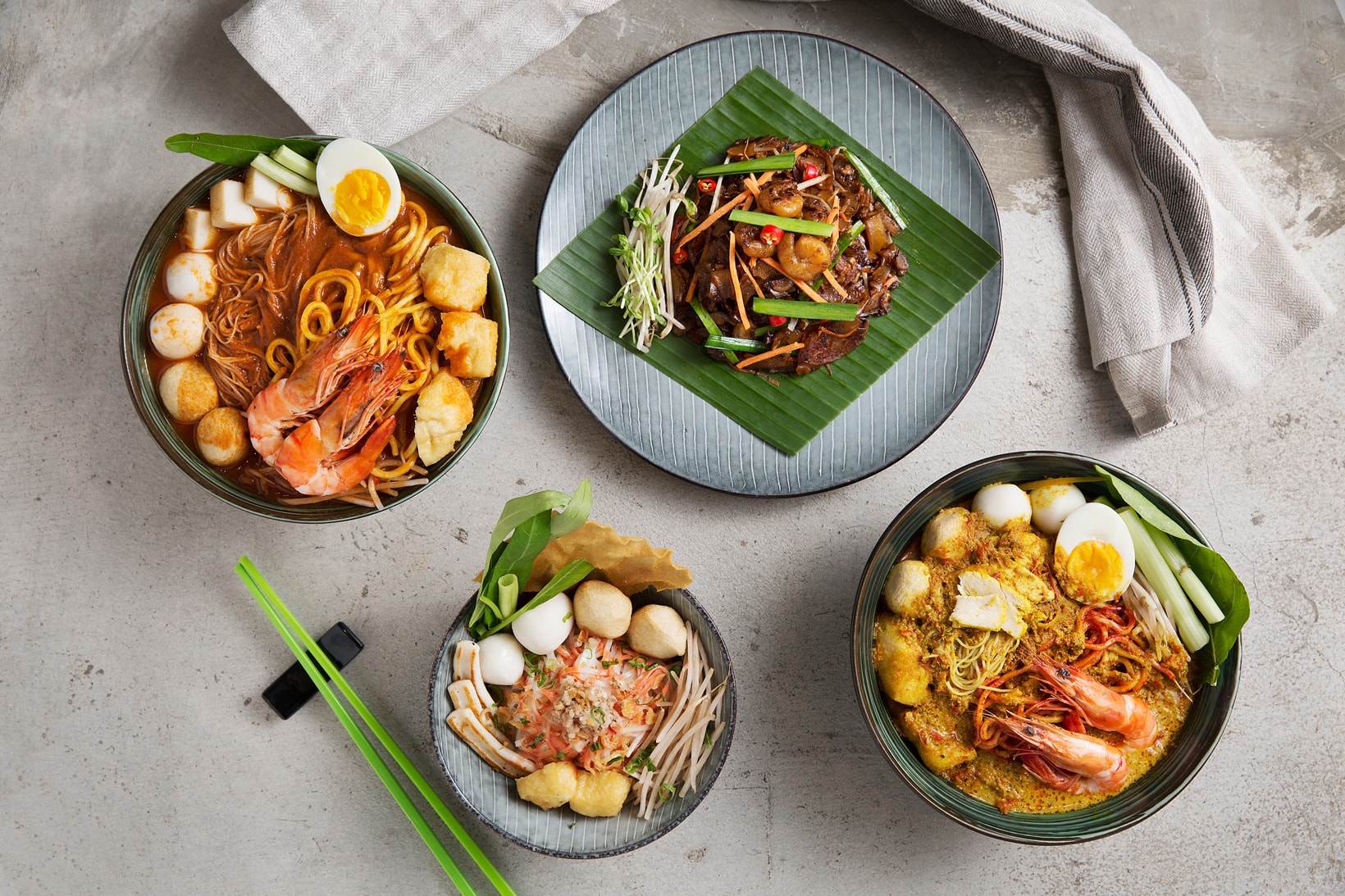 He explains why he would choose stir-fry: "Hong Kong is known for its many varieties of small dishes, with a majority belonging to the stir-fried category. A stir-fried noodle also best describes Hong Kong, as there are many fascinating aspects that make Hong Kong similar to a stir-fried; showcasing a variety of ingredients. It would be a very well-balanced dish, similar to living in Hong Kong; there is constantly something going on, but we are always able to find something that suits our desires, striving to be a balanced palatable lifestyle for everyone."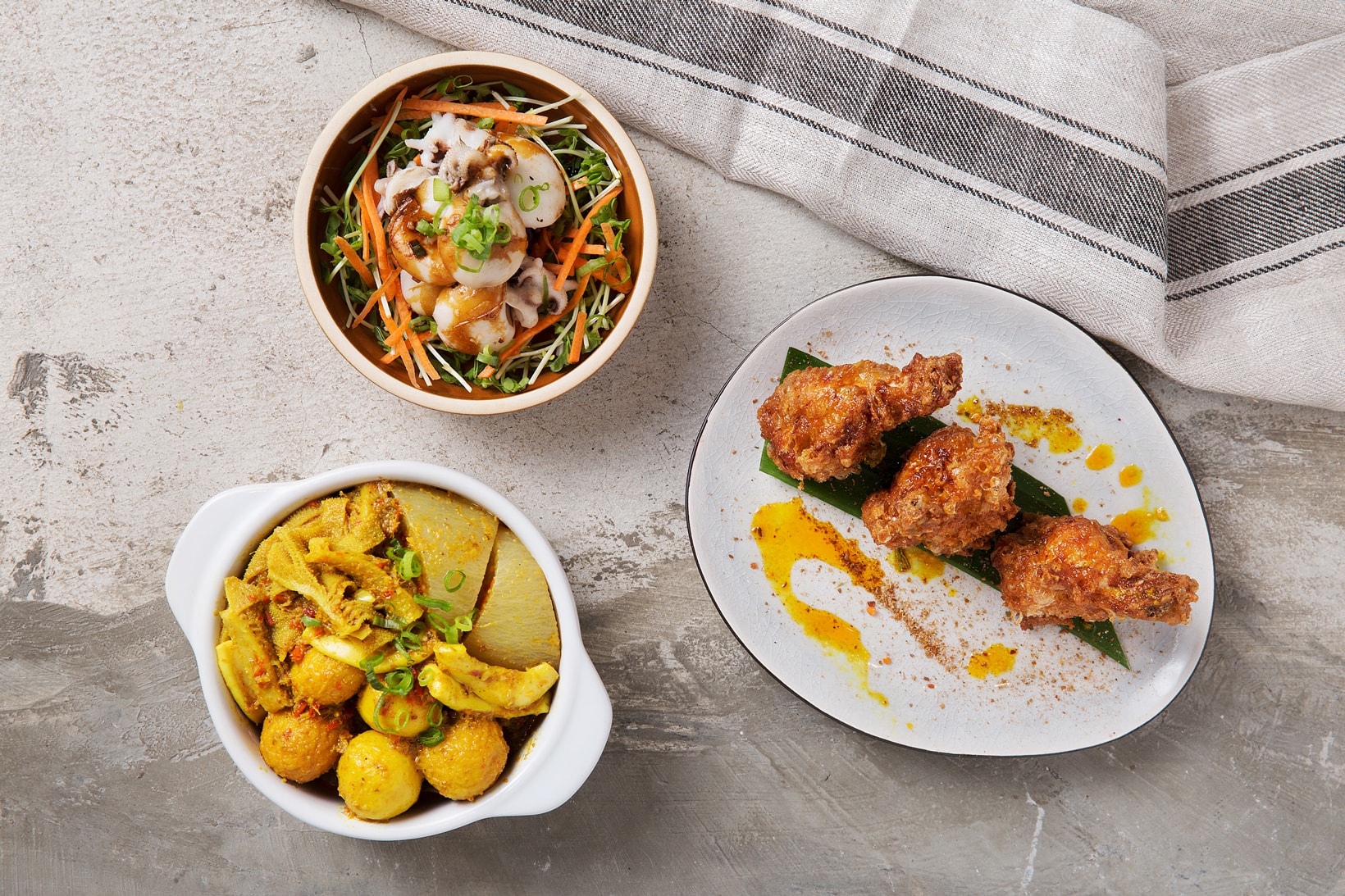 Advice
With a selection of noodles that embody Hong Kong flavor like fish balls and char siew all in an Instagram-friendly environment, Mean Noodles is doing what it set out to — to find balance between the disciplines of the design and culinary worlds. Caroline and Kevin leave off with one final thought for those looking to open their own restaurant, "Do a lot of research, be passionate, but also be flexible in pivoting your ideas. Everything is a learning experience since we are constantly growing and pivoting to see what works. As long as you have passion for your work, everyone who works with you will see that."