Crush's Experimental Journey Beyond K-Pop & Rap
One of Korea's most talented R&B savants reveals why he still has a long way to go.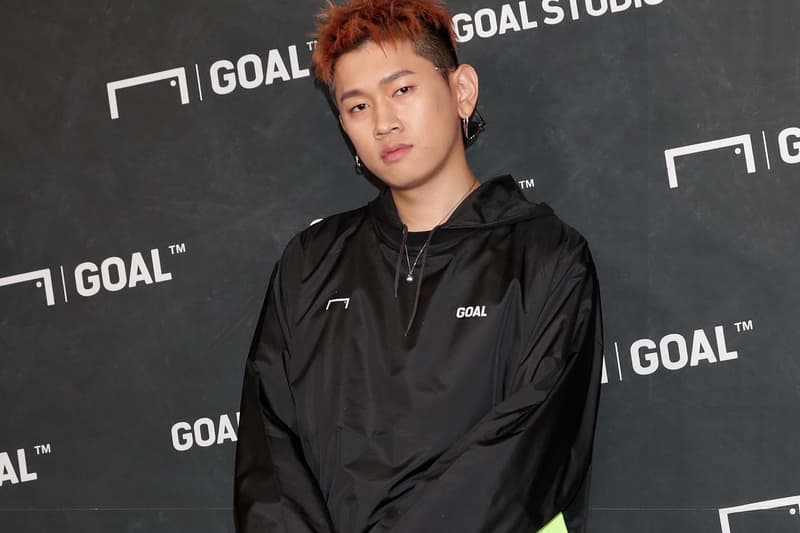 There is little doubt that K-pop as a genre is enjoying the most amount of media exposure when it comes to Korean music. Although artists like Keith Ape and his Cohort squad offered a broader look into the Korean music scene, it is mostly major artists that receive international recognition. Over the past few years however, there's been a growing number of talented artists that make up more sonic varients. Just like their Western counterparts, these creatives grew up listening to societally atypical styles of music like soul, funk, R&B, indie, punk, electronic, hip-hop, and as artists, they want to venture beyond the conventional. And the continual advancement of social media and other digital outlets has only worked in their favor.
Meet Crush, one of these said artists who's currently taking the country by storm. He is signed to Amoeba Culture, which was found in 2006 by Go Kyung-min and Dynamic Duo members Gaeko and Choiza. Amoeba is not just your local rap label either; amongst all Korean labels, it ranks an impressive third highest in sales. Crush made his debut with the single "Red Dress" in 2012 and released his debut album Crush On You in 2014. Although those releases had a distinct R&B, hip-hop and jazzy flavor to it, they were still targeted for a relatively more commercial audience and are easily digestible by those who might not be particularly well-versed in music. On the side, Crush started a SoundCloud account to upload and repost much more experimental flavors that incorporated aesthetics less apparent in his commercial releases.
Although he's a dominant force in the Korean charts right now, Crush encapsulates the essence of humility. As talented as he already is, he seems to care more about what he has yet to achieve musically rather than to dwell on his accomplishments. Earlier this month, he released a "comeback" EP Interlude, which as the title suggests, acts as a bridge between Crush On You and his forthcoming yet-to-be-titled sophomore album. Although only five tracks in length, the musical growth and maturation are evident; it contains the edgier and sophisticated colors heard in his SoundCloud uploads, yet retains that pop flavor fans know him for. Crush says he's aware of that he's got a long way to go because of how much he's continually learning, but that itself is what inspires him the most and keeps him excited to be on this journey. He hopes that he will one day be able to close the gap between his mainstream and experimental music and create a more solid musical identity.
We know you're a big name in Korea, but for the international readers who haven't been put on yet, let them know who you are.
I'm Crush, a 24-year-old Korean R&B singer-songwriter. I started doing music at the age of 14; I produced and rapped a little. From a young age, I really, really loved R&B. Originally I wanted to just be a producer but eventually and naturally I started doing the vocals too. I'm a huge lover of neo-soul, jazz, and all hip-hop and R&B-based music, but I also like electronic music. Recently, I've been loving future bass and am working on a lot of music in that direction.
How'd you get into that type of music and is it hard to get Koreans who don't have that background to relate to your work?
At a young age, I really admired and enjoyed listening to that type of stuff. I listened to a lot of Marvin Gaye, Donny Hathaway, and others like them. I also really liked James Ingram, Maxwell, D'Angelo, Erykah Badu and Musiq Soulchild. I was really inspired by them growing up. Although I wanted to rap at the time, these were the inspirations that got me interested in singing, and I naturally started doing more R&B-based music. My production style is mainly hip-hop and R&B, but I mix that with Korean style and lyrics, which I think has made it easier for Koreans to relate to. It feels good that more Koreans are connecting with my music now.
What's that process been like this year?
I released a single in January that was had more of a "mainstream" sound, but through my EP this time around, I wanted to showcase more of my identity. In Korea, I've been promoting through music programs on TV and radio, and while wrapping that up, I'm also working on my second full-length album which will drop this summer. Lately, I've been getting into stuff like bossa nova and samba, so you'll be able to find some of those sounds in my upcoming album.
That's cool you merge all these influences together into something accessible. Is finding a balance a challenge?
I released commercially friendly songs, but I've also been putting up more experimental stuff on my SoundCloud. I think this EP is the middle ground between the two. I know I still have a long way to go; there's just so much I'm learning right now. I'm digging up a lot of new sounds and music and really getting inspired from them. I want to try and make that gap between mainstream and experimental music smaller and somehow create a more solid identity for myself through my next album.
We can definitely hear that "experimental-ness" in your Interlude EP. Tell us about it.
Compared to my previous work, this Interlude EP is a lot more self-focused and personal, and it has less to do with the usual themes with love and farewells that I've used in the past. This album took about six months to finish. While I making this EP, I was also working on my sophomore full-length album, so I mean, some people told me that it didn't take too long to drop the EP while others said that it took too long. But at the end of the day, it was a huge learning process for me. A song I want to recommend off the project is "Castaway." It features singer-songwriter MISO — she was super active in Red Bull Music Academy, is extremely talented and I think she's got a lot of potential. I really enjoyed collaborating with her, we've got great chemistry, so I'd love for people to really check out "Castaway."
We enjoyed that song as well. Are you planning to do more shows outside of Korea and market yourself to a more international audience?
I am, but first, I need to work on my English. (Laughs.) Then of course, I'd like to do a lot more international work. If the right opportunities come up, I'd love to go abroad and really give it a shot.
Throughout this and last year, we've seen you work with other soulful artists from and/or are popular in Korea, such as Dean, Jeff Bernat, Sam Kim, and others. Tell us about those experiences.
First off, Dean has his own very distinct style and color, and I think that he's a really cool musician. He's got his own particular style that he's become well-established in and I think that's why he has such a big international following. Also, his musical spectrum is incredible. When I'm with him, I'm challenged, inspired, and really learn a lot from him. Working with him is always a good time. Jeff Bernat recently came to Korea with J-Bird and Esta; they came by my studio and we just vibed out. We just turned on some music and chilled. It was a lot of fun and I think they're real cool and nice. Plus I think they've got a deep understanding and knowledge of music, so I really respect that. I want to go to LA soon and work with them. And with Sam Kim, even though he's young, he's got so much soul and confidence in the message he wants to share through his music. It's a lot of fun working with him too.
Who are some artists you worked with, are working with or want to work with?
Kehlani. I really, really would love the chance to collaborate with her. Her vocals and production are seriously flawless. And her voice is so beautiful — I go to bed almost every night listening to her music on my earphones. Then there's Brasstracks — I'd also really like to work with them. Not only are they incredible musicians, I think they're incredible producers as well. I also really like Tom Misch. I really dig his mixtape, Beat Tape 2 — I listen to that all the time. I feel like he's got a guitar sound that I have yet to incorporate into my music, and so I'd love to collab with him. I think we'd be able to make some fresh music together. There are so many others I'd love to work with but for right now these three are the artists I have a lot of respect for and want to collab with. In Korea, I've done a handful of collabs with the likes of Jay Park, Loco, Dynamic Duo and others. I'm currently working with Ta-Ku, Esta and Cavalier, which is exciting!
We can't wait for that to happen. Who are you currently jamming to right now?
I'm currently listening to Big Sean and Jhene Aiko's Twenty88 project, Kaytranada, Musiq Soulchild's new album, JMSN, Gallant, Kenny Barron, and legendary bossa nova artist Stan Getz.
There's a lot of Asian talent in music. Why do you think Asia has always been underlooked musically?
A lot of the music originate from non-Asian countries, so I can see why some may underlook us. Our language is also foreign to most, so I can see why people may feel that way. However, with how advanced social networking and media has become lately, I think that wall between the international audience and Asian artists is slowly coming down. There's so much content out there that is so central to culture nowadays, so I think slowly people will be able to more easily approach music from Asia. I think that's why artists like Keith Ape and Rich Chigga have been well-received; more Asian artists who have a better understanding of where music originates are starting to surface, all being more recognized for their talent.
What's next for Crush?
I'm currently working on my second album. I've been working on it for some time now, so there's already tracks that are almost finished. I'm pretty excited about it because it's something new; I'm trying out a lot of different sounds and tryng to merge the experimental with the commercial.