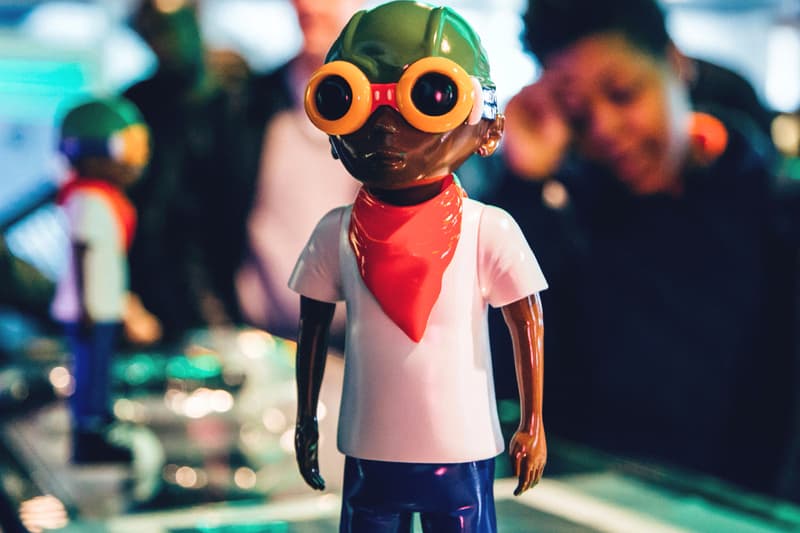 Best Art Drops This Week: BAPE x Hebru Brantley, Takashi Murakami 'Flower Ball' & More
Including iconic graffiti artist ARYZ's first solo art book.
---
Since e-commerce became possible in 1991, the Internet continues to be a most essential tool for purchasing works of art online. There are plenty of websites dedicated to selling pieces by international artists of varying art genres depending on a collector or art aficionado's interests. For those attracted to Japanese contemporary art, Kumi Contemporary is an ideal platform to visit as it purveys works by Takashi Murakami, Yoshitomo Nara and more masters of the category. For a more varied selection of contemporary art, 1xRUN is a reliable page to snap up limited pieces by graffiti artists, legendary photographers and more.
Nowadays, one does not need to visit an art website to buy works from an artist. Thanks to brand collaborations such as Hebru Brantley's most-recent partnership with BAPE, you can purchase wearable art alongside exclusive prints if available at launch. For this week's best art drops, we spotlight a diverse selection of artworks, books and clothing from celebrated creatives around the world. Check out the list below and let us know your favorites. In related art news, Felipe Pantone recently released a video documenting his process of creating his ULTRADYNAMIC 1994 Chevrolet Corvette.
BAPE & Hebru Brantley to Launch Special Capsule
Release Date: June 2
Release Price: TBC
BAPE and Chicago-born artist Hebru Brantley recently unveiled their full collaboration. The partnered capsule is comprised of T-shirts and Shark Hoodies embellished with the artist's most-recognized Flyboy graphics alongside visuals of the artist's Lil MaMa character. The collection will exclusively launch at BAPE's Los Angeles store and Social Status on June 2. A worldwide release will follow sometime next week.
Kumi Contemporary Releases New Takashi Murakami 'Flower Ball' Lithographs
Release Date: Available now
Release Price: Approximately $2,000 USD each
One of the more popular artworks from Takashi Murakami is his three-dimensional Flower Ball lithograph. Online art purveyor Kumi Contemporary recently released a striking selection of the artworks in "Bright Red," "Koi Red-crowned Crane Vermillion," as well as other multi-colored versions. Each piece will set you back approximately $2,000 USD each and they're available now at Kumi Contemporary's website for a limited time.
1xRUN Drops Limited 4-Print Sets by Photographer Leni Sinclair
Release Date: Available now
Release Price: Approximately $350 USD each
1xRUN recently launched a limited selection of prints by acclaimed photographer Leni Sinclair. The artist is widely-recognized for documenting the Michigan rock scene back in the 1960s, capturing portraits of MC5, Iggy and the Stooges, Bob Seger and more. The series coincides with the art platform's Bicycle Day 2018 Print Suite. Sized at approximately 7.5 by 7.5-inches each, the 4-print set by Sinclair is available for purchase now at 1xRUN's official website.
Parra Unveils Drop 4 for Spring/Summer 2018
Release Date: Available now
Release Price: Approximately $25-$310 USD
Internationally-celebrated artist and designer, Parra, returns with a brand new drop for the Spring/Summer 2018 season. The latest release is comprised of vibrant anoraks, striped polo shirts, swim trunks, headwear as well as waist packs adorned in the artist's signature motifs. Limited prints and posters are also available for purchase at the artist's official website.
ARYZ Debuts First Solo Book Entitled OUTDOORS
Release Date: Available for pre-order
Release Price: Starting at approximately $46 USD
Iconic graffiti artist ARYZ is set to launch his first solo art book entitled OUTDOORS. The hardcover tome spans 240 pages filled with photos portraying large-scale murals from across the globe, concept sketches and text that will help viewers "understand the way I see public space and also discover a bit more of my working methodology," said the artist. ARYZ is currently taking pre-orders via a Kickstarter campaign, offering special prints depending on the pledge.