Traditional Soul Music Reclaims the Spotlight
Listen to our favorite modern soul artists here.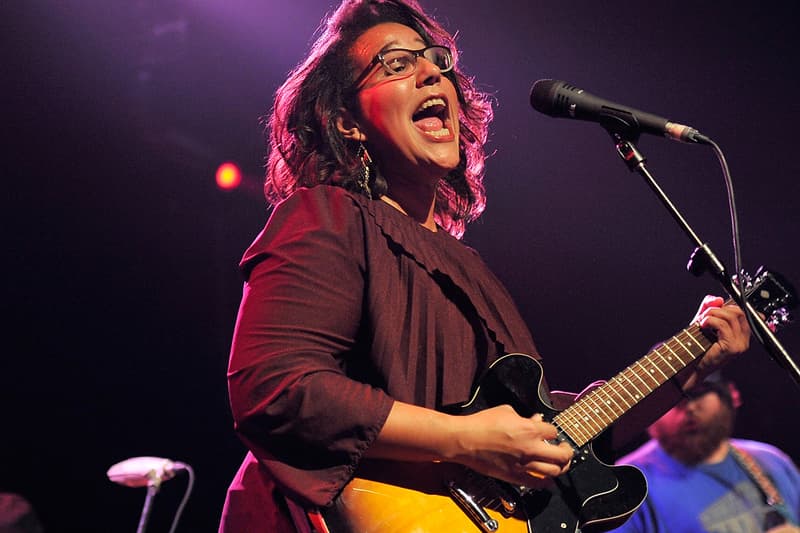 It's been a long, long time coming. For the last few years, traditional soul music has been going through a major revival in popular music. The sound, which originated in the United States during the late 1950s and early 1960s, is an amalgamation of gospel music, rhythm and blues and jazz, and served as a soundtrack to the civil rights era. It was made popular by the likes of Sam Cooke, James Brown, Aretha Franklin and Otis Redding.
However, traditional soul music experienced a gradual decline in popularity once the '70s hit. Artists like Marvin Gaye, Stevie Wonder, Curtis Mayfield and Al Green experimented with varieties of the genre; soul music was merged with other emerging sounds like contemporary R&B, funk, pop and disco, and very few musicians persisted with the traditional soul sound. It became more of an underground phenomenon, kept alive by acts like The Staple Singers, Bobby Womack and The Dramatics, while more well-known artists and groups like James Brown, Commodores and Earth, Wind and Fire drove soul towards funk music. Though the full-fledged style eventually disappeared from the mainstream spotlight, its distinct flavors prevailed through other musical forms.
Since then, traditional soul became more of an alternative or nostalgic form of music until the 2010s. Famous artists like Christina Aguilera, Alicia Keys, John Legend and Beyonce were able to pay homage to the sound, but it was brought back in a way no different to other past styles like jazz, classical, bossa nova and reggae. Others, like D'Angelo, Raphael Saadiq, Sade, Mayer Hawthorne, Jill Scott, Erykah Badu and Bilal, had strong followings but generally remained underground.
As the 2010s hit, artists like Adele and Aloe Blacc emerged. Even though they still made a lot of commercially-friendly, hook-based material, they displayed more edge and artistic style than those of their pop-ballad contemporaries. Unlike many of their predecessors, Adele and Aloe Blacc were able to appeal to both mainstream and underground audiences. Their success opened doors for comparable artists like Sam Smith and Ed Sheeran, also chart-topping figures renowned for their soulful edge. Before long, the full-on sound made a widespread return, boasting new acts like Alabama Shakes and Leon Bridges.
So why did the sound make a comeback? Unfortunately, a singular reason is difficult to pinpoint, but we can make a couple of guesses: it could be the revival of music-sampling music in hip-hop, the re-popularization of vinyl and the fetishization with all things "vintage," "analog, "authentic," "natural" and "organic" in pop culture, or even that we're living in a time less economically prosperous than the last 40 years. Whatever the case may be, it's more than evident that traditional soul is once again making its impact and finding a central place in music, pop culture and society as a whole. Check out some of our favorite modern soul artists and songs below.
---
Adrian Younge, Venice Dawn & Black Dynamite Sound Orchestra
Not exactly the "youngest" on the list, the 38-year-old music producer and entertainment law professor creates a lot of nostalgic work based on '60s and '70s psychedelic soul. Although he dropped his debut EP Venice Dawn in 2000 and scored Black Dynamite! in 2009, most of releases came out in the last four years. His production will get any old-school head to reminisce.
---
Alabama Shakes
Formed in 2009, the Alabama soulful roots rock group is lead by the very talented singer and guitarist Brittany Howard. Their first album, Boys & Girls, recieved universal acclaim and their sophomore release, Sound & Color, earned four Grammy Awards, including Best Alternative Music Album. It's hard to believe that Howard is only 27 years old.
---
Anderson .Paak, NxWorries & The Free Nationals
Most people might know Anderson .Paak as a major contributor of Dr. Dre's Compton album, but the Oxnard singer-producer-drummer has been hitting blue notes since he was a youngin'. Whether it's his own solo or NxWorries material, or collaborations with other artists, the artist formerly known as Breezy Lovejoy delivers a very refreshing hip-hop-meets-gospel take on soul music.
---
JMSN
The Michigan singer-songwriter experimented with R&B, electronic, rock and pop music throughout his 11-year career. However, from the two singles he's released from his forthcoming album It is., it seems that he's currently taking an entirely soulful, jazzy, live-band approach to music. And the outcome has been nothing short of magical.
---
Kanye West, Chance the Rapper, Vic Mensa, Towkio, Donnie Trumpet, The Social Experiment & SAVEMONEY
For the last couple of years Chicago has been known for drill music as popularized by the likes Chief Keef and Lil Durk. However, an alternative sound rendering much closer to the earlier, more soulful works of Kanye West exists via the SAVEMONEY crew; members like Chance the Rapper, Vic Mensa, Towkio, Donnie Trumpet, The Social Experiment have consistently put out quality, soul-infused hip-hop and R&B music.
---
Kali Uchis, The Internet, Tyler the Creator & OFWGKTA
When Odd Future first came out, they made very dark, anti-establishmentary songs that were percieved to be more crude than they were musical. However, as the artists matured, members like Tyler, The Creator and The Internet ventured to more jazzy and soulful textures.
---
Leon Bridges
This 26-year-old Fort Worth-via-Atlanta native looks like he came straight out of a history textbook. Not only has his sound been compared to that of Sam Cooke and Otis Redding, Bridges encapsulates the look of their era too. He performs in vintage clothing, records with vintage equipment, and shoots his videos in black & white or film.
---
Ariel Pink
The Los Angeles singer-producer-instrumentalist is well-known for his unpreditable psychedelic pop music, but sometimes if Pink tones his eclectism down a couple of notches, he's quite the soothing soul (cover) artist.
BJ the Chicago Kid
Although this Chicago native is not part of the SAVEMONEY crew, he's just got just as much juice and is responsible for much of the soulful sound that you hear in TDE releases.
Black Joe Lewis & the Honeybears
What do you get when you fuse James Brown and Howlin' Wolf, and you transport the amalgamtion to modern times? You'll get Black Joe Lewis and his band, the Honeybears — reintroducers of blues, soul and rock and roll.
Charles Bradley
The subject of the 2012 film Soul of America, Bradley began his music career impersonating James Brown in the '90s. He was later discovered by the co-founder of Daptone Records and eventually released his debut album in 2011.
Chris Stapleton
This 37-year-old talent has been a songwriter of many country hit songs for over a decade but has only established himself as a solo artist in recent years — and he incorporates a heavy blues/bluegrass/soul influence into his music.
Cody Chestnutt
Chestnutt's music is an eclectic blend of rock, funk, soul, hip-hop and blues. He began his career as a writer and producer for Death Row records, and has since put out four albums.
Eli "Paperboy" Reed
Reed grew up in Massachusetts and exposed himself to music at a young age. Having a music critic as a father, he gravitated towards the gospel-soul-blues-R&B spectrum of music and taught himself how to play piano, guitar and harmonica.
Gary Clark Jr.
This actor-guitarist-artist powerhouse is heavily inspired by blues, jazz, soul, country and hip hop, and trademarks a distinct distorted guitar sound and smooth vocal style pairing.
Greyhounds
The musical duo from Austin, Texas, which consists of keyboardist Anthony Farrell and guitarist Anthony Trube share singing and songwriting duties. Forming in 1999, they now have six records under their belt.
Hiatus Kaiyote
Australian isn't known for a history of soul and blues music, but recently acts such as Haitus Kaiyote, Chet Faker and Flume have developed and mastered a "futuristic" take on soul which is infiltrating the electronic, indie and pop scenes worldwide.
Hozier
The Irish artist's eponymous debut album was very well recieved when it came out in 2014. His style isn't quite traditional soul music, but his unique merger of R&B, blues an indie aesthetics gives an equally soulful vibe.
The James Hunter Six
Hunter began his career in the 80s with the band Howlin' Wilf and the Vee-Jays, put out his breakthrough album album People Gonna Talk in 2006. For the last three years, he's been part of the The James Hunter Six.
Jamie Lidell
Formerly a part of Super Collider, the Nashville-via-Cambridgeshere, England singer-songwriter speciailizes in his ability to combine and explore many genres of music. He's also quite the one-man-band.
JC Brooks & the Uptown Sound
This Chicago group describes their sound to be "Otis Redding fronting The Stooges," their sound combines elements from funk, soul, indie rock, punk and post-punk.
Jesse Dee
Dee is an R&B-soul singer-songwriter from Boston, Massachusetts and he has opened for legends Al Green and Etta James. As a kid he immersed himself in Smokey Robinson, Sam Cooke and other doo wop, soul and R&B greats.
Lake Street Dive
Forming after meeting at the New England Conservatory of Music in Boston and named after a dive bar-filled street in the trumpeter and guitarist's hometown, their folk-indie sound has less of an edge than many of the artists listed here, but just as much soul.
Lee Fields & The Expressions
Nicknamed "Little JB" for his physical and vocal resemblance with James Brown, Lee Fields has already had a legendary 43-year career as an artist but since the 2000s, has been recording with relatively younger band The Expressions.
Lianne La Havas
This 26-year old London-born folk and soul singer, songwriter and instrumentalist are one of several to prove that soul exists outside of America.
Mayer Hawthorne
Hawthorne was signed to Stones Throw Records by Peanut Butter Wolf shortly after moving to Los Angeles in 2005. Having no previous vocal training, the GRAMMY-nominated singer makes some of the catchiest soul, R&B, funk and disco records of today.
Michael Kiwanuka
Possibly one of the less "bluesy" of the bunch, the British artist still displays a soulful touch to music. He's been compared to the likes of Bill Withers, Randy Newman and Otis Redding.
Naomi Shelton & The Gospel Queens
Shelton started her music career in 1958 — she would sing at Brooklyn's Night Cap while she worked as a maid during the day. She eventually got signed with Daptone Records in the late 2000s as the lead singer of The Gospel Queens.
Raphael Saadiq
Even though he's known more for his "old R&B" style than soul, Saadiq's material definitely has that touch to it. On top of his impressive solo material, the Oakland native has produced songs the likes of Joss Stone, D'Angelo, TLC, Kelis, Mary J. Blige, Whitney Houston and John Legend.
Ryan Shaw
Since the age of three, Shaw has been singing in church choir. He joined the group Fabulous Soul Shakers in 2004 and got signed to Columbia Records in 2006. The Georgia singer even auditioned for America's Got Talent in 2015.
Sharon Jones & The Dap-Kings
Although achieving breakthrough success relatively late in her life (at the age of 40), Sharon Jones has been consistently releasing that old school soul and funk for over a decade and a half.
Son Little
This Philadelphia native released his debut EP back in 2014 and has collaborated with other soulful legends like The Roots and Mavis Staple.
St. Paul and The Broken Bones
This six-piece soul band from Birmingham, Alabama formed in 2012 and are currently writing their second full length album. At first listen, Paul Janeway's voice even kind of sounds like Nina Simones'.
The Suffers
Formed in 2011, this band from the H describes their sound to be "Gulf Coast Soul," a wonderful blend of blues, soul, country, caribbean music, cajun styles and hip hop.
T Bird and the Breaks
Founded in 2007, the ten-member crew from Austin, Texas specializes in soul, chunk, funk, R&B and hip-hop. Although their sound is mostly influenced by soul music of the late 1960s and early 1970s, their songs also draw lyrical influences from the likes of Beck and Bob Dylan.
Tory Lanez
This Toronto native is hands down one of the most talented R&B-pop-hip-hop artists of today and you can tell that Lanez's got it even though he usually makes more club-friendly songs. Even his most popular track, "Say it," incorporates some good old soul wailing.