Julie Adenuga Takes Us Inside The UK Scene
London diary, Day 4 with the Beats 1 host.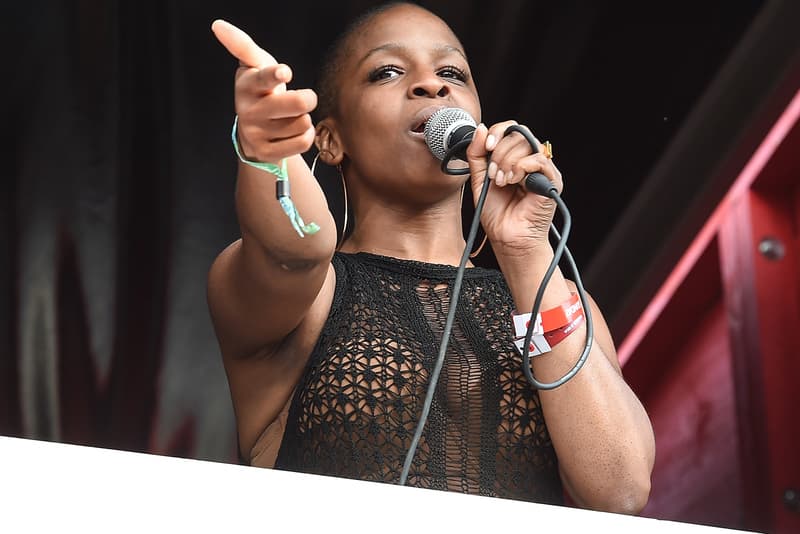 This is our final day professionally stalking the presenter, host, mentor, tastemaker and general don Julie Adenuga and an opportunity to see her in her hosting guise. It's not Red Bull Culture Clash, nor is it a secret Kendrick Lamar gig both of which she recently hosted. Instead it's the launch of her friends' Not-For-Profit organisation, Road To Freedom, down at Shoreditch haunt Ace Hotel. It's the perfect example of how closely knitted the music scene is in the UK and the importance of supporting each other. Kojey Radical (who featured in our UK Radar column earlier this year) has a great relationship with Julie and is also performing acapella tonight; having written a poem after being moved by the reactions to the Paris attacks.
Speaking on Julie who has been an earlier adopter of Kojey's, he tells me "she was just down" from the get-go, doing anything to support him and lend a hand to spreading his art far and wide. It goes back to what we spoke about the previous day and part of the reason why Julie alongside Sian Anderson started, One True Calling, because yes the UK scene is thriving creatively especially the underground but there are still barriers, as Kojey lays clear.
"The industry is so small already that if we don't help each other, we're actually doing ourselves a disservice. What people consider to be the elite has been established over time. They already have their networks and they have their secret meetings where they decide the fate of people in lower positions, trying to get their foot in the industry. If we have an understanding of the industry but also have an understanding of how to help and aid each other, we can progress quicker. It needs to get to that point where it feels like the industry are familiar faces and pure spirits and good hearts."
Speaking to Ra'ed Khan, the founder of Road To Freedom, who is also a well known PR and Editor, his ability to network in the scene has enabled him and his team to offer immediate aid to refugees fleeing war torn countries. Sat at his desk a year ago, it was the devastating image of the three-year old Aylan
Kurdi washed up on a Turkish beach that triggered Ra'ed to come out of his own bubble and be the change he wanted to see in the world. This is the second time Julie has offered up her time to be involved in a Road To Freedom event. The first time Ra'ed used his music networks to put on an event called #GrimeAid with Julie agreeing to host, he claims being the catalyst for getting other acts on board.
"When someone that is this close to me is dedicating his time to something, I can't not be a part of it. For me this is like living vicariously through Ra'ed; he's basically helping me do more than I could physically do myself."The situation reminds her of the conversation we had earlier in the week at Chicken Shop, and her connection to Nigeria. If she were to go there, she probably wouldn't come back because she wouldn't feel like she'd done all she could do. Her parents constantly take old clothes back over to their village and as blogged about heavily earlier this year; the family also recently built a playground to help inspire the next generation.
It's clear it's going to be an emotional night for everyone involved and most of the industry heavy crowd too as by the end of the event, there's not a dry eye in the house. Julie clearly emotionally taken aback along with the rest of us smiles promising that's not her normal hosting style and we should come and see her again somewhere else. But it was real and a key to just how the underground scene has been able to smash through the glass ceilings as of late. Good music is great but support is key if it's ever going to be heard and probably one of the reasons why we chose to give an insight into Julie's life and the importance of gatekeepers just like her.
To find out more about Road To Freedom head here and to help fund the upcoming aid trip to Idomeni head here. Also make sure to follow Julie on Instagram. Her show is live on Beats 1/Apple Music, Monday-Thursday. 8 p.m, check out Julie's Apple Music Connect page for more exclusive content. Check out the Day 1 and Day 2 of our London diary with Julie. And while you're at it, check out Julie's current Top 5 UK tracks below.