J. Cole Announces a 'K.O.D.' Deluxe Version Is on the Way
During a Twitter Q&A.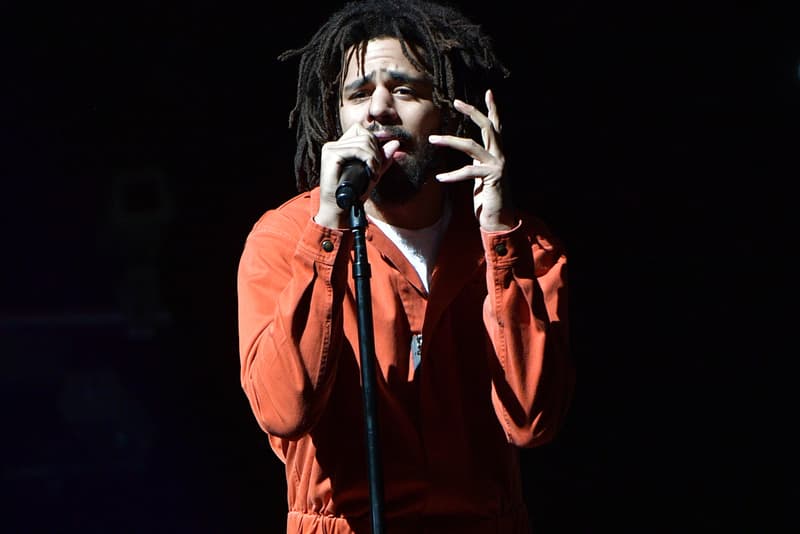 Just a few hours ago, J. Cole took to Twitter for a short Q&A session to answer a series of questions submitted by fans. During the session, J. Cole revealed everything from the writing process behind K.O.D. to his favorite line and samples used on the project. Along with this info, J. Cole also announced his plans to release a deluxe version of K.O.D., which will include extra scenes that didn't make final cut.
As the session went on, J. Cole was asked if he could reveal anymore details on his upcoming project, The Fall Off, to which he replied "Workin on it." You can check out Cole's other responses complied by Complex, in the tweets below.
KOD deluxe will be album in its original 2 week form. Plus couple extra scenes that didn't make final cut. https://t.co/ruT2p28ovl

— J. Cole (@JColeNC) April 26, 2018

Workin on it. https://t.co/uLBD8evCpe

— J. Cole (@JColeNC) April 26, 2018

Y'all let me know when I'm doin too much. This social media shit is a drug for real, and this is a binge for me. You had a traumatic week already I don't wanna fuck your timeline up no worse than it is.

— J. Cole (@JColeNC) April 26, 2018


On the time it took to create the album:

First version of album was done in 2 weeks. Final version of KOD that got released took 6 months total https://t.co/WxF7qvJCcH

— J. Cole (@JColeNC) April 26, 2018
On his favorite song from KOD:
Window Pain. Then Brackets and The Cut Off. Check back with me it will change https://t.co/x7CUQ4KFVI

— J. Cole (@JColeNC) April 26, 2018

On his favorite memory during the writing phase:
Zanzibar. Did The cut off, Kevin's heart, FRIENDS and window pain back to back to back. Plus Royce feature. Super zone. "With my son in Tanzanian sun rays thinking bout them days." I got blessed. https://t.co/umgS5M8hFv

— J. Cole (@JColeNC) April 26, 2018

On the hardest track to finish:
1985 and ATM (addicted to money ?) Just to get the drums perfect was skressful https://t.co/xjDDjXAjyn

— J. Cole (@JColeNC) April 26, 2018

On his favorite bar from the project:
Damn Too hard. "One thing about the men that's controllin' the pen that write history… They always seem to white out they sins." https://t.co/zcKficrdd5

— J. Cole (@JColeNC) April 26, 2018

On the significance behind the repetitive hooks throughout KOD:
Aside from the fact that they ???. Hook the most addictive part of music. KOD. If a chorus by nature is a drug, the right repetitive hook is like crack. Cheap, but get you high as fuck https://t.co/hU5DtpGtRy

— J. Cole (@JColeNC) April 26, 2018

On the number of KOD tracks he produced:
Everything except Kevin's Heart. @TMinus_Music blessed me with that at the perfect time. Thank you my boy https://t.co/eiBgzeMeLB

— J. Cole (@JColeNC) April 26, 2018

On the craziest sample that was featured in KOD:
A few. Half the samples I used @whosampled would never figure out. Don't worry I'll put out credits tho https://t.co/rIfruXplDu

— J. Cole (@JColeNC) April 26, 2018

On what inspired him to record the"Photograph" track:
Observation and putting myself in those shoes. We live in a strange time but this is our time. https://t.co/sB588Igdes

— J. Cole (@JColeNC) April 26, 2018

On when he decided to name the album KOD:
While in Zanzibar workin' on one of the songs, maybe window pain, I asked myself what is the name of this album that I just fucked around and made. KOD came immediately. "What the fuck do that mean?" I asked. the 3 meanings followed in seconds. In tune. https://t.co/fChUwQ7vFT

— J. Cole (@JColeNC) April 26, 2018

On his decision to include a little boy's voice on "Window Pain":
powerful and relevant. And coming from a 9 year old boy who seen too much pain already. https://t.co/NoBwU8PfAU

— J. Cole (@JColeNC) April 26, 2018

On why he chose to make "Once an Addict" an interlude:
the full version was too long, it slowed the album down too much. Interlude version still said what I needed to say. And thank you much love https://t.co/OJHnKMuBhH

— J. Cole (@JColeNC) April 26, 2018

On what it was like writing "Once an Addict":
Therapeutic. Never got to write that memory and put it away til then. https://t.co/0BtJOVIFci

— J. Cole (@JColeNC) April 26, 2018

On whether or not he's filmed music videos for each of the album's tracks:
No not yet. had to let my bank account replenish cuz the first 2 was mad expensive. https://t.co/hVOQukwiYm

— J. Cole (@JColeNC) April 26, 2018

On how he would rate his albums from favorite to least favorite:
Ask me same question next year https://t.co/sIVqfpAXPe

— J. Cole (@JColeNC) April 26, 2018

On which artist—dead or alive—he would like to collaborate with:
Pac no question. & Dre 3000 https://t.co/s8gl63ET0y

— J. Cole (@JColeNC) April 26, 2018

On whether or not there's a topic he's wanted to address in his music, but has yet to do so:
Yea. Started writing the song last year tho. It's long https://t.co/OfosW8TYsr

— J. Cole (@JColeNC) April 26, 2018